Summer X Games 12 | Los Angeles
text by espn | pix by espn images
PASTRANA LANDS FIRST-EVER DOUBLE BACK FLIP AT
X GAMES TO SNAG GOLD IN MOTO X BEST TRICK

LOS ANGELES – Travis Pastrana made jaws drop on Friday night, when he landed the first-ever X Games Moto X double back flip. The STAPLES Center crowd erupted as the multi-sport X Games superstar fluidly flipped his body and bike backwards two full times.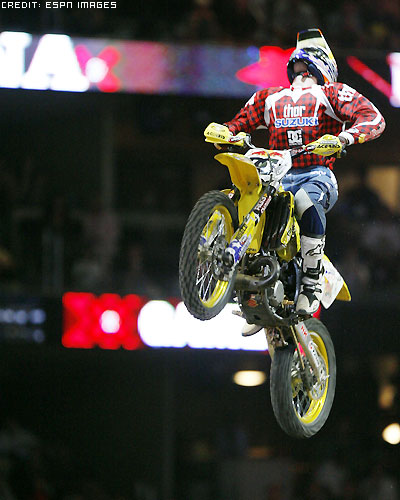 Travis during the 1st and the 2nd rotation doing the double backflip

Mat Rebeaud rode away with the silver, and Aussie Blake "Bilco" Williams toke home the bronze. "There is not much in life that compares to this feeling I have now. I'm on cloud nine,"
said Pastrana. "I was pretty sure I wasn't going to make it, but was confident enough to get close. When I landed, I was riding away and said 'Wow, I can't believe that actually worked.'"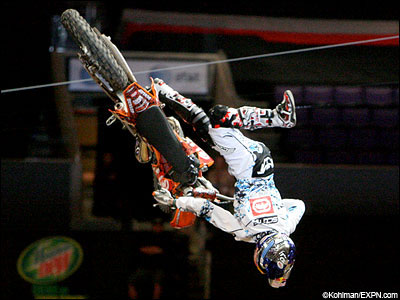 Mat Rebeaud took home 2nd with a NacNac Underflip one hander

Pastrana's trick was so impressive, that his competitors were left with nothing to do but praise the 22-year-old Moto X innovator.
"I'm just happy to finish number two behind him," said Rebeaud. "Two years ago he didn't know me, and I only knew him from TV and a picture in my room. So, now, to be competing with him in the X Games – it's so cool.

If I can't win, it doesn't matter." Added Williams, "It's pretty much the stupidest thing I've ever seen. I'd heard rumors that he'd never do it again, but you can't count Travis out. And then, sure enough, in practice I saw them pull the ramp back. At that point I knew everyone else would be fighting for silver and bronze.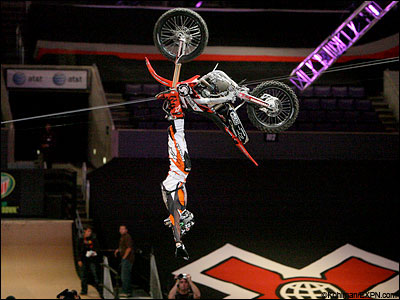 Bilko Williams with a nice extended Cliffhanger Backflip

"It was not only Pastrana's show-stopping performance that wowed the crowd that included Hollywood star Sandra Bullock, Monster Garage host Jesse James and nearly 13,000 others.

Rebeaud and Williams put on impressive displays as well. Rebeaud, landed a knack knack under flip twice (once one-handed), while Williams landed a cliffhanger back flip and a heel-clicker 360. Nate Adams narrowly missed the podium – his high score actually tying the 91.80 of Williams, but his combined score for both runs (the tie-breaker) falling just short, and landing him in fourth place.



Adam Jones and his signature trick - the cordova backflip

Remi Bizouard tried a really nice extended Hart Attack Backflip, but underrotated a bit and crashed.
X GAMES 12 | Los Angeles




Final Results from the X Games 12 Moto X Best Trick competition at STAPLES Center on August 4, 2006



1. Travis Pastrana Annapolis, Md. 98.60
2. Mat Rebeaud Payerne, Switz. 93.80
3. Blake Williams Baxter, Aus. 91.80*
4. Nate Adams Glendale, Ari. 91.80
5. Jim McNeil Glendale, Ari. 89.60
6. Adam Jones Carson City, Nev. 89.40
7. Ailo Gaup Kongsberg, Nor. 86.20
8. Brian Deegan Temecula, Calif. 85.60
9. Robbie Maddison Kiama, Aus. 84.00
10. Remi Bizouard Bergerac, Fra. 74.40

* Williams won the bronze via a tie-breaker, due to his higher combined total score from the
two runs.