Summer X Games 12 | Los Angeles
text by espn | pix by espn images
X Games, Los Angeles - Travis Pastrana can do a double backflip on a motorcycle, drive a rally car (really well), race a SuperMoto final and thrill a crowd in freestyle. However, after winning a third X Games 12 gold medal this time in Moto X Freestyle, Pastrana stumbled on some TV cables in the staging area and aggravated an existing knee injury.
With his knee hurting, Pastrana passed on his second run, and he and the crowd watched as silver medalist Adam Jones and bronze medalist Mike Mason took aim at his leading score.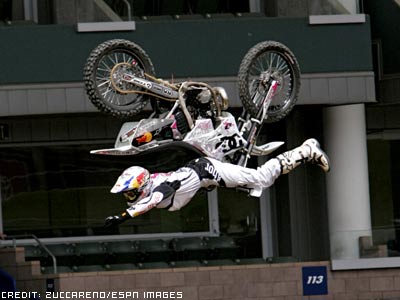 "I'd rather be lucky than good, and I had a lot of luck on my side with this event," said Pastrana. "I messed up on SuperMoto, but I'm glad I was able to come back and put on a good show in freestyle. The crowds this week have been unbelievable. I can't thank them enough for their support."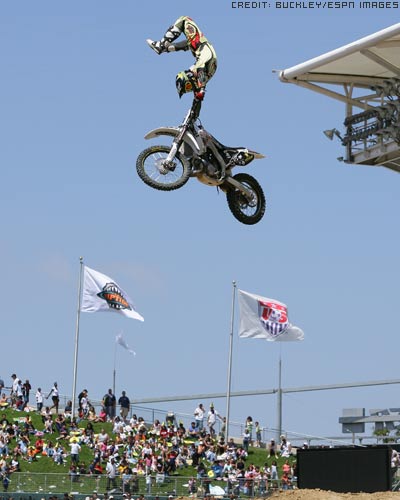 Mike Mason showed solid runs and took home 3rd
Despite Pastrana only completing his first run, Jones and Mason had a tough act to top. The repeat gold medalist's sole run included a backflip saran wrap, a backflip kiss of death, a one-handed backflip and a one-handed backflip lazy boy.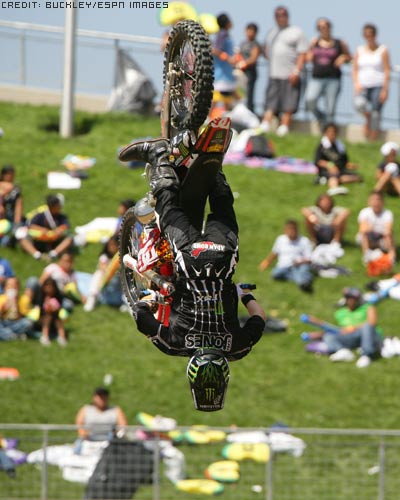 Adam Jones - last year 3rd - this your 2nd - and next year?
Jones, for his part, came close to matching Pastrana. The 22-year-old flowed through a run featuring a dead body, a kiss of death, his signature backflip cordova, a cliffhanger and a backflip can-can to a saran wrap.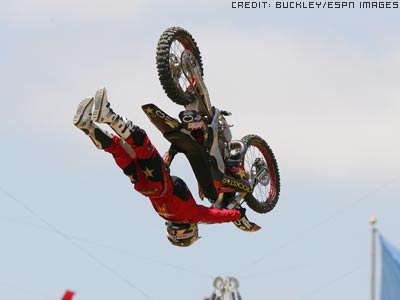 Jim McNeil showed permanence and took home 4th place
"This is so exciting for me," said Jones. "Some people might be bummed, but I'm so stoked and overwhelmed. I'm extremely happy to be here. I just can't believe it."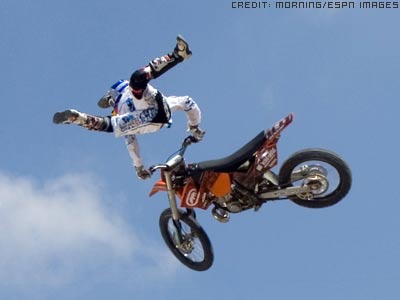 Rebeaud looked pretty good on the bike, but unfortunately he crashed
Mason won the bronze, his first X Games medal, by landing a no-handed superman, a backflip whip and a backflip heel-clicker.



Travis doing his new signature trick - the superman backflip
"I was really nervous last night," said the 24-year-old Mason. "I didn't know what to expect. I'm really excited to get the bronze. It gives me motivation to go home and train."
X GAMES 12 | Los Angeles



Final standings from X Games 12 Moto X Freestyle competition, August 6, 2005



1. Travis Pastrana Annapolis, Md. 94.20
2. Adam Jones Carson City, Nev. 91.40
3. Mike Mason Carson City, Nev 90.00
4. Jim McNeil Glendale, Ariz. 89.20
5. Mat Rebeaud Payerne, Switz. 66.40