Red Bull X Fighters Madrid - Travis Pastrana victorious
Pressrelease by Red Bull + some special stuff of FORTY8
For the fifth time, the best freestyle motocross riders in the world flew through Madrid's Las Ventas arena, for the fifth time, Spain's most revered bullfighting arena was already sold out weeks in advance of the event, for the fifth time, the FMX stars pushed the envelope of their scintillating sport. For the second time, US superstar Travis Pastrana won the most exciting FMX event in the world.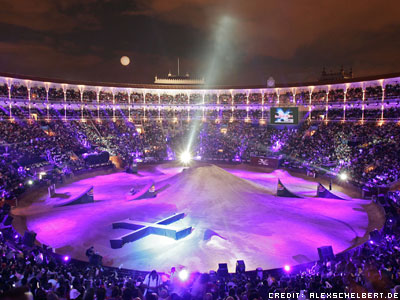 What a fantastic atmosphere - the opening show of the RB X Fighters

The 22-year-old American began by putting in a stunning performance to beat a strong Eigo Sato from Japan in the preliminary round. In the final, contested by the five winners of the head to head round, he impressed not only the judges with tricks such as a Superman Flip, a Nac Nac Flip, a Heelclicker Flip One Hand Landing and a Superman Indian Flip, but also the 23,000 fans: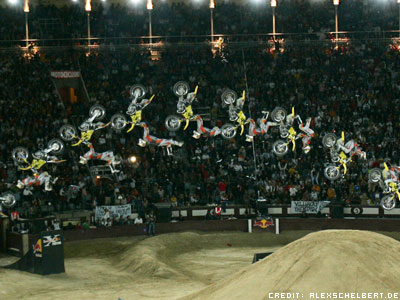 Travis doing his new signature trick Kiss of Death Backflip

Travis' 95.5 out of a possible 100 points remained out of reach.
Second place went to US titleholder Nate Adams (92 points), ahead of Switzerland's Mat Rebeaud (90.5), Spaniard Dani Torres (90) and Australian Robbie Maddison (81).
"The Red Bull X-Fighters are more fun than any other event," said Pastrana, who had already won in Madrid in 2004 and who recently missed out on victory in Mexico City in March owing to a fall. "It's a great honour for all of us to be able to ride here at all. The atmosphere is unique. The fans in the arena are so close you can even high-five them as you go past."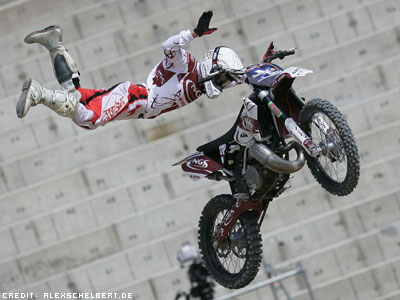 Dani Torres looked pretty confident on the bike and placed 4th
Nate Adams congratulated his fellow US countryman: "I gave it everything I had. But nobody stands a chance against Travis at the moment. He's simply the best." Mat Rebeaud was "more than happy" with third place. "I injured my hand at the X Games. Being able to compete here at all after my operation was an achievement in itself." Local hero Dani Torres was justly applauded by the fans for a great show, but was disappointed to miss out on a podium finish by half a point.
| | |
| --- | --- |
| | The evening's moment of shock was down to Ronnie Renner: the American - who opened the competition - suffered a severe fall during a Whip Flip, lay dazed on the ground, but after a few minutes was able to leave the arena on his own two feet. Madrid was the first time that the preliminary rounds were contested in five straight fights, and one of the five judges acted as the "Voice of the Spectators" for the first time: it was the job of Dakar winner Marc Coma to convert the enthusiasm of the fans - kitted out not just with white rags but also with chain saw motors, as is tradition in Madrid - into points. |
Coma was president of the jury, which included Jimmy Verburgh, trial star Adam Raga and Drake McElroy alongside head judge Andy Bell.

The end of the Red Bull press release.

...................................................................................................


FORTY8 special info

Remi Bizouard, who only was invited for being a standby rider, got his chance. Because Andre Villa had problems with his injured knee and couldn't ride.

The result - Remi was in the field! He made a good qualification run against X-Games Best Trick 2nd Mat Rebeaud, but he didn't win out over him. Remi was doing tricks like Ruler, Oxecutioner, Heelclicker Backflip, CrackNac Attack etc.

We are happy to see this young gun at X Fighters, because he did a creative run with some killer non-backflip tricks - plus some backflip combos!





Libor Podmol - another young gun at the Red Bull X-Fighters in Madrid.

The IFMXF top 5 rider showed an awesome performance with some great tricks at a high skill livel like this ruler on the left.

He also did some backflip combos. In the head to head competition he had to ride against a strong Dani Torres, who won this battle against Libor.

Nate Adams (2nd), Travis Pastrana (1st) and Mat Rebeaud (3rd)


FACTS RED BULL X Fighters

Head to head
MADDISON beat Ronnie RENNER (USA)
PASTRANA beat Eigo SATO (JPN)
TORRES beat Libor PODMOL (CZE)
REBEAUD beat Remi BIZOUARD(FRA)
ADAMS beat Carlos CORDOBA (ESP)


FMX Finals
1. Travis PASTRANA (USA), 95.5 points
2. Nate ADAMS (USA), 92 points
3. Mat REBEAUD (SUI), 90.5 points
4. Dani TORRES (ESP), 90 points
5. Robbie MADDISON (AUS), 81 points




Support us: Like and Share it!

Video of the month

Facebook /FORTY8Mag

Partner