Suzuki NIGHT of the JUMPs | Cologne/GER
IFMXF press release | pics by steh.de

Cologne, 14.10.2006
Remi Bizouard sneaks in ahead of Busty Wolter and Morgan Carlson in Cologne crash thriller.
Last Saturday the Suzuki NIGHT of the JUMs series had their stop-over in Cologne for the 9th round of the FIM IFMXF World Championships. Mat Rebeaud (SUI) crashed in training and could not start as well as Spanish Nicolas Ortuno. In the qualification crashes went on to French Jey Rouanet and Czech Libor Podmol. But next to this bad news, some good came up. German Freddy Peters showed his first contest backflip (his third dirt flip ever) and missed the final with his best run this year only by 5 points. He ended up on #7. Martin Koren from Czech Republic is back on the IFMXF track after his broken neck last year. With long distance backflips he reached #4. And Busty Wolter, back after some absence from IFMXF contests this year, showed a solid run without Backflip but a 1-Hand-Tack-Off McMetz to 1-Hand-Landing in the double-up and ended up on #2.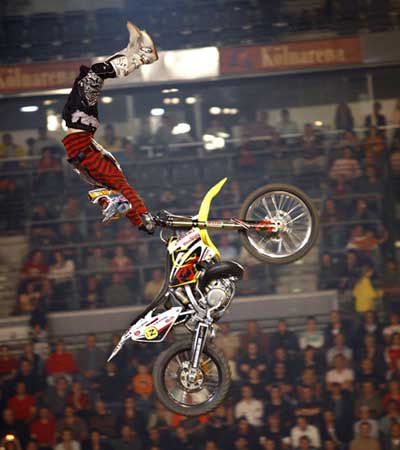 Morgan Carlson placed 3rd in the final with a sweet Tsunami
Both Italians, Massimo Bianconcini and Alvaro dal Farra made it into the final, but were unable to reach the Top 3. This was set up for Swedish Morgan Carlson with his 2006 premiere at the IFMXF and for first ever French X-Games participant Remi Bizouard. He was a bit nervous, cause of the crashes by his friends Mat Rebeaud and Jey Rouanet. But the crowd in the Cologne arena pushed him to his long distance flips and his signature move, the Scorpion Tsunami. With 297 Points he won the Suzuki NIGHT of the JUMPs in Cologne.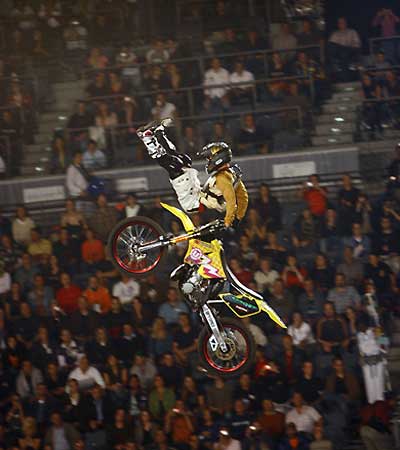 Busty Wolter with a starfish and back on top with a 2nd place

The Whip contest was won by Remi Bizouard ahead of Morgan Carlson and Busty Wolter.
The Highest Air victory went to Libor Podmol (CZE) with 6,90 Meter ahead of Norwegan Oystein Kjorstad with 6,70 Meter.
At the FIM IFMXF World Championship ranking nothing really happened. Mat Rebeaud (SUI) leads with 112 points ahead of Norwegan André Villa (102 points) and Swedish Fredrik Johansson (94 points). The next stops for the FIM IFMXF World Championships are Hamburg (11th November) and Katowicze (24th, 25th November).

FACTS Suzuki NIGHT of the JUMPs –
FIM IFMXF World Championships

Cologne 14.10.2006

Results Qualification
1. Remi Bizouard FRA FFM Yamaha 267 Points
2. Busty Wolter GER DMSB Suzuki 257 Points
3. Alvaro dal Farra ITA DMSB Kawasaki 233 Points
4. Morgan Carlson SWE SWEMO Suzuki 232 Points
5. Martin Koren CZE ACCR Kawasaki 222 Points
6. Massimo Bianconcini ITA DMSB Honda 221 Points
7. Freddy Peters GER DMSB Yamaha 216 Points
8. Oystein Kjorstad NOR NMF KTM 208 Points
9. Fabian Bauersachs GER DMSB Kawasaki 203 Points
10. Jey Rouanet FRA FFM KTM 184 Points
11. Tobias Immler GER DMSB Yamaha 180 Points
12. James Fitzpatrick USA AMA Honda 168 Points
13. Libor Podmol CZE ACCR Suzuki 16 Points

Results Whip Contest
1. Remi Bizouard FRA FFM Yamaha
2. Morgan Carlson SWE SWEMO Suzuki
3. Busty Wolter GER DMSB Suzuki
4. Massimo Bianconcini ITA DMSB Yamaha
5. Alvaro dal Farra ITA DMSB Kawasaki
Results Highest-Air-Contest
1. Libor Podmol CZE 6,90 Meter (1st)
2. Oystein Korstadt NOR 6,70 Meter (1st)
3. Ken Roczen GER 6,10 Meter (1st)
4. Busty Wolter GER 5,90 Meter (1st)

Results Final
1. Remi Bizouard FRA FFM Yamaha 297 Points
2. Busty Wolter GER DMSB Suzuki 292 Points
3. Morgan Carlson SWE SWEMO Suzuki 280 Points
4. Martin Koren CZE ACCR Kawasaki 274 Points
5. Alvaro dal Farra ITA DMSB Kawasaki 268 Points
6. Massimo Bianconcini ITA DMSB Honda 245 Points