YEAH FESTIVAL
FMX VS SKATE VS MUSIC
by Jose Gaspar www.fmxnews.com.br | pics by Idário Café
"The most extreme day in your life". As the slogan said, The Yeah Festival was exactly that, extreme. For the first time in Brazil was possible to see Music, Skateboard and Freestyle Motocross, all together, at the same place, at the same time. The event took place at José Correa Arena, in city of Barueri. The Yeah Festival made a dream come true. During a very long time Brazilians had been waiting for that union between Music and Action Sports. They finally got it!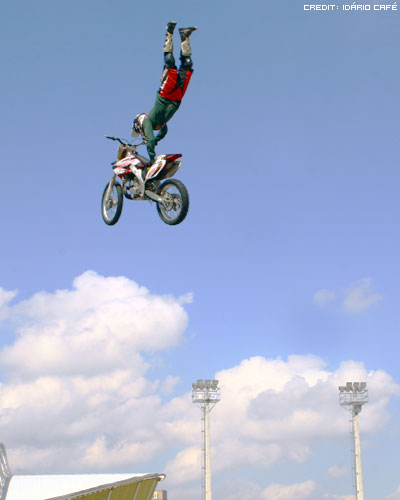 Celso Aslan doing a Hart Attack
Besides interaction the prominences were structure and high quality attractions. Eleven bands on the stage, a lot of skateboarders on the half-pipe, including the Three-Time World Champion Sandro Dias. Riding on the FMX all the best Brazilian Freestylers for a Best Trick contest. Tons of tricks and too much noise !
The Best Trick winner was Gilmar Flores, busting a sick holygrab to rocksolid variation. Marcelo Simões got the second place with a very twisted 9 o'clock nac indian air. In the third place came Fred Kyrillos showing a huge combo superman seat grab to rocksolid.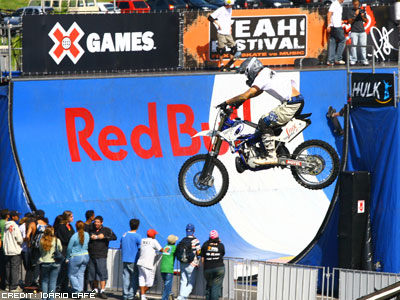 The other competitors kept the level high, such as Bergamini Bros and Celso Aslan who executed tricks like double nac and helicopter.
The Yeah Festival was produced by Tática 4 Events and supported by UOL, Red Bull, X-Games, Woohoo, Web Racing, Fizo and Hot Buttered.

Final Result
1. Gilmar Flores
2. Marcelo Simões
3. Fred Kyrillos
4. Gianpaulo Bergamini
5. Celso Aslan
6. Otávio Mello Neto
7. Gustavo Russo