Diverse Night Of The Jumps Katowice
IFMXF press release | pics by steh.de
Katowicze, 24th November 2006


Libor Podmol dominated Round 11 of FIM FMX World Championship

A talented field of riders descended upon the Spodek Arena to continue the battle for IFMXF FIM World Championship title. 11 riders from eight countries started at the Diverse NIGHT of the JUMPs in Katowicze for the 11th contest of the World Championships.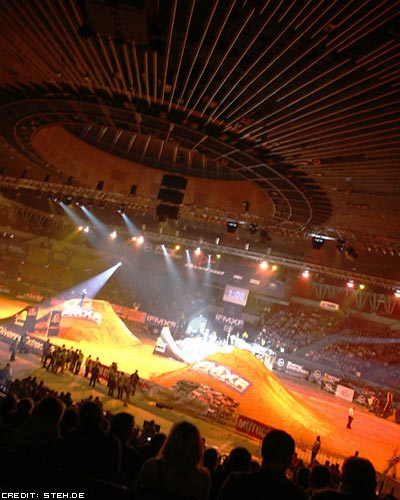 Local heroes Bart Oglaza and Darek Klopot showed different performances in front of their home crowd. Bart Oglaza had a good run and presented tricks like Heelclicker, Stripper and Cliffhanger. With 203 points he missed the final only by 4 points and ended up on 8th position. Darek Klopot has limited possibilities. He only could take the Kicker ramp and had several dead sailors.

The germans Busty Wolter and Fabian Bauersachs had different performances as well. Busty had some problems in his run and missed the final. Fabian reached 210 points with a solid run and got forth in the qualification.

Both Czech Martin Koren and Libor Podmol entered the final. Martin Koren, who showed long distances backflips last time in Hamburg and Cologne, had no flip in his programm. But with Shaolin, Lazyboy, Hartattack and other tricks he ended third of the qualification. Best of all was Libor. With two long distance backflips, Cliffhanger, Tsunami and more he reached 250 points and the top position.

Morgan Carlson (SWE), Nick Franklin (NZL) and Chris Brock (GBR) completed the field of the six riders for the final.

After the Qualification round British Chris Brock had an impressive final run. Diver, Sidewinder Indian Air, Sidewinder to Sidewinder, Superman, Shoebox, Heelclicker, Shaolin, Tsunami, Killer Whip and 2-Handed Seatgrab. The next for riders could not beat him. He ended up second. Nick Franklin had some Deadsailors in his run and ended up as sixth respectively.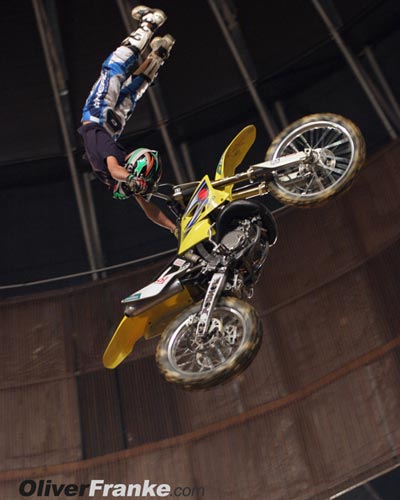 Libor Podmol with a sweet Tsunami

Czech Martin Koren could not repeat his good qualification run and reached fifth place.

German Fabian Bauersachs had impressive tricks like 1-Handed Seatgrab Lookback, Lazyboy, Flintstone, Cordova or McMetz to 1-Hand-Landing. He got forth only missing the podium by seven points. This was up to Morgan Carlson. He had some Deadsailor in his final run, but was so fast, that he could pass them out of the countings and ended up third.

But unbeatable this day was the audience darling Libor Podmol. With one of his best final runs in 2006 and the only rider who presented long distance flips, the whole crowd screamed him to 1st place.

The Whip contest was won by English Chris Brock ahead of Swedish Morgan Carlson and Bart Oglaza (POL).

The Highest Air was won by local hero Bart Oglaza ahead of Florian Menge (GER) and Czech Libor Podmol.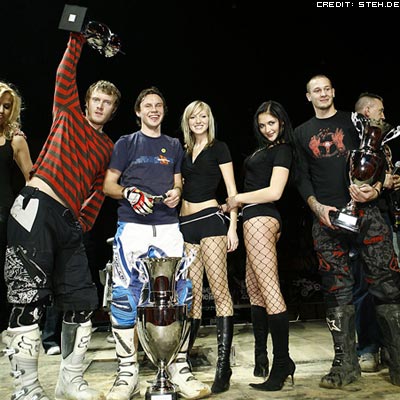 Morgan Carlson, Libor Podmol and Kris Brock

The 11th round of the 2006 FIM IFMXF World Championship and the premier in Poland was amazing. Libor Podmol took his chance to collect points for the World Championships. He still is on 4th position but in charge for the third or maybe second position. One decision was made this Friday. First FIM IFMXF World Champion is Mat Rebeaud. He could not start because of his injury, but no one can beat him anymore. So congratulations.


FACTS Diverse NIGHT of the JUMPs – FIM IFMXF World Championships

Katowicze 24th November 2006

Results Qualification
1. Libor Podmol CZE ACCR Suzuki 250 Points
2. Morgan Carlson SWE SWEMO Suzuki 220 Points
3. Martin Koren CZE ACCR Kawasaki 214 Points
4. Fabian Bauersachs GER DMSB Kawasaki 210 Points
5. Nick Franklin NZL MNZ KTM 207 Points*
6. Kris Brock GBR ACU Honda 207 Points*
7. Oystein Kjorstad NOR NMF KTM 207 Points*
8. Bart Oglaza POL PZM Suzuki 203 Points
9. Sebastian Wolter GER DMSB Suzuki 201 Points
10. Jimmy Verburgh BEL DMSB Honda 197 Points
11. Darek Klopot POL PZM Kawasaki 44 Points
* in the case of ties the rider with the better sum of 5 judging results wins

Results Whip Contest
1. Kris Brock GBR ACU Honda
2. Morgan Carlson SWE SWEMO Suzuki
3. Bart Oglaza POL PZM Suzuki

Results Highest-Air-Contest
1. Bart Oglaza POL 6,20 Meter (3rd)
2. Florian Menge GER 6,00 Meter (1st)
3. Libor Podmol CZE 5,80 Meter (1st)
4. Kris Brock GBR Did not show

Results Final
1. Libor Podmol CZE ACCR Suzuki 285 Points
2. Kris Brock GBR ACU Honda 264 Points
3. Morgan Carlson SWE SWEMO Suzuki 258 Points
4. Fabian Bauersachs GER DMSB Kawasaki 251 Points
5. Martin Koren CZE ACCR Kawasaki 221 Points
6. Nick Franklin NZL MNZ KTM 217 Points


Support us: Like and Share it!

Video of the month

Facebook /FORTY8Mag

Partner