Diverse Night Of The Jumps Katowice
IFMXF press release | pics by steh.de
Katowicze, 25th November 2006

Libor Podmol dominated the Diverse NIGHT of the JUMPs in Katowicze

Second day at the Spodek Arena in Katowicze. 11 riders from eight countries started at the Diverse NIGHT of the JUMPs in Katowicze for the final points at the last contest of the FIM IFMXF World Championships.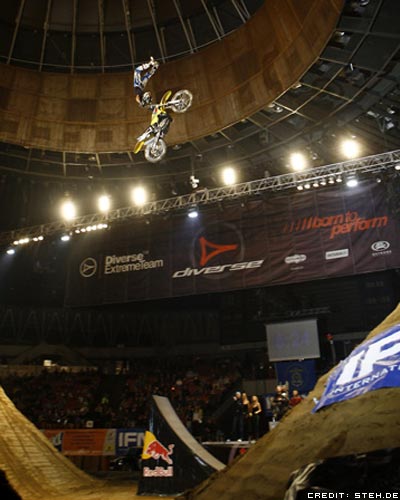 Libor Podmol was the man to beat this weekend in Katowice

Bart Oglaza and Darek Klopot did not as good as the day before. Darek had several Deadsailors and only got position 11th. Bart Olgaza had one Deadsailor and reached 8th.

Both germans Busty Wolter and Fabian Bauersachs did better than yesterday. Busty Wolter had no problems with the track this time. With 226 points he was 4th in the qualification. Fabian Bauersachs could approve his friday performance. With a Cliffhanger to 1-Hand-Landing, McMetz to 1-Hand-Landing and several other jumps he was 2nd of the qualification.

Like yesterday both Czech Martin Koren and Libor Podmol entered the final. Martin Koren on 4th, Libor Podmol again on top of it all. Morgan Carlson (SWE) and Nick Franklin (NZL) completed the six riders for the final.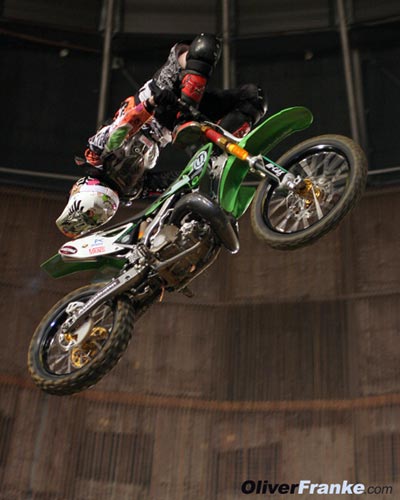 Fab Bauersachs showed again, that he is on the run - 2nd place

After the Qualification round it was up to Nick Franklin. Hartattack Indian Air, Double Seatgrab, Deadbody, Superman, Cliffhanger, Tsunami, Flintstone to Heeclicker, 1-Handed Seatgrab Indian Air to Rock Solid. Nick reached 244 points and got 6th.

Morgan Carlson did an impressive final run. 256 points brought him on the podium.

German Busty Wolter was much better than on Friday. But he could not reach the podium and got 4th. Czech Martin Koren again could not repeat his good qualification run and reached with 5th place the same as yesterday.

German Fabian Bauersachs was amazing. With 1-Handed Seatgrab Indian Air, Cordova, Double Seatgrab, Cliffhanger, Flintstone to 1-Hand-Landing, Rock Solid Indian Air, Lazyboy, Double Seatgrab Indian Air und McMetz to No-Hand-Landing he showed his best final run in 2006. With 264 points he entered the Hotseat.

Now it was up to Libor Podmol. If he could win, he would reach number 2 of the FIM IFMXF World Championship. So the pressure was high, but he could take. 1-Hand Take-Of to 1-Handed Seatgrab Indian Air, Double Seatgrab, 9-O-Clock, Rock Solid, Flintstone, Backflip, Cliffhanger, Tsunami, 1-Handed Seatgrab Indian Air and a Heelclicker Backflip as Double-up. Jury gave him 292 points and the top position.

The Whip contest once again was won by English Chris Brock ahead of Czech Martin Koren. The Highest Air was won by local hero Bart Oglaza ahead of Czech Libor Podmol.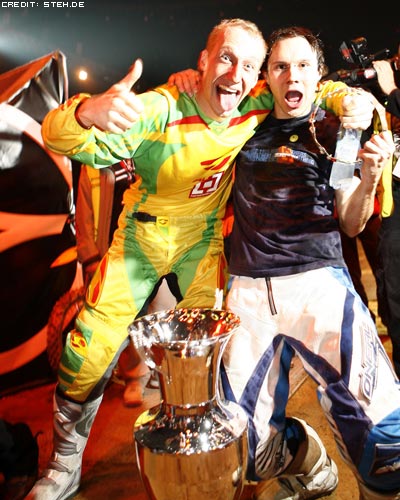 Martin Koren and the winner Libor Podmol

The final round of the 2006 FIM IFMXF World Championship was amazing and could not have a better ending. Libor Podmol took his chance to collect full last points for the World Championships. With both winnings of the Diverse NIGHT of the JUMPs in Katowice he climbed on second position in the FIM World Ranking and was just beaten by Swiss Mat Rebeaud.

FACTS Diverse NIGHT of the JUMPs – FIM IFMXF World Championships

Katowicze 25th November 2006

Results Qualification
1. Libor Podmol CZE ACCR Suzuki 248 Points
2. Fabian Bauersachs GER DMSB Kawasaki 230 Points
3. Martin Koren CZE ACCR Kawasaki 227 Points
4. Sebastian Wolter GER DMSB Suzuki 226 Points
5. Morgan Carlson SWE SWEMO Suzuki 222 Points
6. Nick Franklin NZL MNZ KTM 201 Points
7. Jimmy Verburgh BEL DMSB Honda 196 Points
8. Bart Oglaza POL PZM Suzuki 180 Points
9. Kris Brock GBR ACU Honda 178 Points
10. Ludovic Guillou FRA FFM KTM 170 Points
11. Darek Klopot POL PZM Kawasaki 39 Points

Results Whip Contest
1. Kris Brock GBR ACU Honda
2. Martin Koren CZE ACCR Kawasaki
3. Bart Oglaza POL PZM Suzuki

Results Highest-Air-Contest
1. Bart Oglaza POL 6,70 Meter (1st)
2. Libor Podmol CZE 6,50 Meter (1st)
3. Florian Menge GER 6,00 Meter (1st)
4. Kris Brock GBR Did not show

Results Final
1. Libor Podmol CZE ACCR Suzuki 292 Points
2. Fabian Bauersachs GER DMSB Kawasaki 264 Points
3. Morgan Carlson SWE SWEMO Suzuki 256 Points
4. Sebastian Wolter GER DMSB Suzuki 255 Points
5. Martin Koren CZE ACCR Kawasaki 247 Points
6. Nick Franklin NZL MNZ KTM 244 Points