Nokia Air & Style Games | Munich

The Rookie Wiley Fullmer/USA won the FMX Final at the probably best Nokia Air & Style Games ever in front of 27.500 spectators in the Olympic Stadium Munich, December 2nd.

The Facts
8 of the worlds best Freestyle Motocross riders were invited to attend at the FMX Contest of the Nokia Air & Style Games 2006. Especially the setup was more than impressive, because it was embedded in the Snowboard setup. The spectators had a great view to where the action happened. Two 8 meter radius ramps with 21 meter and 22 meter gaps were provided for the best FMX field the Air & Style Games ever had.

1st Round

Busty Wolter vs. Adam Jones
Germanies Busty Wolter made a constant run with Lazy Boy, Onehand NacNac, Twitch Whip, CatNac Indian and Backflip.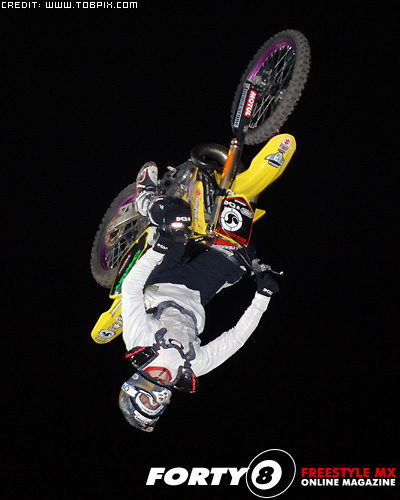 Busty Wolter doing a Backflip

X Games Silver Medalist Adam Jones from the USA showed a trick explosion with Tsunami, Nohand Flip, Dead Body, Rock Solid and Heelclicker Flip.
Result: Jones came into next Round
Beau Bamburg vs. Alvaro Dal Farra
The Da Boot rider Alvaro Dal Farra started with a Backflip, followed by CatNac Indian, Holyman to Rock Solid, Onehand Flip, Cliffhanger.




Alvaro Dal Farra | Cliffhanger
Beau Bamburg tied up to his form the last mouths during the DEW Tour and showed tricks like Saran Wrap Flip, Nohand Flip, Tsunami, NacNac Flip, CanCan Flip.
Result: Bamburg in – Alve out
Tobias Immler vs. Wiley Fullmer
Munichs local Tobias Immler looked good on the bike and rocked the crowd with Side Hart Attack, CrackNac, Rock Solid, Double Hart Attack.



Tobias Immler Side Hart Attack
The US Rookie Wiley Fullmer was for the 1st time in Munich and it seemed that the young US gun got the darling of the public really quick, because of his good mood and high levelled tricks like Holyman to Double Hart Attack, Side Hart Attack, Backflip, Underflip, Ruler.
Result: Fullmer won
Nate Adams vs. Daice Suzuki
The Japanese FMX star rocked with Cliffhanger, Backflip, Onehand NacNac, Tsunami, Seatgrab Backflip and made a good promotion for the Asian FMX scene!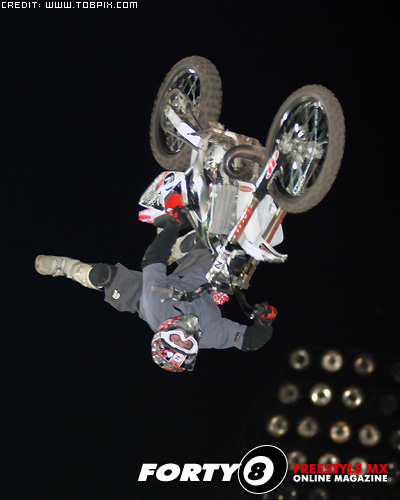 Daice Suzuki | Backflip Seatgrab
The destroyer Adams answered with CrackNac, Nohand Backflip, Double Hart Attack, SaranWrap Backflip etc.
Result: Adams in the next round
2nd Round | semi final
Beau Bamburg vs. Adam Jones
Beau Bamburg stepped up to the next level with Tsunami, NacNac Flip, Cordova Flip, Onehand Hart Attack, Crack Nac, Backflip Seatgrab.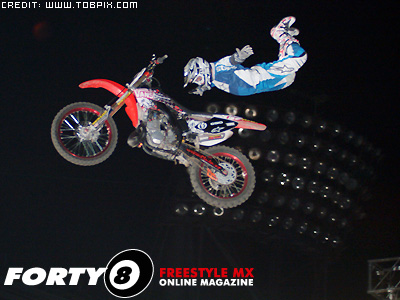 Beau Bamburg doing a Rock Solid
Adam Jones pulled out Mc Nasty, Nohand Flip, Stripper, CanCan Flip, Double Hart Attack.
Result: Bamburg jumps into final
Wiley Fullmer vs. Nate Adams
That semi-final was almost the final. Both riders gave all and showed their hardest tricks Europe has ever seen. Fullmer pulled out the Underflip, Ruler and CrackNac and Adams showed the Cordova Flip, Lazy Boy Flip.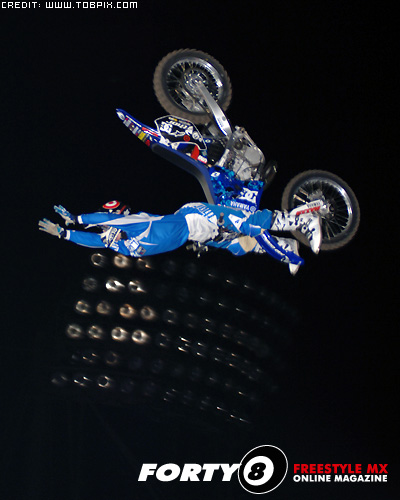 Nate Adams doing a Lazyboy Backflip
Result: Young gun Fullmer won!
Small Final
Nate Adams vs. Adam Jones
Jones pushed on the gas and pulled out Dead Body, Double McMetz, Stripper, Mc Nasty, Rock Solid Indian and a lot of Backflip Combos.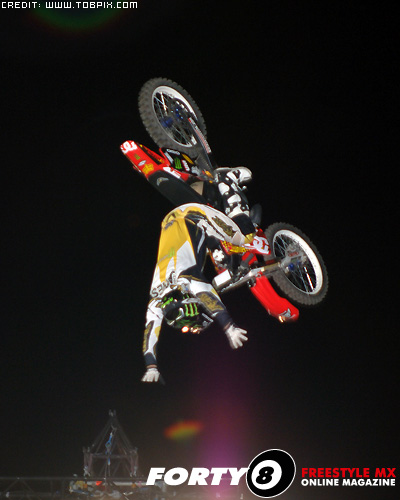 Adam Jones | Nohand Backflip
Nate Adams also gave some fire and countered with tricks like Flintstone, Cordova Flip and Lazyboy Flip.
Result: Nate took home the 3rd place

Final
Wiley Fullmer vs. Beau Bamburg
Both riders made a real FMX battle to win the Air & Style ring of FMX. The 18 years young gun Fullmer showed an unbelievable CrackNac, Backflip Combos, Underflip and his signature trick Ruler Scorpion. Beau Bamburg showed an awesome Backflip Seatgrab Indian, Rock Solid and some Backflip Combos.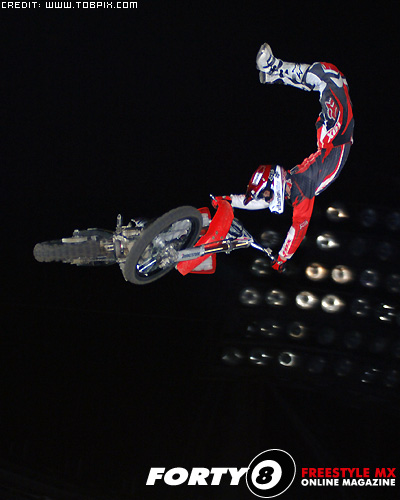 Result: Fullmer took home the win and Bamburg got 2nd

FACTS Nokia Air & Style Games

Munich, 2nd Dezember 2006

Results

1. Wiley Fullmer
2. Beau Bamburg
3. Nate Adams
4. Adam Jones