Nokia Freestyle Motocross | Prague
On Saturday December 2nd, Prague was again alive with freestyle motocross as fans of this superb adrenaline show have finally lived to experience another year's installment of the NOKIA FREESTYLE MOTOCROSS show, the absolute culmination of every FMX season and one of adrenaline holidays. The best riders of the world have come together here.
| | |
| --- | --- |
| | This fantastic and unique show couldn't take place anywhere else but in Europe's most state-of-the-art hall, the Sazka Arena, which was fully sold-out for both Saturday's shows. Audience of more than 30 thousand gathered to see great battles, breathtaking tricks and their combinations the riders tirelessly performed under huge excitation of the audience entirely captured by the show. Just like last year, the organizers conceived the show in gladiator fighting fashion when the audience voted for the winner of each battle from between Europe and overseas with their applause. As this year's novelty, snow scooter and cross-country four-wheeled motorbike jumps were included. |
The team of Europe rode in this lineup:
Sweden's Viking Morgan Carlson and four Czech riders: Zdeněk Fusek, Petr Pilát, Martin Koreň, Libor Podmol.
The legendary Czech rider Petr Kuchař, star of the show's previous years, was unfortunately unable to intervene in the battles due to his recent injury of ligaments. It was a loss particularly for domestic Kuchta's fans who were eagerly awaiting his performance and the tricks in his presentation, especially after this season's numerous injuries. Other luckless fellows were the Czech excellent riders David Rejsek and Aleš Lieman who also didn't appear due to their injuries.
The Americans rode in this lineup:
Canadians Jeff Fehr, Reagan Sieg and Andy Bell, Americans Dustin Miller and Jake Windham. Two years after his last appearance at this show, the Australian rider Robbie Maddison came out again. Justin Hoyer showed his skills on a snow scooter and Jon Guetter rode a cross-country four-wheeled motorbike. The American Mike Mason, who won great admiration of the audience last year for his special, often incomprehensible way of performing tricks such as Hollygrab to Double Seat Grab Hart Attack or his brutal No Footed Can Can Kiss Off Death Scorpion, unfortunately didn't arrive. At the New York City airport, he was forced to return to L.A. and it's hard to say what prevented his take-off. Along with Maddison, he was supposed to be the greatest attraction for the audience.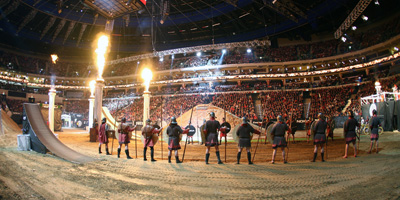 The show opened with a march of Roman soldiers through the Arena with Petr Kuchař dressed as Proximus, the owner of all gladiators, walking among them accompanied with flame blasts from huge pillars in the middle of the Arena. Then, the riders rode in on the area and the host Leoš Mareš introduced them to the audience. Subsequently, the gladiator battles were ready to start.
The freestyle motocross show proceeded as a battle of Europe against AmericaThe results were voted for by the audience in the Arena through their shouting and clapping. The results of the battle were not that important (the afternoon's show ended flat and the evening's show was clearly dominated by Europe). First, the riders introduced themselves as a team and subsequently they were bestowed points. The second round was of head-to-head rides when a point was bestowed upon each ride. Robbie Maddison as a representative of Australia rode by himself, proving he was rightly the greatest star of this year. Exhibition rides of two riders performing their tricks either in a row or in parallel on the opposite ramps in the hall followed. The last performances were trains of Europe and America, followed with a grand finale of history-making three back-flips at the same time – a historical first.
Now the details on individual rides: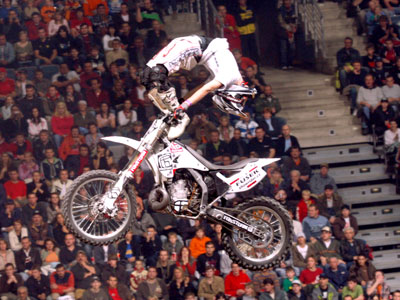 Zdeněk Fusek doing a extended Cordova

The first one to introduce himself to the audience was Zdeněk Fusek. Two weeks ago, he incurred a painful injury of his knee at the home track of Petr Kuchař and it was not entirely certain if he would be alright, yet he did manage to recover, which was only good considering the thinned-down riders lineup. His tricks were maximally stretched as always and on a very high level, which was clearly visible on his favorite trick Double Seat Grab Hart Attack Look Back as well as others including the Jack Hammer, Shaolin Stripper, No Footed Can, Gordova and this year's new, difficult trick Mc Metz when his motorbike slightly flew away from him in the air but he did get it under control again with grace.

Libor Podmol with an Onehand Flip

Libor Podmol put a great deal of work into his ride. Last year, he showed here for the second time eight-meter back-flip and three months ago he put out 23-meter Back Flip One Hand in Plaza de Totos de Las Ventas, Madrid.

Worth mentioning are Libor's excellent tricks such as Flinstone, Kiss off Dead, Hollygrab, Jack Hammer. In the series of his long back-flips, he added a combination of Back Flip Nac Nac, followed with shockingly difficult Back Flip Hellclicker for which he received huge ovations of the audience.
| | |
| --- | --- |
| A great prospect of our freestyle motocross, Petr Pilát nicknamed Pilník, last year as the youngest rider in the world wheeled about a short back-flip and holds a world record for this. This year with his mentor Petr Kuchař, he mastered 19-meter backflips and he did it on a more powerful machine – KTM 250. In the backflip, Pilník added the No Footed variation, which is a seated hammering on the motorbike with the rider's leg, and the "drunken" backflip when the rider plucks the handle on both sides. His other tricks including Shaolin, Stale Fish, No Footed Can or Pendulum, which is actually Can Can on both sides were performed flawlessly too. | Petr Pilát doing a Shaolin |
| | |
| --- | --- |
| Martin Koren was in a good shape | Our last representative Martin Koreň returned on the spot after last year when he incurred a serious injury of neck vertebra performing the trick Tsunami and subsequently slamming into a barrier. Martin is in excellent form, which he proved by performing tricks such as Lazy Boy, Whip, Corpse, Super Can, Rock Solid, Double Seat Grab Hart Attack and the Back Flip Whip. In head-to-head ride with Libor Podmol, they both rode against each other on their own ramps and crossed in the middle of the Arena in backflip with their wheels up. Especially the viewers sitting by the sides of the Arena were able to appreciate the uniqueness of the trick as the riders crossed in the optical axe right in front of their eyes. |
Morgan Carlson probably also doesn't like to remember last year of the show when he bruised himself in a training, appearing with certain self-denial, which influenced his selection, difficulty and performance of the tricks. However this year, Morgan showed outstanding tricks: Thurn Down, Krac Nac Indian, Hollyman, Jack Hammer and the Superman Seat Grab Indian.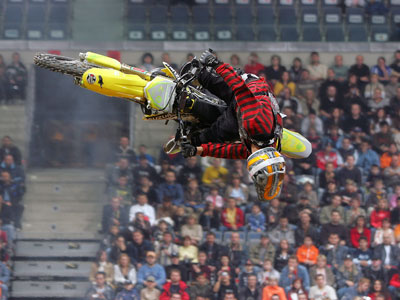 Morgan Carlson in the house!
The Australian Robbie Maddison nicknamed Maddog, who already appeared in Prague two years ago, put out a fantastic performance including his famed Thurn Down, Jack Hammer or Side Seat Grab Hart Attack. Robbie especially enjoyed the backflips: Back Flip No Hand, Back Flip Can Can, Back Flip Nac Nac, Back Flip Whip and a triple-combination of Back Flip Nac Nac with Whip. Robbie shocked the audience putting out a backflip in a darkened Arena – although he landed on the verge of the landing ramp, he had full control of trick as difficult as this.
The absolute peak of his tricks was the Back Flip Superman Seat Grab when he was rotating in the air, holding the handle with one hand and a hole under the motorbike's back mudguard with the other hand. He was rightly the star of the evening.

Robbie Maddison | Jackhammer


The little big man, American Dustin Miller performed breathtaking tricks in original and absolutely clean presentation, just like last year. Thurn Down Whip, Nothing, Rock Solid Indian, Crac Nac, Jack Hammer No Handed Lander, Hollygrab.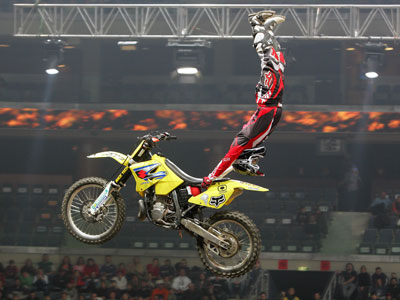 Mr. Extension himself | Dustin Miller doing a Double Hart Attack





Andy Bell may be called a jumping executive, a fixed star and a regular participant of the years.

He has a range of his tricks he regularly performs and so we could see his presentation of tricks such as the Lazy Boy, Hellclicker, Coffin, Dead Tailor No Handed Lander as well as his specialty Canadian Saran Wrap.
Another regular participant Jake Windham for a change doesn't like to remember Slovakia where in September in Bratislava, he flew over the landing area in training, sampling the hard asphalt surface. Luckily, Jake suffered no harm in the horrible fall yet a look at his face full of bruises was rather ghastly.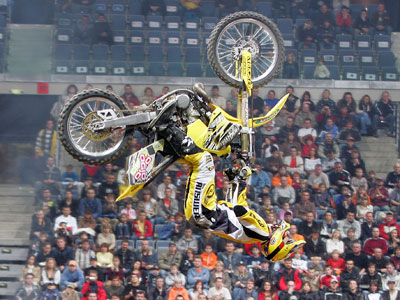 Jake Windham flippin'


Here he proved he was cool again putting out tricks such as Double Nac Indian with motorbike castaway, Kiss Off Death, Seat Srab Hart Attack Look Back, Hollygrab, Switch Blade Can Can – or Air Wolf. However his Back Flip Nac Nac won him the greatest appreciation of the audience.

Regan Sieg also placed bets on his precisely mastered and proven tricks including Shaolin Barhop, Kiss Off Death, Helicopter, Stripper, Double Seat Grab Hart Attack and others. He too is a regular participant of this show.
The last rider appearing here for the first time was Jeff Fehr. He put out excellently mastered tricks such as Hollygrab, One Hand Hart Attack, Jack Hammer and especially the backflips: Back Flip Nac Nac, Back Flip One Hand, Back Flip No Hand.

In the end of the mega show, the audience saw something I dare to say they won't probably see again in their lives. This was a moment that will make it to the history of freestyle sports.

Robbie Maddison on a motorbike, Justin Hoyer on a snow scooter and Jon Guetter on a cross-country four-wheeled motorbike attempted to jump backflip all at the same time.
An insane and highly dangerous feat that was not trained before and was not guaranteed to succeed. I had the chance to see Justin's huge and heavy scooter before the start of the show. In the arena, special landing area with iron construction and wooden plates was mounted. On the in-run ramp, special rubber carpet was pegged to prevent the scooter from sliding and ensure its appropriate speed. Front skis of the scooter were fitted with small wheels as there was no snow, obviously.

The four-wheeler jump ramp consisted of two typical ramps mounted next to each other and the landing area was also the same as for a motorbike. Just as with the scooter, one has to wonder what makes somebody even think about doing anything like this. Even the motorbike is insane to a certain degree. When all three riders successfully performed their feat, one didn't know where to look and what to focus on as each ramp was in a different distance and Robbie had to ride from the other side. Only Jon over-rotated his backflip and fell on his back upon landing on the back wheels, while his four-wheeler ran on into the barrier. Luckily, Jon suffered no harm. It is hard to describe the following feelings of the audience, their astonishment and silence followed with ovations.

What to conclude with. This year was full of backflips. I personally think that although many pointed out that without Adams the show wouldn't be complete, especially Libor Podmol managed to jump the Back Flip Hellclicker, which the audience stared at in disbelief last year in Adams' presentation. I bet the audience didn't even notice Nat wasn't there. This was just one example of the direction of the Czech freestyle motocross and where our riders are heading.

Just like you all who enjoy freestyle motocross, I can now only wait for the next year – and I'm really curious what surprise the organizers will deliver next and if they finally manage to persuade the greatest Travis Pastrana to appear.