Night Of The Jumps Liberec
22.2.2007 NIGHT of the JUMPs Liberec 2007

French Attack in Czech Republic - Romain Izzo wins NIGHT of the JUMPs in Liberec.

The Freestyle Motocross season 2007 started yesterday evening in Liberec. 11 riders from eight countries started at the first ever NIGHT of the JUMPs in the Czech Republic. In the Tipsport Arena the riders fighted for the first points of the FIM Freestyle MX World Championships 2007.

Austrian Martin Schenk was a bit nervous after a long absence from the IFMXF and only got position 11th. Jimmy Verburgh did ok, but could not reach more than 10th place. After more than one year away from IFMXF contests Ailo Gaup was back. But after his injury in summer he is not back in his form of 2005. Two Deadsailors brought him on number 9.

Bart Oglaza (POL) and German Fabian Bauersachs did good, but missed the final only by a few points.

After the injury of Czech David Rejsek in training the 8.000 visitors pushed their locals Martin Koren and Libor Podmol into the final. Next to them Busty Wolter (GER), Mike Mason (USA) and both French Romain Izzo and Remi Bizouard reached the Top 6.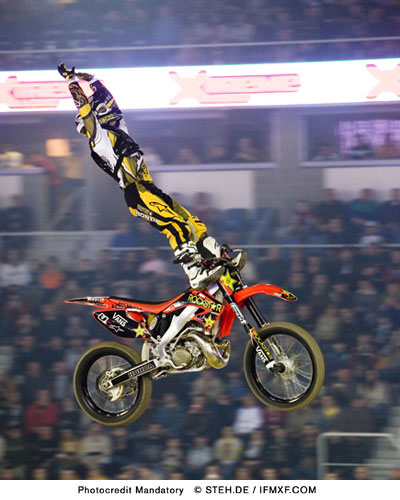 Ailo Gaup doing a Cliffhanger


After the Qualification round it was up to Martin Koren. With tricks like Lazyboy, Double Seatgrab, Whip, 9-O-Clock, 1-Handed Flip, Hartattack Indian Air and Nac Flip he reached 241 points and got 6th.

German Busty Wolter showed two long distance Flips. One whipped and the other one as 1-Handed. With 262 points he ended up on position 5.

X-Games Medalwinner Mike Mason had an impressive run with Whip, Nac Flip, Mase Twist, Heelclicker Flip, Double Seatgrab Indian Air, Cliffhanger, Whiped Flip and No-Handed Flip in the Double-Up. 317 points meant second place.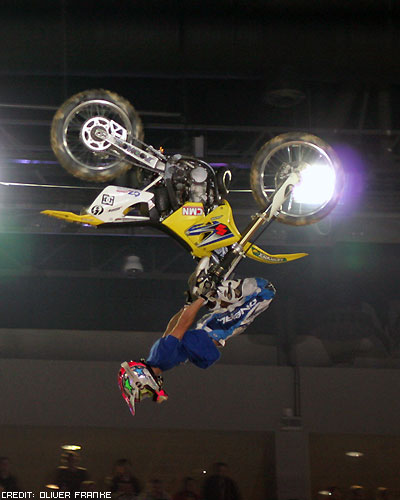 Libor Podmol with a Cordova Backflip


The other X-Games-Participant Remi Bizouard had a solid final run with Rock Solid, Scorpion Tsunami, Whip, Flintstone Nothing, 9-O-Clock Indian Air, 1-Handed Flip, Heelclicker Flip and No-Handed Flip in the Double-Up. The French guy reached third place.

Local hero Libor Podmol pushed the crowd and himself. He knew, he had to show all to reach the podium. So he did a Rock Solid, Double Seatgrab, 1-Handed Flip, Flintstone, Tsunami, Nac Flip, Cliffhanger to No-Hand-Landing, Heelclicker Flip and a Cordova Flip in the Double-up. The masses screamed. But Libor was a bit nervous and unsafe in some tricks. So he missed the podium only by few points and got 4th.
But the surprise of this evening was second French guy Romain Izzo. At his first appearance at an IFMXF contest he shocked the other riders with 1-Handed Kicker Flip, Double Seatgrab, Deadbody, Tsunami, Nac Flip, 1-Handed-Flip, Heelclicker Flip and a Cordova Flip. All very safe, so he won the first round of the FIM Freestyle MX World Championships.

The Team Whip contest was won by Remi Bizouard (FRA) and Busy Wolter (GER) ahead of Mike Mason (USA) and Jimmy Verburgh (BEL).

The Highest Air was won by local hero Libor Podmol ahead of Polish Bartosz Oglaza.


The first round of the 2007 FIM Freestyle MX World Championship was amazing and could not have a more spectacular start. Libor Podmol showed a Heelclicker and a Cordova Flip and did not make it on the podium. We can be sure 2007 will be the most massive and thrilling IFMXF season ever.



FACTS NIGHT of the JUMPs Liberec


Results Final

1 Romain Izzo FRA 321.0
2 Mike Mason USA 317.0
3 Rémi Bizouard FRA 307.0
4 Libor Podmol CZE 300.0
5 Sebastian Wolter GER 262.0
6 Martin Koren CZE 241.0