RED BULL X-FIGHTERS | MEXICO CITY
Story by Red Bull
Pics by Alex Schelbert and Flo Hagena
Young gun Dany Torres CONQUERS THE ARENA OF THE RED BULL X-FIGHTERS 2007 IN MEXICO CITY!
Ten of the world's best freestyle motocross riders had followed the call of the Red Bull X-Fighters and travelled all the way to Mexico to thrill some 42.000 spectators on-site and more than 10 million TV and internet viewers. What they came up with was a true freestyle motocross fiesta in the world's biggest bullfighting arena in Mexico City. Packed with elements of traditional bullfighting the contest format had ten top riders ride in a horse powder-loaded head-to-head battle.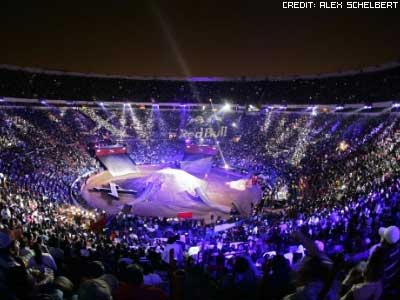 Shooting up in the sky as high as 20 metres with their 250ccm bikes these bold motoreros displayed some incredible courage, technique, style and airtime. Among the judging criteria were difficulty and execution of tricks, variety of tricks and usage of course, style and show aspects, and overall impression. At the Red Bull X-Fighters the crowd also has a big say in the judging of a rider's presentation so Mexico's most famous TV host Facundo acted as the judge of the spectators' voice.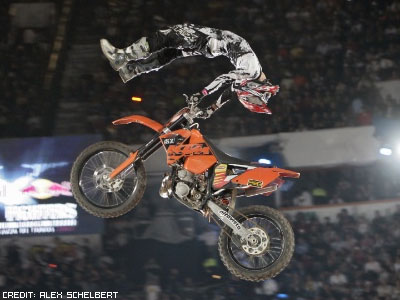 Gibriel Villegas doing an extended Dead Body
Three riders finally made it to the super final: overwhelmingly progressive Australian Robbie Maddison impressed the crowd and judges performing one flip after the other riding at super high speed.

A class of his own when it comes to riding technique and confidence, Nate Adams (USA) pulled some clean Catwalks, Cordova Backflips and Lazy Boys. However, neither Maddison nor Adams could stop 19-year-old Latino young gun Dany "DT" Torres (ESP).
When Torres fiercely attacked his former idols the crowd jumped off their seats waving their bandanas and screaming like crazy. Super high Cliffhangers, Turndowns, Superflips and Heelclicker Backflips, a Double Nac Nac No Hander, Indian Flip as well as a breathtaking Turndown Whip earned him victory.

"I watched Maddo and Nate ride so I knew I had to push it to the very limit to beat them.

I am so happy it worked out!" No doubt, the Red Bull X-Fighters in Mexico City will be something to remember for up-and-rising Torres.

Facts RED BULL X-FIGHTERS MEXICO CITY 2007

First round:
Eigo Sato vs Ronnie Renner - winner Eigo Sato
Gabriel Villegas vs Robbie Maddison - winner Robbie Maddison
Joaninha vs Mat Rebeaud - winner Mat Rebaud
Nate Adams vs Johan Nungaray - winner Nate Adams
Brian Deegan vs Dany Torres - winner Dany Torres
Second round:
5 winners first round plus "Lucky Loser" Ronnie Renner who both spectators and judges voted back into the contest:
Robbie Maddison vs Mat Rebeaud - winner Robbie Maddison
Eigo Sato vs Nate Adams - winner Nate Adams
Dany Torres vs Ronnie Renner - winner Dany Torres

..............................................................................

Final Results
1. Dany Torres (ESP) - 100 points
2. Nate Adams (USA) - 94 points
3. Robbie Maddison (AUS) - 84 points
4. Mat Rebebaud (SUI) - 40 points
5. Eigo Sato (JPN) - 30 points
6. Ronnie Renner (USA)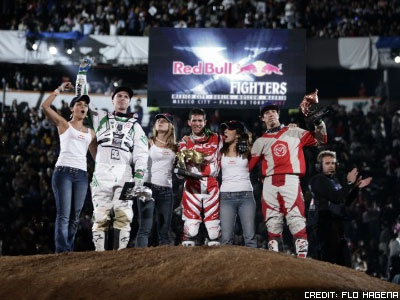 The winners | Adams (2), Torres (1) and Maddison (3)


Support us: Like and Share it!

Video of the month

Facebook /FORTY8Mag

Partner