NIGHT of the JUMPs | Krefeld
Story by Tina Jeschke
Pics by grau-in-grau.de
Adam Jones won the premiere event of the Night of the Jumps in Krefeld/GER last saturday and showed his famous Backflip Cordova. 2nd place went to french top gun Remi Bizouard, followed by Mike Mason in 3rd. Germanies Fab Bauersachs also showed a solid final run and took home 4th place.

We went to the "Königpalast" in Krefeld last weekend. Normally this place is the home of the local ice hockey team known as the "Pinguine". And from the beginning things began to get really HOT! Torch bearers dressed in black came into the hall and took their clothes off …certainly not all, but the flames of the Pyroshow caused the cheerleaders to take their long habits off. They together with Sven "MC" Schreiber received the twelve riders from eight nations.
First starter was Bartosz Oglaza . He rode a clean run and showed LAZYBOY, MC METZ and STRIPPER TO ONE HAND LANDING in the DOUBLE UP. The next one to go was Jimmy Verburgh at the start or better said, he should have started. Instead he rode together with Mat Rebeaud directly on the track in a train( Jimmy at the lead and Mat directly behind). They made 3 of the required 8 jumps for the preliminary. (7 regular and 1 DOUBLE UP), but they were requested by the red flag to stop the run. Mat left the track with acclaim from the crowd and Jimmy was allowed to start his run again. But this time he did it alone. He showed among CORDOVA, SHAOLIN, HARTATTACK and DOUBLE HEELCLICKER.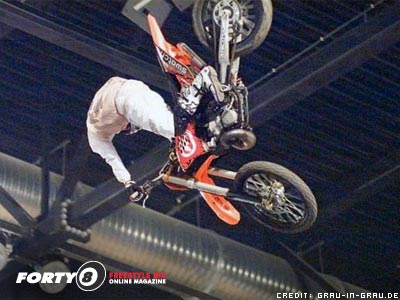 Mat Rebeaud had bad luck and made 2 dead sailors
Although it's called : "All good things come in threes", the third starter Freddy Peters had less luck with the HEELCLICKER, because he showed him as the 1. trick of his run as HEELCLICKER BACKFLIP (to remember: he showed the 1. Contest BACKFLIP in November in Köln) The trick itself looked really good but all the indications of the flightpath meant a hard landing. He crashed 1-1.5 m to far in the flat. Thank God nothing happened to him but we will comment on that later. With this act the event for him was over.
Next one was Whipmaster Lukas Weis in the hall. He felt obviously good in it ( maybe because he used to play ice hockey a few years before…?) and with high speed he made for example SURFER TO HEELCLICKER, ONE HANDED TAKE OFF TO NO HAND LANDING, SHOEBOX, but unfortunately even a DEAD SAILOR. And to repeat the number 3 again: The third German rider came out to show his best.
Should this number at least bring Fabian Bauersachs luck? Today there was a little bit of everything from him: BAR TRICKS, SEAT TRICKS, FLIP or more exactly FLINTSTONE, CLIFFHANGER, ROCK SOLID and BACKFLIP. Should this all be enough for the final today…?
Oystein Kjorstad finally also wants to be upper ranked again, so he had to give all his best, because he knew, that after him were just "Flipper" to come, with that we are back to the question: How important is the "BACKFLIP"?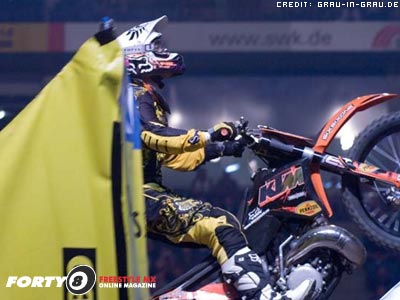 Oystein Kjorstad looked good on the bike and finished 6th


Back to Oystein: He showed TSUNAMI, ONE HANDED HARTATTACK, ONE FOOTED BACKFLIP and the HEELCLICKER BACKFLIP, that Freddy also tried, but in his case he landed safely. From the six started riders he was the best, which means a final without a german this time. To make it short: The final place for Norway went to Oystein Kjorstad.
Ailo showed also ONE HANDED HARTATTACK, CLIFFHANGER, WHIP but no BACKFLIP (he had a traffic jam the day before and problems with his shoulder), so it was not enough for him to get the final.
The "Flippers" were:
Libor Podmol: ONE HANDED and HEELCLICKER BACKFLIP, CLIFFHANGER TO NO HAND LANDING
Remi Bizouard: ONE HANDED and HEELCLICKER BACKFLIP, TSUNAMI SCORPION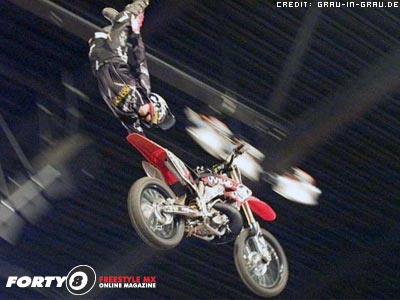 Mike Mason extreme extended - Onehanded Hart Attack | 3rd place

Mike Mason: NO HANDED and HEELCLICKER BACKFLIP, MASE TWIST
Mathieu Rebeaud: ONE HANDED and BACKFLIP, HOLY MAN TO ONE HAND LANDING, but also 2 DEAD SAILORS so Fabian Bauersachs got into the final
Adam Jones: NO HANDED and CORDOVA BACKFLIP, ROCK SOLID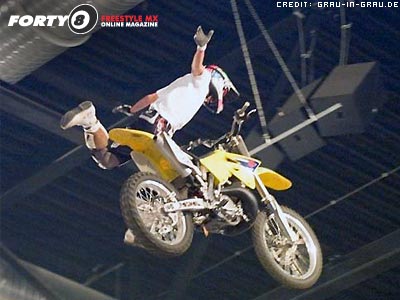 Libor Podmol doing a Flintstone


In the WHIP-CONTEST should have been a second chance for germany:
Three two-man teams started and showed something like a jam session , to ride out which rider would perform for his team. The teams were: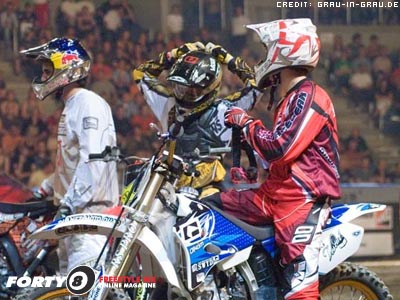 Some of the Whippers | Rebeaud, Weis and Bizouard
Lukas Weis/Ailo Gaup
Mathieu Rebeaud/Jimmy Verburgh
Remi Bizouard/Bartosz Oglaza
The audience was really excited although the fact even here was : No germans on the podium. Ailo, Mat and Remi get into the final. Remi took the first place and rode with his trophy back to the pit.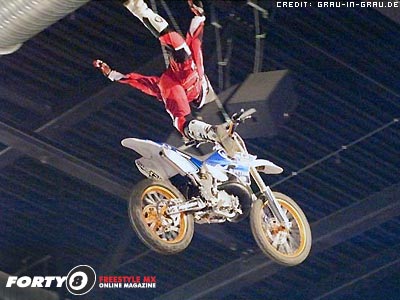 Remi Bizouard with a sweet Sidewinder | 2nd place
HIGHEST AIR. The starters were: Bartosz Oglaza, Libor Podmol and Lukas Weis, so we have the number 3 again. 3 riders and the third chance for Germany. Here we were lucky, cause Lukas "Skywalker" Weis won the contest with the high of 8,30m

The final was really exciting and the 6 riders got the following points:

Adam Jones 308
(HARTATTACK ROCKSOLID, CORDOVA BACKFLIP)
Remi Bizouard 301
(SIDEWINDER INDIAN AIR NOTHING, TSUNAMI SCORPION)
Mike Mason 296
(MASE TWIST, HOLYGRAB, SUPERMANBACKFLIP)
Fabian Bauersachs 270
(FLINTSTONE TO SARAN WRAP TO ONE HAND LANDING)
Libor Podmol 264
(ROCK SOLID; CLIFFHANGER TO NO HAND LANDING)
Oystein Kjorstad 245
(KISS OF DEATH, SIDEWINDER INDIAN AIR)

(bracketed just our favourite tricks)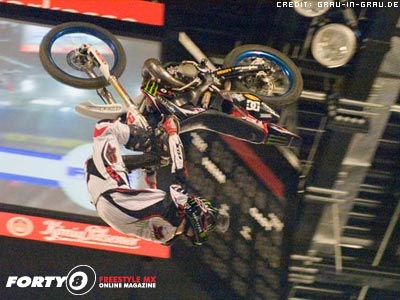 Mr. Adam Jones in the house | Cordova Backflip - 1st place

The crowd enjoyed the final as well and the winner of the contest Adam Jones enjoyed to douche the girls with champagne so nobody has taken place on the hot seat, cause Remi left it, when he saw the ride of Adam, before the judges scored the run. So it was a fair, sportful and exiting first NIGHT OF THE JUMPS over there in Krefeld and many people we´ve asked want to see it again.




FACTS NIGHT of the JUMPs
Krefeld, 28th April 2007

Results Qualification
1 Adam Jones USA 279.0
2 Mike Mason USA 263.0
3 Rémi Bizouard FRA 263.0
4 Fabian Bauersachs GER 237.0
5 Oystein Kjorstad NOR 237.0
6 Libor Podmol CZE 232.0
7 Lukas Weis GER 215.0
8 Mathieu Rebeaud SUI 213.0
9 Ailo Gaup NOR 201.0
10 Bartosz Oglaza POL 200.0
11 Jimmy Verburgh BEL 174.0
12 Freddy Peters GER 35.0

Results Whip Contest
1 Rémi Bizouard FRA
2 Ailo Gaup NOR
3 Mathieu Rebeaud SUI
4 Bartosz Oglaza POL
4 Lukas Weis GER
4 Jimmy Verburgh BEL

Results Highest-Air-Contest
1 Lukas Weis GER 8.3 m
2 Bartosz Oglaza POL 8.1 m
3 Libor Podmol CZE 7.0 m

Results Final
1 Adam Jones USA 308.0
2 Rémi Bizouard FRA 301.0
3 Mike Mason USA 296.0
4 Fabian Bauersachs GER 270.0
5 Libor Podmol CZE 264.0
6 Oystein Kjorstad NOR 245.0



Support us: Like and Share it!

Video of the month

Facebook /FORTY8Mag

Partner