FIM Freestyle MX World Championships
NIGHT of the JUMPs | Belgrade
Picture credit: Oliver Franke / IFMXF.com


Belgrade, 12th May 2007
Ailo Gaup wins ahead of Romain Izzo
6th round of the FIM Freestyle MX World Championship. This time with the premiere of the NIGHT of the JUMPs at the Beogradska Arena in Belgrade. 12 FMX riders out of 8 countries made their way to Serbia.
With Ailo Gaup, the current leader of the FIM Freestyle MX World Championships started, furthermore the former leader Romain Izzo, 2006 X-Games participant Remi Bizouard, Czech Libor Podmol and US-Boy Derek Burlew with his IFMXF-comeback. The two germans Lukas Weis and Fabian Bauersachs, Norway Oystein Kjorstad, Polish Bart Oglaza, Italian Massimo Bianconcini, Belgium Jimmy Verburgh and Ludovic Giullou from France completed the field of riders.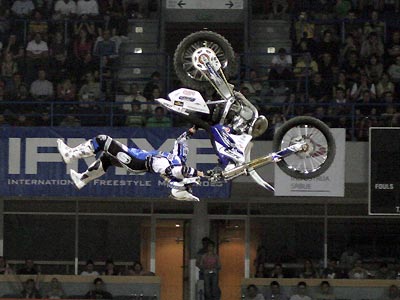 What a brilliant qualification at the NIGHT of the JUMPs in Belgrade. We saw the first Contest Backflip of Polish Bart Oglaza, a good IFMXF comeback of Derek Burlew, two longdistance flips of Ludovic Guillou and the first Superman Flip of Ailo Gaup. Finally German Fabian Bauersachs, Czech Libor Podmol, Oystein Kjorstad from Norway, both French Remi Bizouard and Romain Izzo and of course Ailo Gaup reached the Top 6 in the qualification and made it into the final.
The Whip contest won by Remi Bizouard ahead of Ailo Gaup. German Lukas Weis won the Highest Air with 7,20 meter ahead of Libor Podmol with 7,00 meter.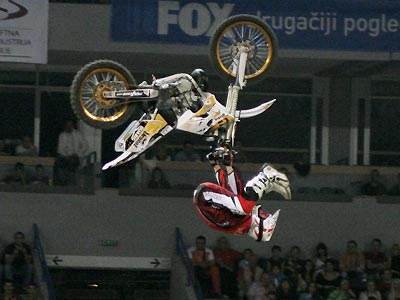 German Fabian Bauersachs opened the final. Sidewinder Nothing to 1-Hand-Landing, Cliffhanger, McMetz to 1-Hand-Landing, Rock Solid Indian Air, Backflip, Tsunami, Double Seatgrab Lookback, Cordova, 1-Hand Backflip and a Flintstone to Saran Wrap to 1-Hand-Landing in the Double-Up. With 256 points he got 6th.
Libor Podmol was next. 1-Hand Take-Of Seatgrab Indian Air, Double-Handed Hartattack, Tsunami, 1-Hand Backflip, Flinstone, Whip Flip, Rock Solid, Heeclicker Flip, Cliffhanger to No-Hand-Landing, Rock Solid and a Cordova Flip. 295 points brought him on 4th position.
Oystein Kjorstad nearly reaches his form of 2005 and did again a really good final run. With Barhop, Backflip, Double Seatgrab, Tsunami, No-Foot Flip, 9-O-Clock, Nac Flip, Switchblade Indian Air, Doublegrab and the Heelclicker Flip he ended up 5th.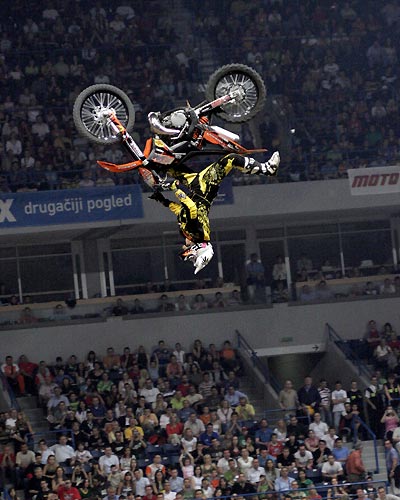 Remi Bizouard really wanted to show the 360 again. But as he was close to a crash in the training, he made it safe. 1-Handed Hartattack Lookback, 9-O-Clock, Indian Tsunami, Whip, Airwalk, Scorpion Tsunami, Holyman, Heelclicker Flip, Sidewinder to Sidewinder and the No-Hand Flip in the Double-Up. 302 points meant 3rd.
After his injury in Basel, former World Championship leader wanted to strike back and attack Ailo Gaup. 1-Hand Flip to 1-Hand-Landing, 1-Hand Nac Flip, Tsunami, 9-O-Clock, Deadbody, Heelclicker Flip, No-Hand Flip, Rock Solid, Cordova Flip and the Superman Flip as Double-Up. 325 points put him in the meantime on the hotseat.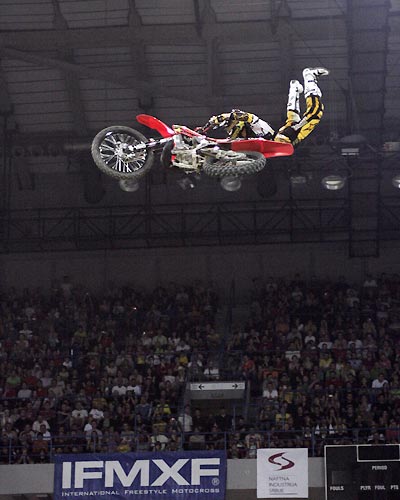 Now it was up to the "Iceman" Ailo Gaup and the Norway guy is the form of his life. Again he wanted to have the victory with all his strength. No-Foot Backflip, Holyman, Switchblade, Superman Flip, Can Flip to SideSaddle Landing, Holygrab, Cordova Flip, Whip, Candybar Flip and the Underflip to NoseWheelie. 333 points put him on top ahead of Romain Izzo and Remi Bizouard.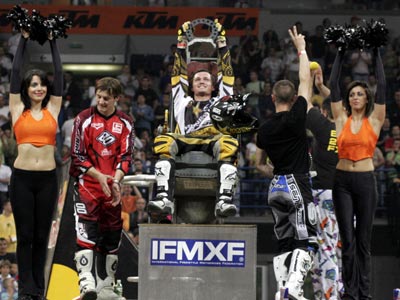 With this victory Ailo Gaup extended his lead in the FIM Freestyle MX World Championships with 93 points. Six points behind French Remi Bizouard follows. Vice World Champion Libor Podmol with current 78 points is 3rd ahead of Romain Izzo with 76 points. Now the IFMXF goes into the summer break. The next contest of the FIM Freestyle MX World Championships takes place in Athens on the 08th and 09th September 2007.
FACTS NIGHT of the JUMPs
6th Contest FIM Freestyle MX World Championships
Belgrade, 12th May 2007

Results Qualification
1. Ailo Gaup NOR NMF Honda 279 Points
2. Romain Izzo FRA FFM Yamaha 274 Points
3. Remi Bizouard FRA FFM Yamaha 260 Points
4. Oystein Kjorstad NOR NMF KTM 253 Points
5. Libor Podmol CZE ACCR Suzuki 247 Points
6. Fabian Bauersachs GER DMSB Kawasaki 237 Points
7. Lukas Weis GER DMSB Suzuki 230 Points
8. Massimo Bianconcini ITA DMSB Honda 224 Points
9. Bartosz Oglaza POL PZM Suzuki 213 Points
10. Derek Burlew USA DMSB Yamaha 199 Points
11. Ludovic Guillou FRA FFM KTM 190 Points
12. Jimmy Verburgh

Results Whip Contest
1. Remi Bizouard FRA FFM Yamaha
2. Ailo Gaup NOR NMF Honda
3. Ludovic Guilou FRA FFM KTM
4. Jimmy Verburgh BEL DMSB KTM
4. Massimo Bianconcini ITA DMSB Honda
4. Derek Burlew USA DMSB Yamaha
Results Highest-Air-Contest
1. Lukas Weis GER 7,20 Meter
2. Libor Podmol CZE 7,00 Meter
3. Bartosz Oglaza POL 5,50 Meter
Results Final
1. Ailo Gaup NOR NMF Honda 333 Points
2. Romain Izzo FRA FFM Yamaha 325 Points
3. Remi Bizouard FRA FFM Yamaha 302 Points
4. Libor Podmol CZE ACCR Suzuki 295 Points
5. Oystein Kjorstad NOR NMF KTM 281 Points
6. Fabian Bauersachs GER DMSB Kawasaki 256 Points