RED BULL X-FIGHTERS | SLANE CASTLE
credit www.sportsandnews.com
PRESS RELEASE/Red Bull X-Fighters, Ireland 27 May 2007
USA's PASTRANA RULER OF THE RED BULL X-FIGHTERS AT SLANE CASTLE, IRELAND
Historical Slane Castle, Ireland was the spectacular setting for the second leg of the Red Bull X-Fighters tour 2007 which took place late evening on Saturday 26 May. 35,000 enthusiastic spectators cheered on as American FMX superhero Travis Pastrana ruled the technical freestyle track ahead of impressive Swiss rider Mat Rebeaud and youngster Dany Torres from Spain.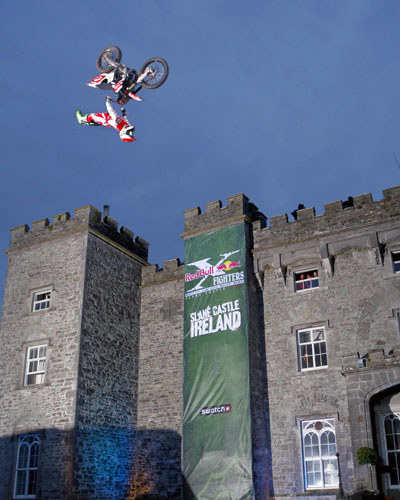 Launching themselves off massive kicker ramps more than 12 metres into the air were ten of the world's most respected freestyle motocross riders. Slane Castle, near Dublin, which has hosted rock bands like U2 and The Rolling Stones, provided a magical setting. The Red Bull X-Fighters athletes travelled from all over the world to experience some FMX rock 'n' roll on a course never before seen in FMX.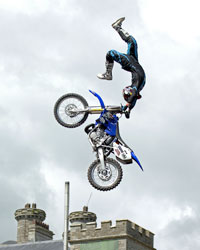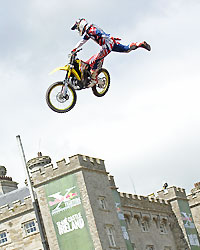 "Anything is possible" was what all the riders had confirmed before they entered the new freestyle track set-up at the foot of the castle. It was technically challenging and included a huge quarterpipe. Anyone of these hardy souls on their 250ccm bikes could have been among the top three in the contest. However, everyone knew that you can never count out super progressive 'Mr Double Backflip' Travis Pastrana.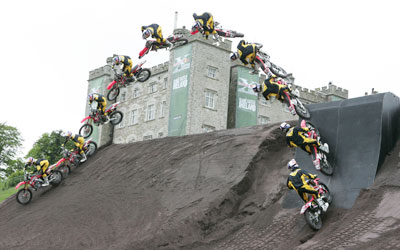 Displaying some incredible courage, technique, style and airtime all athletes competed in a passionate freestyle battle to excel and hit the podium. Among the judging criteria were difficulty, execution and variety of tricks, usage of course, style and overall impression. Again, the 35,000 spectator crowd had a big say in the judging of a rider's presentation so owner of Slane Castle, Lord Henry Mount Charles, acted as the judge of the spectators' voice.



A massive Superflip, Indian Air, No Footed Air off the quarterpipe, Saran Wrap Flip, Heelclicker Flip, Can Can Flip Side Saddle Lander off the huge in-jump at the castle, a Superman on the way up the step-up and a number of more impressive tricks earned Pastrana victory.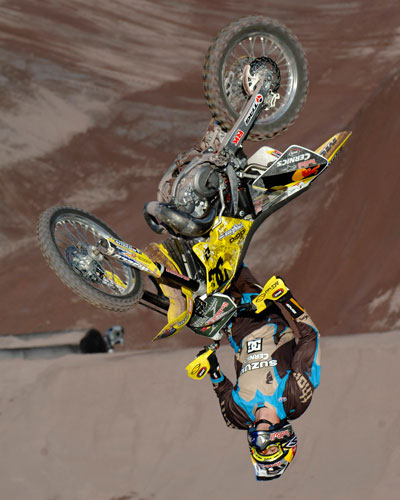 Slane Castle, Ireland was the second stop of the Red Bull X-Fighters tour 2007. Next stop will be Moscow, Russia (30 June) with another battle against gravity, followed by the final tour stop on the Red Bull X-Fighters' home turf Madrid (27 July). Leading the tour to date is Dany Torres ahead of Mat Rebeaud and Travis Pastrana.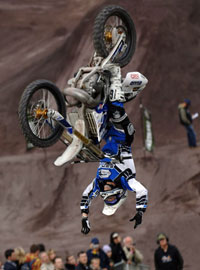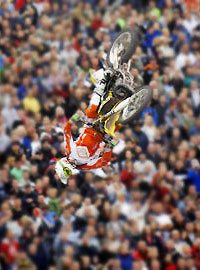 Facts RED BULL X-FIGHTERS SLANE CASTLE 2007


Final Results
1. Travis Pastrana (USA)
2. Mat Rebeaud (SUI)
3. Dany Torres (ESP)
4. Jeremy Lusk (USA)
5. Eigo Sato (JPN)
6. Romain Izzo (FRA)
7. Charles Pagès (FRA)
8. Ronnie Renner (USA)
9. Busty Wolter (GER)
10. Alvaro Dal Farra (ITA)