Red Bull X Fighters Madrid
Travis Pastrana victorious
The audience had gone totally crazy hours before the start of the show but when a shiny (and loud!) Scuderia Toro Rosso Formula1 racing car driven by famous Formula1 pilot Vitantonio Liuzzi (ITA) finally entered the arena madness was on at Las Ventas! The first head-to-head round in the re-vamped freestyle motocross set-up (a quarterpipe was added as a technical feature) saw the ten rider line-up being reduced to eight. Germany's Busty Wolter failed against Aussie boy Matt Schubring while Libor Podmol (CZE) excelled against Ronnie Renner (USA).

In the second head-to-head round Andrè Villa (NOR) put on a super smooth and powerful run but couldn't come near his opponent, Swiss Mat Rebeaud. Although Rebeaud was riding with a broken hand he never seemed to be fitter. His huge whips, airs and flips earned him a position in the semi-final.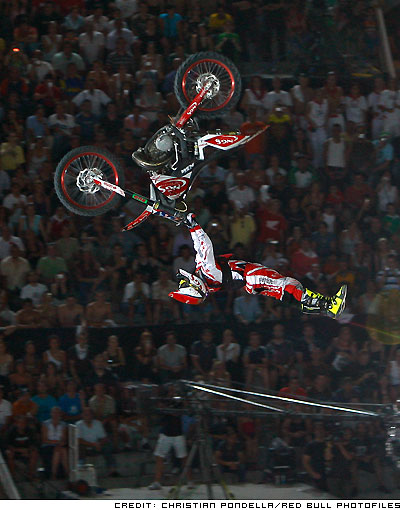 "Unlucky" to ride against Travis Pastrana (USA), Japanese Eigo Sato pushed it hard but his amazing flip combos and Rock Solids couldn't keep up with Pastrana's trick set. Schubring found himself riding against local hero Dany Torres with Torres and his whips, Tsunamis and flips stiring up unbelievable passion among the audience. Welcome to the semi-final, Dany! Technically perfect Nate Adams was programmed to excel so his Flintstones and Holygrabs sent him to the next round (to Libor Podmol's regret).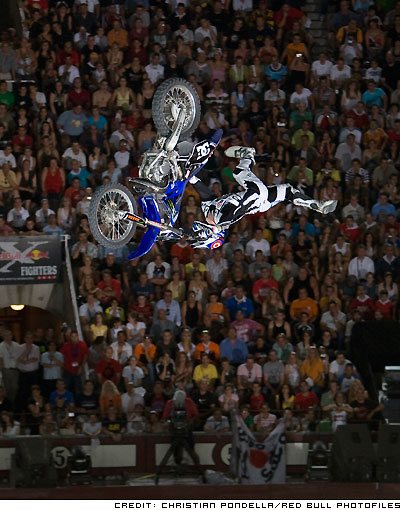 Following the passionate rock performance of Rosendo Mercado, one of the best rock 'n' roll players in Spain, the 23,000 spectators were all fired up for the dramatic semi-final and final. The semi-final saw Travis Pastrana compete against Dany Torres. Pastrana unleashed some unbelievably high and super stylish tricks (Saran Flip, Nac Flip, 9 o' clock Indian, Heelclicker and Tsunami Flips, etc) and even let go of his bike in a Backflip up the dirt hill. Although Torres was riding like a true FMX madman in front of his Latino crowd he was under pressure and made a few mistakes.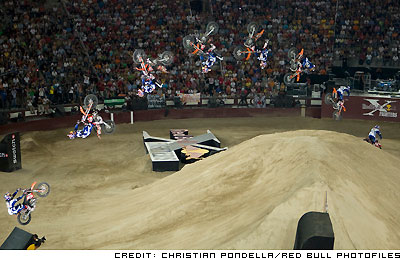 Then, Mat Rebeaud's pumped-up run provoked Nate Adams. The US-American counterattacked with a series of technical tricks but was too fast at a landing and crashed against the barriers of the bullring. Nate broke his finger but thanked the crowd by taking his shirt off and throwing it into the audience.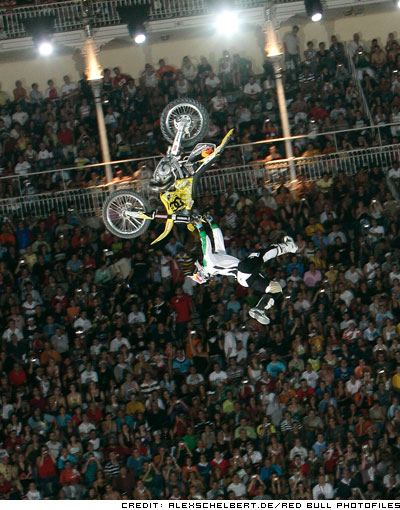 The finals were a display of guts, power, airtime, technical skills and audience interaction. Both Rebeaud and Pastrana were performing on a never before seen trick and riding level with Travis finally being crowned the glorious winner of the Red Bull X-Fighters in Madrid 2007 and also the entire 2007 tour. "I saw all the guys doing Cliffhanger Backflips in the training and then Mat Rebeaud put on such a good run with a broken hand," says Pastrana happily. "It's unbelievable to be on top of all these great guys!"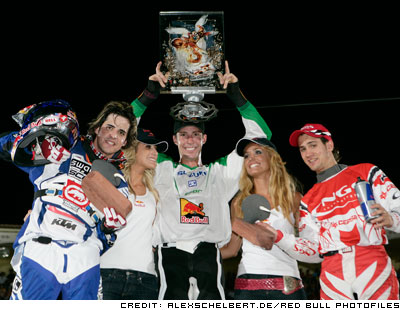 Results Red Bull X-Fighters Madrid 2007:
1. Travis Pastrana
2. Mat Rebeaud
3. Nate Adams
4. Dani Torres
5. Andre Villa
6. Eigo Sato
7. Matt Schubring
8. Libor Podmol
9. Ronnie Renner
10. Busty Wolter
Overall result Red Bull X-Fighters 07 - Top 10:
1. Travis Pastrana, 250 points
2. Mat Rebeaud, 215 points
3. Dani Torres, 210 points
4. Nate Adams, 145 points
5. Eigo Sato 100 points
6. Ronnie Renner 70 points
7. Busty Wolter 50 points (because of higher Madrid ranking)
8. Robbie Wolter 50 points
9. Jeremey Lusk 40 points
10. Andre Villa 30 points (because of higher qualifying rank Madrid)