Summer X Games 13 | Los Angeles
text by espn | pix by espn images
"The Volt" Electrifies Crowd At STAPLES Center
X Games First-Timer Kyle Loza Takes Gold In Moto X Best Trick Final
LOS ANGELES – A brash young group of Moto X riders gave 17,174 fans at STAPLES Center plenty to cheer about this evening, as Kyle Loza, competing in his first ever X Games event, busted out a heart-stopping trick of his own design – "The Volt" – to win gold.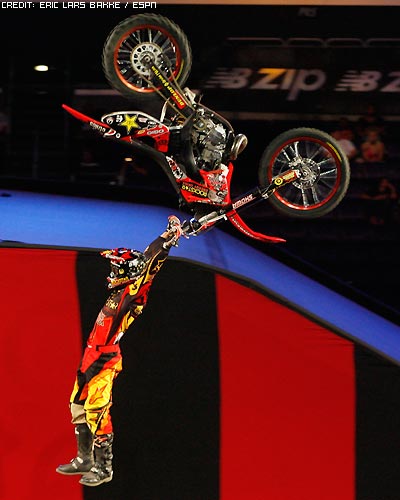 The Moto X Best Trick Final capped off the first day of ESPN X Games 13, which saw, among other feats, a new record for Thursday X Games attendance: between STAPLES Center and The Home Depot Center, 30,374 fans took in all the action sports on display. "Action" was definitely the name of the game at the Moto X Best Trick Final, as Scott Murray attempted without success to duplicate Travis Pastrana's unprecedented double backflip from last year.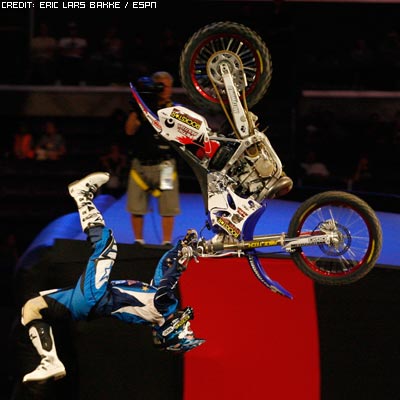 Adam Jones nailed a backflip variation (and a 91.00 for his second run) that was good enough for the silver; and Todd Potter landed a "Kiss of Death" backflip for the bronze. But it was "The Volt," from X Games newbie Loza, that wowed the judges and launched the 21- year-old rider to the gold medal.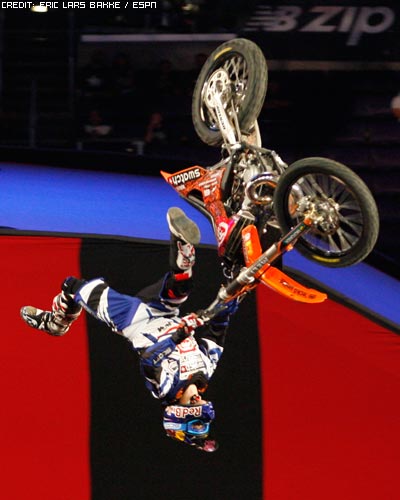 The trick, which featured Loza doing a full 360° turn above the seat while his bike was airborne, has been in the works for some while. "I've been working on it for a long time," he said, noting that his fellow riders had been urging him to perfect flips, which have captivated the Moto X world in recent years. The Volt, he said, is "gnarly – you have to do the whole trick before your bike peaks out on you!"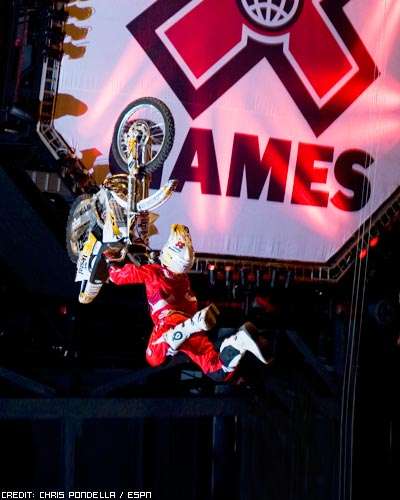 "This is our life," Jones said with a shrug when asked about his backflip variation and the evening's other breathtaking jumps. "This is our job."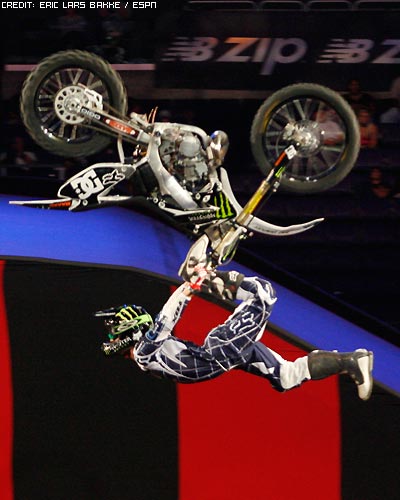 The Best Trick Videos
X GAMES 13 | Los Angeles




Final Results from the X Games 13 Moto X Best Trick competition at STAPLES Center on August 2, 2007



1. Kyle Loza Trabuco Canyon, CA 94.20
2. Adam Jones Minden, NV 91.00
3. Todd Potter Temecula, CA 91.00
4. Mat Rebeaud Payerne, Switzerland 89.40
5. Jeremy Lusk San Diego, CA 87.60
6. Remi Bizouard Bergerac, France 85.80
7. Jim McNeil Phoenix, AZ 85.60
8. Brian Deegan Temecula, CA 83.40
9. Jeremy Stenberg Winchester, CA 83.20
10. Scott Murray Helps, MI 66.00