Brazilian Freestyle Motocross Championship
Championship brings new perspective for FMX in Brazil
What's up freestylers,
A few days ago we had the first stop of Brazilian Freestyle Motocross Championship. The event took place at Transguarulhense Park in Guarulhos, a big a city close to São Paulo. The Brazilian freestylers had been waiting for a event like that a very long time. A contest with good ramps, good dirt landings and a fair judging system. So, they finally got it! The Brazilian Freestyle Motocross Championship brings a whole new perspective for FMX progression in Brazil.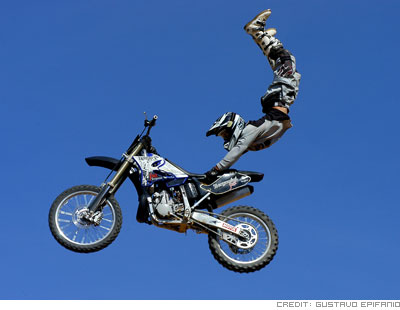 I worked as head judge in that contest and all I have to say is "amazing"! The Brazilian riders are getting better and better and the level was very high! We saw a large variety of tricks there, such as holygrabs, tsunamis, 9-o-clock nacs and much more... Really good stuff! The crowd just loved it! By the way, the attendance was massive! The wind was annoying, but even having this litle problem the riders kept pushing the limits!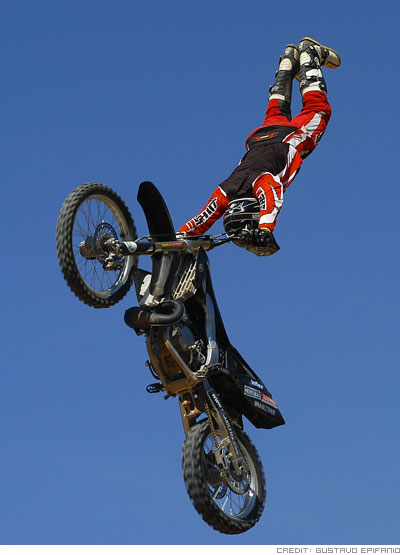 The contest was divided in two days: qualifying on Saturday and final on Sunday. On qualifying Giancarlo Bergamini got the first place. He made no mistakes and showed a very solid run including a lot of different tricks to all directions like christ air, double hart attack (on better scorpion style) and many more. Marcelo Simões got the second place. Simões is a new star on Latin American scene. A very talent rider with a great facility to learn new movements. He put nice tricks in his routine, such as tsunami and 9-o-clock nac. But he had a dead sailor which killed his run. That way he finished in second place. Fred Kyrillos finished in third place.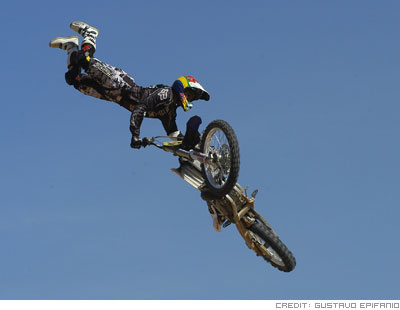 On Sunday the day started with bad news. Bergamini's truck was stole at night! They loose their bikes, two brand new Yamaha YZ 250 2007! Giancarlo and his brother Gianpaulo were out of the final. A big disappointmentfor for us all.
All riders were sad, and the only way to put this bad vibe away would be doing a great job. And they really did it! Tons of good and stretched tricks. The winner was Fred Kyrillos. He wrote his name in the Brazilian FMX history as the first rider to get a victory in the Brazilian Freestyle Motocross Championship. Kyrillos progressed so much on last times. He is completely focussed on FMX and has a tuff routine of training. Almost every day he is at his compound hitting the ramps and looking for new tricks. A few months ago he spent six weeks in US practicing. The reward was the victory. Fred was almost perfect, no dead sailors, no lack of extension, just the better! He put some crazy tsunami, sideshow and striper. Is impressive to see how a big guy like Fred can get full extension in tricks like stripers and shaolins!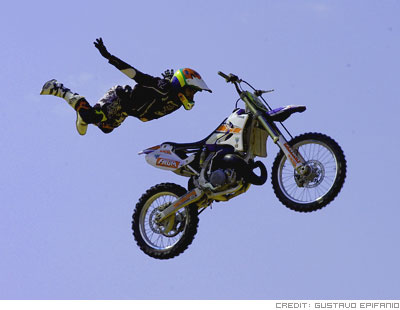 Marcelo Simões finished in second place. Another good run, another crucial problem. As in the qualifying he had a dead sailor in reason of the wind. No chance to conquest the victory... In the third place came Gilmar Joaninha Flores. People were waiting to see Joaninha fliping out, but the flip did not come and his regular tricks were not good enough.
The next stop of Brazilian Freestyle Motocross Championship will be in October 28. Stay tuned here, more news coming soon.
Final Result

1. Fred Kyrillos – 344 points
2. Marcelo Simões - 314 points
3. Gilmar Flores "Joaninha" - 296 points