FIM Freestyle MX World Championships
NIGHT of the JUMPs Riga
Oct. 27th, 2007 | A most impressive return of André Villa

The IFMXF premiere in Riga was the eighth round of the FIM Freestyle MX World Championship. It started with rider Ailo Gaup in the lead, followed by the IFMXF comeback of André Villa. Three German riders made their way to Riga, Busty Wolter, Fabian Bauersachs and Lukas Weis. Johansson (Sweden), Koren and Podmol (both Czech Rep.), Kjorstad (Norway), Franklin (NZL), Bianconcini (ITA) and Jussi Seljas from Finland completed the group of participants.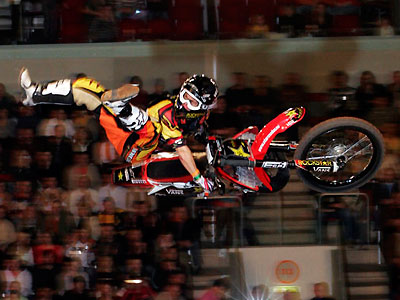 Ailo Gaup had bad luck, because his shoulder dropped out in the final

The qualification in Riga brought an IFMXF premiere. For the first time ever 12 riders did a longdistance flip. So like in Metz the qualifying led to a backflip try out. This time we saw the NIGHT of the JUMPs Superman Flip premiere of Italian Massimo Bianconcini and also the first long distance flip of Jussi Seljas at the IFMXF. Oystein Kjorstad premiered with an Indian Air Flip but crashed at the landing. Busty Wolter did a massive run, Ailo Gaup impressed the crowd with Superman and Heelclicker Flip, even though he had a broken hand. But one guy marked the qualification. André Villa is definitely back on the IFMXF track. He is back to his form of 2005 and 2006.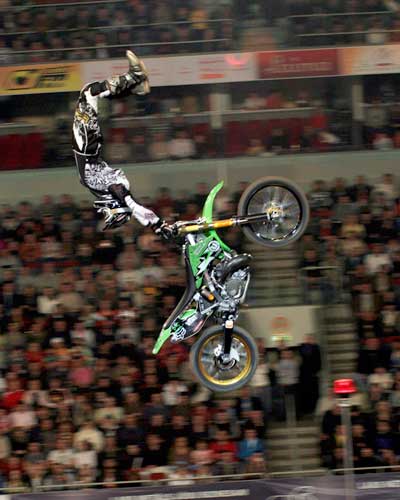 Fab Bauersachs back on the podium (3rd) and currently 4th overall

From the outstanding show Lukas Weis, Libor Podmol, Fabian Bauersachs, Busty Wolter, Ailo Gaup and André Villa made it through to the final. Germany's Lukas Weis came first in the Whip contest, beating Norway's André Villa. Libor Podmol came top in the Highest Air challenge, reaching over 7,70 metres in the first attempt, followed by German Florian Menge with 7,70 metres in the second attempt.


| | |
| --- | --- |
| | The final opened with Lukas Weis. His run wasn't that impressive like his qualifying. Weis gained 273 points, putting him in fifth place. Libor Podmol was the next rider to perform, finishing in second place with 307 points. His performance consisted of Cordova Backflip, Cliffhanger to No-Hand-Landing, Heelclicker and Superman Flip. Up next was Fabian Bauersachs. With a solid run, he gained 287 points, putting him in third place. Next German Busty Wolter was highly motivated, to reach his third place from the qualifying in the final too. But he had some small problems in his run. 281 points putt him on forth place. |
Ailo Gaup was hyped to win the Night of the Jumps in Riga. Unfortunately, due to an injured shoulder, which caused him to drop out just after his seventh stunt, he finished in sixth position with 224 points. Norway André Villa proved his determination to get back to a leadership in the Freestyle MX World Championship, gaining first position with 331 points through stunts like No-Hand Flip, 1-Hand Nac Flip, Underflip or Superman Flip. This was his evening and a welldone comeback.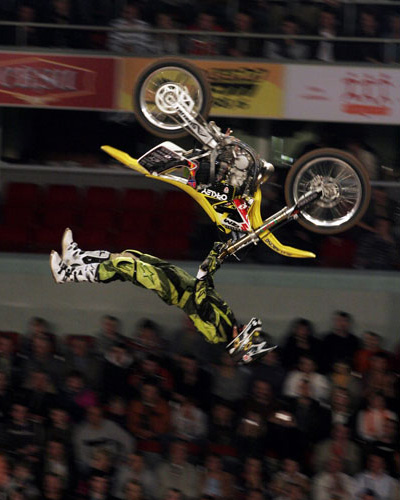 Andre Villa doing a Superflip'

With Gaup's sixth place he still leads the FIM Freestyle MX World Championships with 143 points. Czech Libor Podmol came second, 21 points behind. Frenchman Remi Bizouard currently in third place with 115 points, comes in front of German Fabian Bauersachs, on 91.

FACTS NIGHT of the JUMPs - Riga, Oct. 27, 2007

Final
1 André Villa NOR 331.0
2 Libor Podmol CZE 307.0
3 Fabian Bauersachs GER 287.0
4 Sebastian Wolter GER 281.0
5 Lukas Weis GER 273.0
6 Ailo Gaup NOR 224.0

Highest Air
1 Libor Podmol CZE 7.7 m
2 Florian Menge GER 7.7 m
3 Lukas Weis GER 7.3 m

Whip Contest
1 Lukas Weis GER
2 André Villa NOR
3 Sebastian Wolter GER
4 Massimo Bianconcini ITA
4 Martin Koren CZE
4 Nicholas Franklin NZL

Qualification
1 André Villa NOR 277.0
2 Ailo Gaup NOR 268.0
3 Sebastian Wolter GER 243.0
4 Fabian Bauersachs GER 240.0
5 Libor Podmol CZE 239.0
6 Lukas Weis GER 234.0
7 Fredrik Johansson SWE 226.0
8 Nicholas Franklin NZL 225.0
9 Massimo Bianconcini ITA 210.0
10 Oystein Kjorstad NOR 198.0
11 Jussi Seljas FIN 193.0
12 Martin Koren CZE 173.0