FIM Freestyle MX World Championships
NIGHT of the JUMPs Riga
Oct. 28th, 2007 | Ailo Gaup strikes back!

Second day NIGHT of the JUMPs in Riga. It was the tenth' round of the FIM Freestyle MX World Championship. Even with a broken hand and an injured shoulder Ailo Gaup started, as well as the 11 other FMX riders from Saturday.
The qualifying were dominated by Norway riders André Villa and Ailo Gaup. With spectacular flip combinations they reached first and second. Czech Libor Podmol, Italian Massimo Biaconcini and both Germans Fabian Bauersachs and Busty Wolter made their way into the final by strong runs.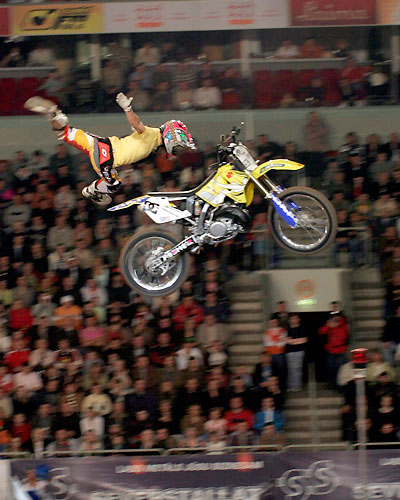 Germany's Lukas Weis came again first in the Whip contest, beating Germany's Busty Wolter. Lukas Weis came top in the Highest Air challenge too, reaching over 8,30 metres, followed by Czech Libor Podmol with 8,10 metres.

Sebastian Wolter opened the final. With a solid run and tricks like Suicide Whip, Nac Flip, Whip Flip, Cliffhanger he reached 296 points, putting him in sixth place.
Second German final rider, Fabian Bauersachs, did again a good run. With Flintstone, Rock Solid Indian Air, 1-Hand-Flip and Whip Flip he gained 292 points, which meant fifth position.

Massimo Bianconcini felt well on the IFMXF Track with backflip combos like Clicker Flip, No-Hand Flip, Nac Flip and Superman Flip 303 points put him on forth place.

Like on saturday Libor Podmol wanted to get closer to Ailo Gaup in the World Championships ranking. With Superman Flip, No-Hand Flip, Underflip, Cordova Flip and an Indy Flip in the Double-Up he pushed a lot. 311 points were to by beat by Ailo Gaup. Butt he Norway guy striked back right away.Even with his broken hand and injured shoulder he did Clicker Flip, Saran Wrap Flip, Cordova Flip, Superman Flip und Underflip, just to mention his backflip combos.
For this impressive run he gained 325 points, which let him freak out and do three more extra jumps. The crowd celebrated him.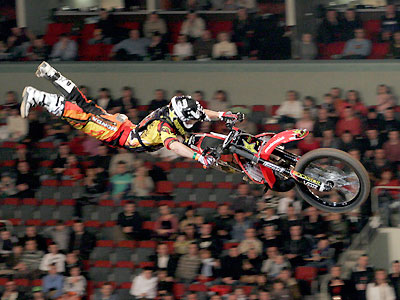 But there was still one rider left. Saturday winner André Villa could have been stop Ailo's party. His run consisted 1-Hand Nac Flip, Underflip, 1-Hand Can Flip and Superman Flip to 1-Hand-Landing, what would have been first position on a normal day. But not on this day. With 323 points he was close to Ailo, but only second.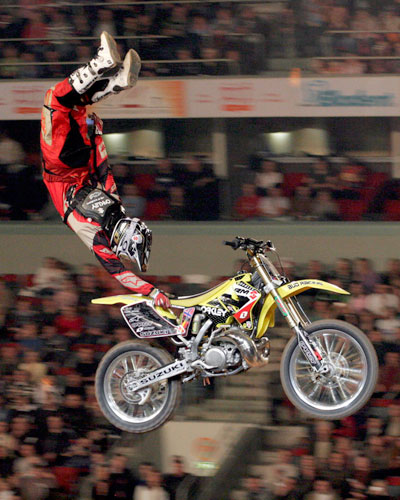 Andre Villa doing a Onehand Hartattack


With Gaup's win he leads the FIM Freestyle MX World Championships with 163 points. Czech Libor Podmol came second, 25 points behind. Frenchman Remi Bizouard currently in third place with 115 points comes in front of German Fabian Bauersachs, on 103.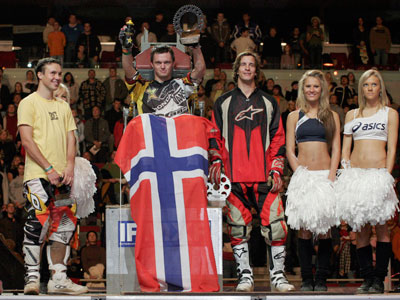 FACTS NIGHT of the JUMPs - Riga, Oct. 28, 2007

Results Qualification
1. André Villa NOR NMF Suzuki 291 Points
2. Ailo Gaup NOR NMF Honda 275 Points
3. Libor Podmol CZE ACCR Suzuki 267 Points
4. Massimo Bianconcini ITA DMSB Honda 267 Points
5. Fabian Bauersachs GER DMSB Kawasaki 260 Points
6. Sebastian Wolter GER DMSB Suzuki 256 Points
7. Fredrik Johansson SWE SVEMO Suzuki 256 Points
8. Oystein Kjorstad NOR NMF KTM 248 Points
9. Lukas Weis GER DMSB Suzuki 241 Points
10. Nick Franklin NZL MNZ KTM 241 Points
11. Martin Koren CZE ACCR KTM 223 Points
12. Jussi Seljas FIN SML Honda 207 Points
Results Whip Contest
1. Lukas Weis GER DMSB Suzuki
2. Sebastian Wolter GER DMSB Suzuki
3. Nick Franklin NZL MNZ KTM
4. Martin Koren CZE ACCR KTM
Results Highest-Air-Contest
1. Lukas Weis GER 8,30 Meter
2. Libor Podmol CZE 8,10 Meter
3. Florian Menge GER 6,50 Meter

Results Final NIGHT of the JUMPs – Final
1. Ailo Gaup NOR NMF Honda 325 Points
2. André Villa NOR NMF Suzuki 323 Points
3. Libor Podmol CZE ACCR Suzuki 311 Points
4. Massimo Bianconcini ITA DMSB Honda 303 Points
5. Fabian Bauersachs GER DMSB Kawasaki 292 Points
6. Sebastian Wolter GER DMSB Suzuki 286 Points