Brazilian Freestyle Motocross Championship
Marcelo Simões conquest the victory in the second round
São Paulo, a cosmopolitan metropolis, the biggest and most populous city in South Hemisphere hosted the second stop of Brazilian Freestyle Motocross Championship season 2007. The event took place at the external ring of Ibirapuera Arena which received tons of dirt used in the course building. Ibirapuera also received tons of tricks performed by the best Brazilian freestylers in the moment. All them looking for the same thing: to get the victory and stay one step closer to become the first ever Brazilian FMX champion. The dispute among top three riders was tuff. They had such a great routines showing fabulous tricks. But in the end only one rider could take the trophy to home and the best of the best was Marcelo Simões.
Simões aka Simon is a genuine example of the new Brazilian FMX generation. He had a huge evolution on last two years and finally got his first victory in a FMX contest. Before the competition in São Paulo people in the Brazilian FMX scene used to say "Simon's victory is just a matter of time". Well, his time has arrived. He made no mistakes and showed a large variety of movements. Simon got full extension on tsunamis, jackhammers, cracknacs and also brought some technical stuff to his runs such as supercan let it go to seat grab indy air.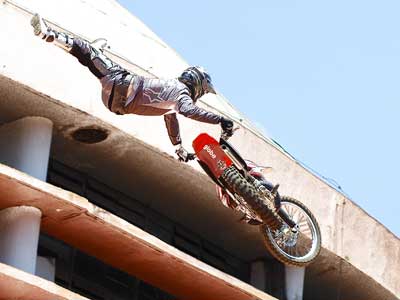 "I loved the organization, the judges, the course, everything... The event was awesome, the Brazilian freestylers are getting better and better! I am very happy with my first victory. But now is time to back home and practice as much as possible" said Simões a few moments after his conquest.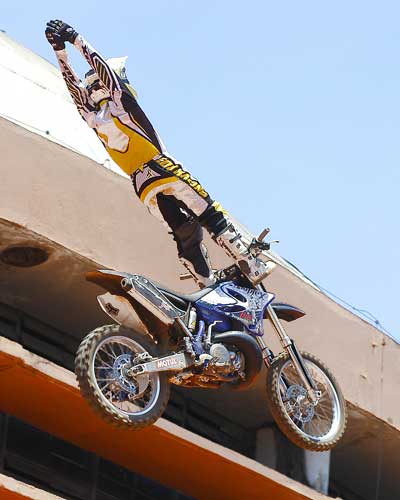 Fred Kyrillos, the winner of the first round, got the second position. He had a complete routine, showing stretched movements to all directions. He shocked the crowd with solid cracknacs and sideshows. But the real shocking moment happened when he pinned the wrong gear and needed to eject off the bike in the second run. He fly and fly... landing with his back! Incredibly nothing happened. No injuries, no broken bones, no damages. Kyrillos just stood up and walked away. A few instants later another fall. Fred's mother fainted when she watched the amazing scene. A few minutes later she was completely recovered. But confessed "she is still not prepared to see his son crashing...".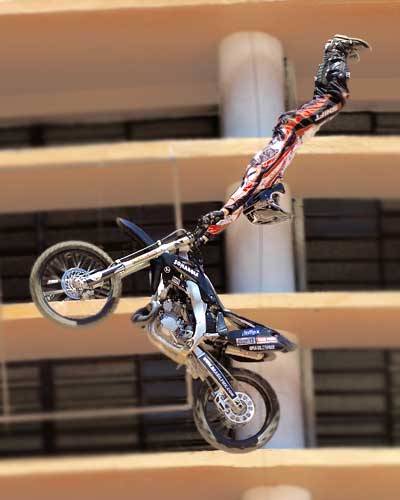 Giancarlo Bergamini finished in third place. Gian is a very smooth freestyler. He puts his personal touch in every trick twisting his body and getting a gnarly extension. He got a good score with tricks like christ air, rocksolid and "scorpionized" double hart attack in a very stylish way.
Now Marcelo Simões and Fred Kyrillos are both tied in first position of Brazilian Freestyle Motocross Championship Classification with 38 points. Giancarlo Bergamini come in third place with 26 points.
The decision of Brazilian Freestyle Motocross Championship will happen in December. Anything can happen in the final round! So stay tuned.


Final Classification – Second Round
1. Marcelo Simões
2. Fred Kyrillos
3. Giancarlo Bergamini
4. Celso Aslan
5. Gianpaulo Bergamini
6. Gustavo Russo
Brazilian Freestyle Motocross Championship Ranking

1. Marcelo Simões 38 points
1. Fred Kyrillos 38 points
3. Giancarlo Bergamini 26 points
4. Celso Aslan 23 points
5. Gianpaulo Bergamini 18 points
6. Gilmar Flores"Joaninha" 16 points
7. Otavio Mello "Tatá" 14 points
8 Gustavo Russo 9 points