FIM Freestyle MX World Championships
NIGHT of the JUMPs Mannheim
Ailo Gaup strikes back!

Packed Arena and high tension at the Suzuki NIGHT of the JUMPs in Mannheim yesterday. It was the eleventh and second last round of the FIM Freestyle MX World Championship. Was World Cup leader Gaup able to close the FMX Championship already or was Podmol able to put the pressure on him and adjourn the decision to Brazil?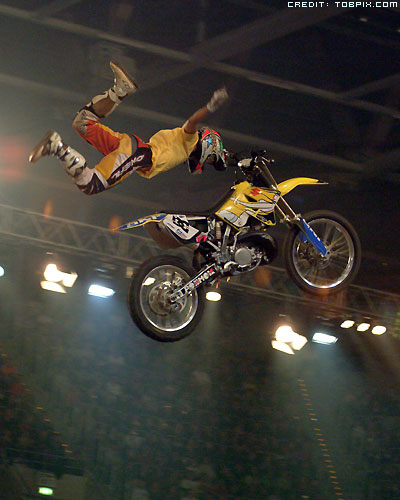 Libor Podmol doing a Rock Solid Indian

8.400 people came to the sold out SAP Arena to see 13 FMX riders fight for World Championship points. Next to the already mentioned Gaup and Podmol Mat Rebeaud (SUI), Remi Bizouard (FRA), André Villa (NOR), Fredrik Johansson (SWE), Oystein Kjorstad (NOR), Bartosz Oglaza (POL) and the German Busty Wolter, Fabian Bauersachs, Lukas Weis, Freddy Peters and Hannes Ackermann started.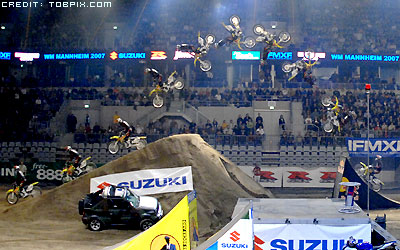 Freddy Peters successfully did a backflip on his new DE-TE-MA Suzuki


Already the qualifying delivered high tension. In this high quality field of riders everyone wanted to reach the final. Out of the five German riders only Busty Wolter made it to thru. Next to him was Remi Bizouard, who was the first to start with hard longdistance flip combos, like a Cliffhanger Flip. Villa with a Superflip in the Double-Up qualified too, as well as Mat Rebeaud. After his long IFMXF absence the Swiss guy did tricks like Superflip Indy, Sidewinder Flip and Whiped Nac Flip.Then it was up to Podmol and Gaup to reach the final. Both were under high pressure and had their problems. Podmol crashed after a flip, but could go on and reached the final on fifth position.

<< Fab Bauersachs - Whipflip
Gaup crashed after landing a Candybar Flip to Side-Saddle-Landing. But he could go on, too and made it on third position into the final.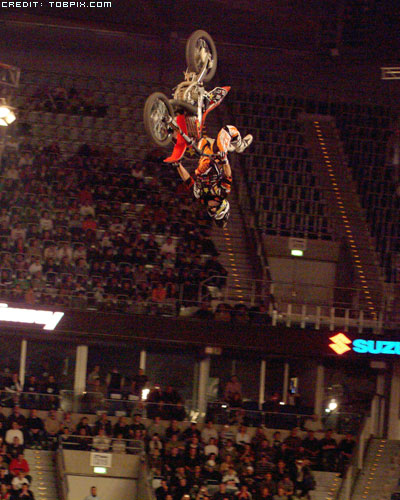 Gaup leads uncatchable in the FIM Freestyle MX World Championship
Germany's Lukas Weis came first in the Whip contest, beating Mat Rebeaud. And Weis came top in the Highest Air challenge too, reaching over 9,20 meters, followed by Czech Libor Podmol with 9,00 meters.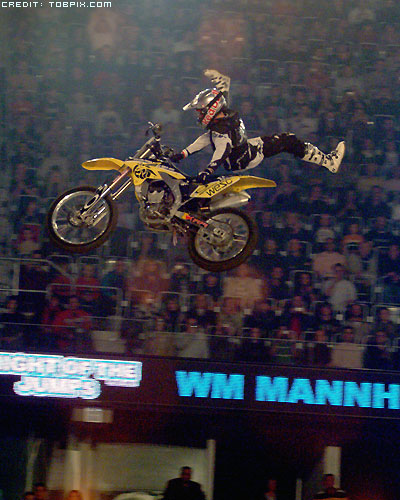 Fred Johansson doing an extended Supercan Indy


Sebastian Wolter opened the final. But with problem in three flip combos he reached 250 points, putting him in sixth place. Libor wanted to put the pressure high. He did a Superflip, No-Hand and Heelclicker Flip. But the Whip Flip landed on the table and the Superflip in the Double-Up was not perfect, too. Would that be enough to put Gaup in charge.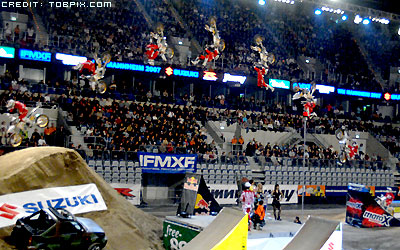 Mr. Extension Remi Bizouard showed his Tsnuami Backfip
The decision had to wait. Now it was up to Remi Bizouard. Only two weeks after his shoulder operation he did tricks like Cliffhanger Flip, Clicker Flip, No-Hand Flip and a Tsunami Flip. This put him onto the hotseat.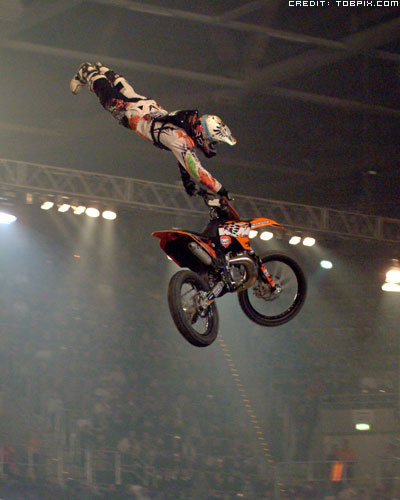 Oystein Kjorstad with a sweet Catnac
Now it came to the final decision. Ailo started with a Clicker Flip, followed by Cordova Flip, Candybar Flip to Side-Saddle-Landing, Superflip and an Underflip. This was not enough for the hotseat. But with 325 points he left Podmol behind and got FIM Freestyle MX World Champion 2007. So the crowd celebrated him.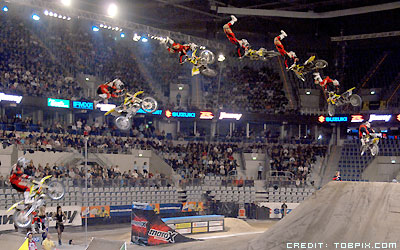 André Villa in the house - whipped out CrackNac

But there still were two riders in the final. Villa did 1-Hand Can Flip, No-Hand-Flip to 1-Hand-Landing, 1-Hand Nac Flip, Superflip and Underflip. Rebeaud showed Superflip Indy, Barhop Flip, Sidewinder Flip, Saran Wrap Flip and a Nac Underflip. So the Swiss Guy won the Suzuki NIGHT of the JUMPs 2007.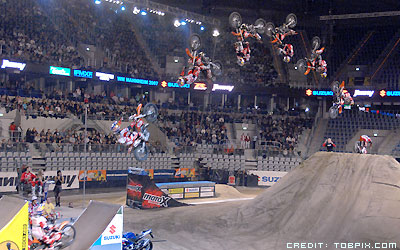 Mat Rebeaud took home the win - nice Barhop Backfip

With Gaup's win he leads uncatchable in the FIM Freestyle MX World Championships with 179 points. Czech Libor Podmol came second, 29 points behind.


FACTS NIGHT of the JUMPs - Mannheim Nov. 17th

Final
1 Mathieu Rebeaud SUI 340.0
2 Rémi Bizouard FRA 328.0
3 Ailo Gaup NOR 325.0
4 André Villa NOR 314.0
5 Libor Podmol CZE 262.0
6 Sebastian Wolter GER 250.0

Highest Air
1 Lukas Weis GER 9.2 m
2 Libor Podmol CZE 9.0 m
3 Florian Menge GER 8.6 m
4 Bartosz Oglaza POL 7.0 m

Whip Contest
1 Lukas Weis GER
2 Mathieu Rebeaud SUI
3 Rémi Bizouard FRA
3 Sebastian Wolter GER

Qualification
1 Mathieu Rebeaud SUI 281.0
2 André Villa NOR 269.0
3 Ailo Gaup NOR 259.0
4 Rémi Bizouard FRA 258.0
5 Libor Podmol CZE 243.0
6 Sebastian Wolter GER 237.0
7 Fabian Bauersachs GER 230.0
8 Lukas Weis GER 227.0
9 Oystein Kjorstad NOR 223.0
10 Fredrik Johansson SWE 201.0
11 Hannes Ackermann GER 137.0
12 Frederik Peters GER 132.0
13 Bartosz Oglaza POL 109.0