NIGHT of the JUMPS Katowice
24.11.2007 NIGHT of the JUMPS Katowice
First day of the DIVERSE Night Of The Jumps 2007 was a real success! Spodek arena in Katowice, Poland became a real battleground for twelve outstanding Freestyle Motocross riders.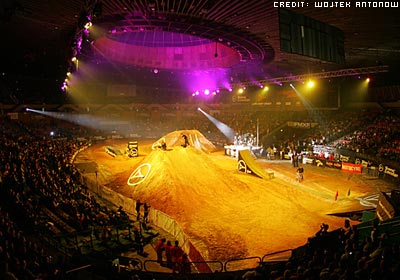 Eight of them attended World Championship in Germany a week before and apart from them some special guests appeared. Coming from right across the ocean, five time X-Games medalist, Matt Buyten (USA) and Czech's youngblood – sixteen years old wonderboy – Petr Pilat showed their best. Also, DIVERSE Night Of The Jumps couldn't miss the freshly crowned IFMXF / FIM World Champion – Ailo Gaup.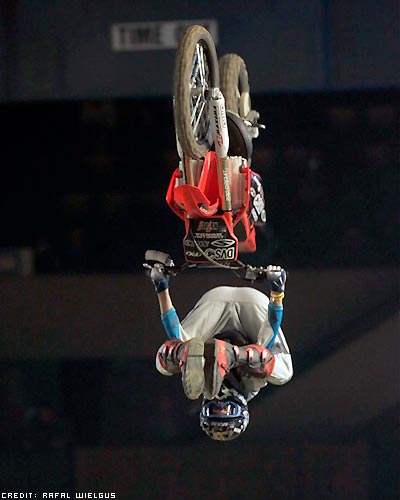 The track designers this year used the Spodek's full potential for such competition. It took three days and 2,000 tones of dirt just to build a landing hills. Almost 100 people work during preparations of the show that 7,000 extreme sports enthusiasts came to watch on Saturday night, 24th of November 2007.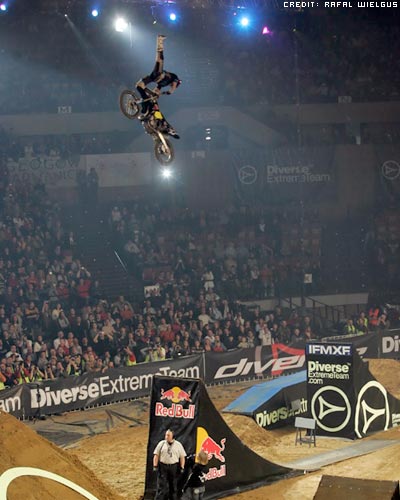 There wasn't a single person disappointed that night. Pyrotechnical effects, amazing lights and sound show, dynamic music and most of all FMX tricks performed by the best riders in the world, heated the audience beyond any expectations.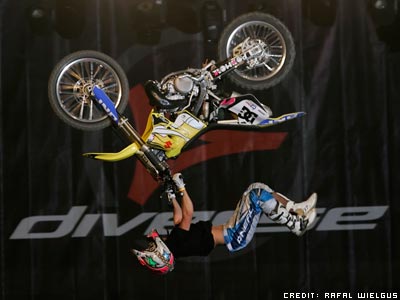 The Polish public excitedly applauded every jump and gave a standing ovation to their favorites shouting their names out loud. Such reaction is unique even during World Championship series! Superman Backflip Indian Air, Tsunami Backflip, "360", Cliffhanger Backflip, Underflip and many other tricks that are usually reserved for the biggest competitions were all present on the DIVERSE Night Of The Jumps.



Andre Villa, Fredrik Johansson and Matt Buyten – this podium squad might change on the Sunday afternoon when the second day of the DIVERSE Night Of The Jumps begins at 6 o'clock p.m.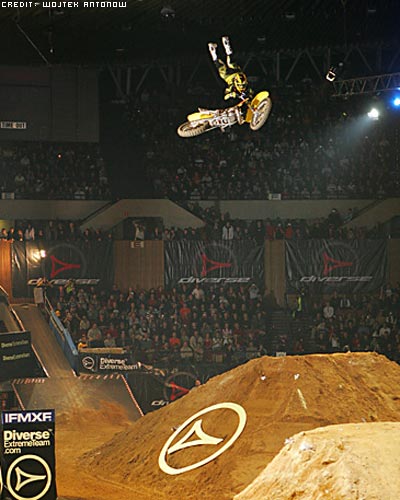 There are still such riders like Remi Bizouard, Petr Pilat and Ailo Gaup who want to prove they can gain the victory. Lots of excitement is still to come!

FACTS NIGHT of the JUMPs - Katowice Nov. 24th

Final
1 André Villa NOR 321.0
2 Fredrik Johansson SWE 309.0
3 Matthew Buyten USA 303.0
4 Rémi Bizouard FRA 299.0
5 Fabian Bauersachs GER 260.0
6 Libor Podmol CZE 253.0

Highest Air
1 Lukas Weis GER 7.7 m
2 Libor Podmol CZE 7.5 m

Whip Contest
1 Lukas Weis GER
2 Ailo Gaup NOR
3 Jimmy Verburgh BEL
FACTS NIGHT of the JUMPs - Katowice Nov. 25th

Final
1 Fredrik Johansson SWE 308.0
2 André Villa NOR 305.0
3 Libor Podmol CZE 298.0
4 Matthew Buyten USA 280.0
5 Oystein Kjorstad NOR 279.0
6 Fabian Bauersachs GER 260.0

Highest Air
1 Lukas Weis GER 7.3 m
2 Bartosz Oglaza POL 7.0 m
3 Libor Podmol CZE 6.5 m

Whip Contest
1 Lukas Weis GER
2 Matthew Buyten USA
3 Jimmy Verburgh BEL
3 Ailo Gaup NOR