FIM Freestyle MX World Championships
NIGHT of the JUMPs

Fortaleza/Brazil, 08th December 2007 | André Villa wins round 12 of the FIM Freestyle MX World Championships in Brazil
On December 08th the ultimate final of the IFMXF season 2007 happened in Brazil with the NIGHT of the JUMPs. In the football stadium Estadio Castelao in Fortaleza, Brazil the 12th and last contest of this years FIM Freestyle MX World Championships took place.
For this season ending event the currently crown FMX World Champion Ailo Gaup from Norway came. Next to him both Norway's André Villa and Oystein Kjorstad, Libor Podmol (CZE), Brice Izzo (FRA), Jimmy Verburgh (BEL), the Germans Fabian Bauersachs, Lukas Weis and Freddy Peters, Javier Villegas from Chile and Brazilian Jiancarlo Bergamini started.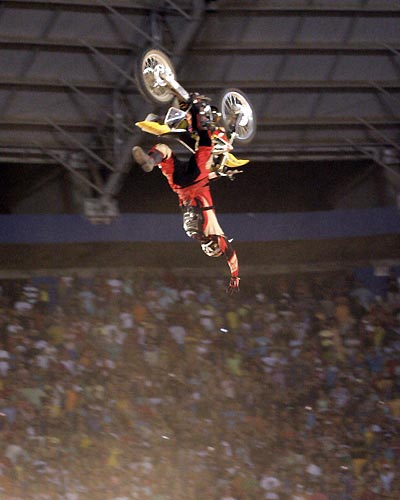 Unbelievable 30.000 visitors came to Estadio Castelao and saw best Freestyle Motocross. André Villa won the qualification ahead of Libor Podmol and the German Fabian Bauersachs. Javier Villegas from Chile entered the final at his first IFMXF-contest.. Next to them German Lukas Weis and French Brice Izzo completed the field of riders in the final.
FMX World Champion Ailo Gaup had problems with his bike and could not start. Brazilian Jiancarlo Bergamini did not make it into the final. But at his IFMXF premiere he ended up on 8th position and let Jimmy Verburgh and Freddy Peters behind him, so the 30.000 people celebrated him.
Within the break German Lukas Weis won the last Whip Contest in year 2007 ahead of Javier Villegas and Brazilian Jiancarlo Bergamini. And the German won the last Highest Air contest with 7,60 meter, too. Libor Podmol reached 2nd with 7,40 meters.
The final got really amazing. All riders did their best Backflip combos for the last IFMXF contest in 2007. Superflip and 1-Hand Can Flip by André Villa, Cordova Flip by Libor Podmol, Superflip Indy by Brice Izzo. And in this ranking they made it onto the podium. 4th got Fabian Bauersachs ahead of Lukas Weis.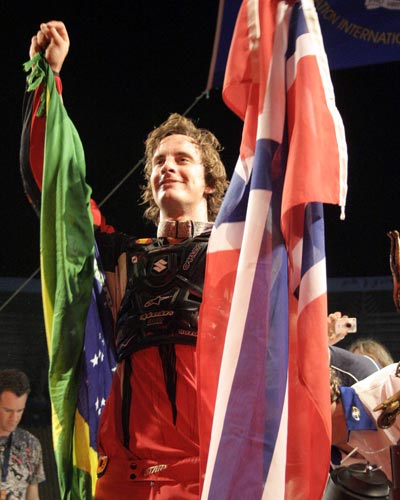 In the final ranking of the FIM Freestyle MX World Championships Norway Ailo Gaup reached FMX World Champion with 184 points ahead of Libor Podmol (168 points). Third got French Remi Bizouard (133 points) ahead of German Fabian Bauersachs and Lukas Weis.


FACTS NIGHT of the JUMPs
12th Contest FIM Freestyle MX World Championships
Fortaleza, 08th December 2007

Results Qualification
1. André Villa NOR NMF Suzuki 264 Points
2. Libor Podmol CZE ACCR Suzuki 250 Points
3. Fabian Bauersachs GER DMSB Kawasaki 239 Points
4. Javier Villegas CHI CBM Yamaha 226 Points
5. Lukas Weis GER DMSB Suzuki 216 Points
6. Brice Izzo FRA FFM Yamaha 212 Points
7. Oystein Kjorstad NOR NMF KTM 183 Points
8. Jiancarlo Bergamini BRA CBM Yamaha 169 Points
9. Jimmy Verburgh BEL DMSB KTM 148 Points
10. Freddy Peters GER DMSB Suzuki 128 Points
11. Ailo Gaup NOR NMF Honda 0 Points

Results Whip Contest
1. Lukas Weis GER DMSB Suzuki
2. Javier Villegas CHI CBM Yamaha
3. Jiancoarlo Bergamini BRA CBM Yamaha
Results Highest-Air-Contest
1. Lukas Weis GER 7,60 Meter
2. Libor Podmol CZE 7,40 Meter
Results Final NIGHT of the JUMPs – Final
1. André Villa NOR NMF Suzuki 314 Points
2. Libor Podmol CZE ACCR Suzuki 303 Points
3. Brice Izzo FRA FFM Yamaha 294 Points
4. Fabian Bauersachs GER DMSB Kawasaki 263 Points
5. Javier Villegas CHI CBM Yamaha 250 Points
6. Lukas Weis GER DMSB Suzuki 232 Points

FIM Freestyle MX World Championships
Final Ranking (after 12 contests)
1. Ailo Gaup NOR NMF Honda 184 Points
2. Libor Podmol CZE ACCR Suzuki 168 Points
3. Remi Bizouard FRA FFM Yamaha 133 Points
4. Fabian Bauersachs GER DMSB Kawasaki 126 Points
5. Lukas Weis GER DMSB Suzuki 101 Points
6. Oystein Kjorstad NOR NMF KTM 91 Points
7. Fredrik Johansson SWE SVEMO Suzuki 86 Points
8. Mat Rebeaud SUI FMS KTM 78 Points
9. Romain Izzo FRA FFM Honda 76 Points
10. André Villa NOR NMF Suzuki 72 Points
11. Sebastian Wolter GER DMSB Suzuki 63 Points
12. Brice Izzo FRA FFM Yamaha 50 Points
13. Jimmy Verburgh BEL DMSB KTM 40 Points
14. Mike Mason USA DMSB Honda 38 Points
15. Freddy Peters GER DMSB Yamaha 31 Points
16. Bartosz Oglaza POL PZM Suzuki 31 Points
17. Massimo Bianconcini ITA DMSB Honda 29 Points
18. Adam Jones USA DMSB Honda 21 Points
19. Martin Koren CZE ACCR Kawasaki 19 Points
20. Kevin Burcklen FRA FFM Suzuki 16 Points