Dubai X Games | Freestyle Motocross
The last two years the Dubai X Games were only a show event. But this year the riders had the chance to win medals and price money. There were two different categories in FMX this year. The Best Whip and the Best Trick Contest ...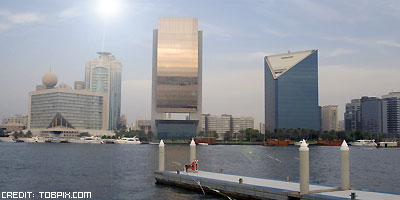 The skyline of Dubai City


... Riders like Nick de Wit and Alastair Sayer from Africa, Summer X Games participant Remi Bizouard from France and the US-Guys Greg Hartman, Ronnie Renner, Niki Danielson completed the field of the riders. There was also a big show up of the X Games Best Trick Gold medalists Kyle Loza (2007) and Chuck Carothers (2004) which are both body varial specialists.


The Best Whip Contest

The riders battled in KO modus. The disadvantage was, that some good riders battled against each other in the first round and one of the them was out. The battle for 3rd place was held by Nick de Wit and Alastair Sayer. Sayer showed a really good whip and saved his first ever bronze medal at the Dubai X Games.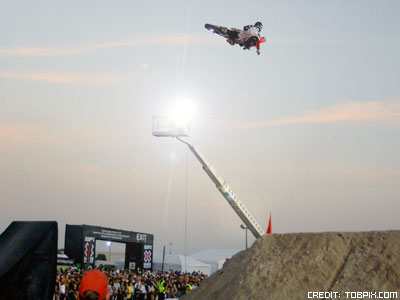 Alastair Sayer going big for a great 3rd place in Best Whip


The final between Ronnie Renner and Chuck Carothers was awesome. First Chuck showed a turndown whip and Ronnie made his traditional pancake whip.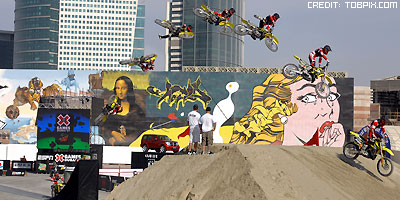 Chuck doing an awesome Whipped out NacNac in the practise

Chuck wanted to beat this in the 2nd run and made an almost 180 Turndown whip, but didn't come back and crashed. We have never seen such a great turndown. What a shame, that he didn't bring that down. So Renner took home the Gold Medal and Chuck got Silver.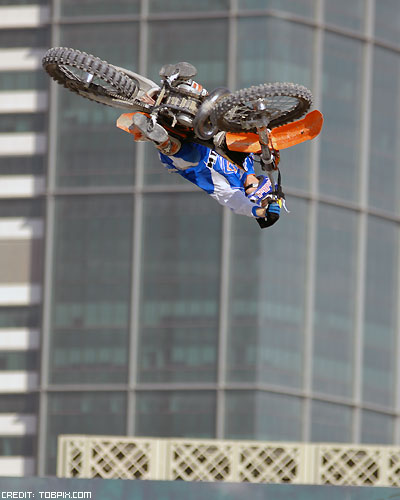 Nothing more to say ... Mr. Ronnie Renner


The Best Trick Contest
During the practise session we could already see, that the skill level and the density was really high. It's a shame, that the battle between the two Body Varial specialists Carothers and Loza could not happen, because of the crash of Chuck in the Best Whip competition.

Kyle Loza

has trained his signature and summer X Games gold medal trick "the Volt" over the 75 Feet distance and was ready to show it in Dubai ...

... and he did!

But he didn't find the right side of his handlebar when he came back from the body varial rotation and unfortunately he crashed.

Unfortunately he couldn't attend at the 2nd run. Get well soon Kyle!
RONNIE RENNER


Best Whip winner Ronnie Renner made some great action for the Dubai fans and showed some other tricks during the free practise before the Best Trick contest started.

In his first run he made his awesome Pancake Whip. In his 2nd run he had some problems with the lighting and made a save jump ...

... but he came back with some sweet break dance action ;-)



Alastair Sayer showed with an Onehand Seatgrab Indian to opposite Onehand Supercan a really good combo trick in his first run. In the 2nd run he did the same trick plus a onehanded lander. So he took home a great 5th place.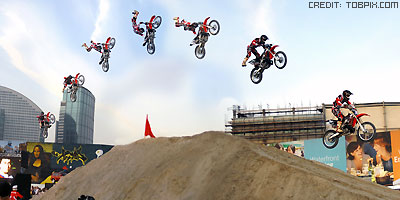 Sayer during the practise - Hart Attack


Nick de Wit

from Southafrica was learning the Superflip before Dubai and presented it already at the Best Trick Contest in his 1st run.

In the 2nd run the FMX4ever teamrider made an Nac Nac Backflip and ended up with a great 4th place at his 1st ever X Games participation!

Remi Bizouard was beside Kyle Loza one of the Summer X Games 13 participants in LA and also one of the favorite riders for the Gold Medal. Remi was a bit handicapped, because of an shoulder injury, but he did well and made an awesome Tsunami Backflip and finished 3rd winning the bronze medal.


Niki Danielson

was in a good shape and made with the Shaolin Backflip a Backflip Bar trick. In his 2nd rund he showed the KOD Flip.

His advantage was, that he hold out his tricks long and extented them really good. He got 2nd and won the Silver medal.
Greg Hartman showed a Superflip in his 1st run, which placed him in the top 3. But in the 2nd run he had another hot potato in his bag ...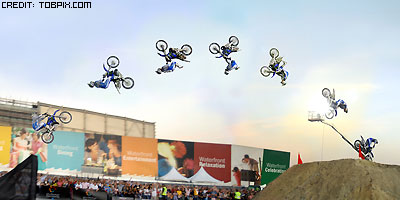 ... and showed a Switchblade Backflip. That trick lifted the FMX East rider from Pennsylvania to 1st place winning the Gold Medal in Best Trick of the Dubai X Games 2007 - Congratulations Mr. Hartman!

Results Dubai X Games 2007

Results Best Trick
1. Greg Hartman 94.00 - Gold
2. Niki Danielson 93.00 - Silber
3. Remi Bizouard 92.67 - Bronze
4. Nick de Wit – 89.00
5. Alastair Sayer – 86.33
6. Ronnie Renner – 84.00
7. Kyle Loza – 79.00

Results Best Whip
1. Ronnie Renner - Gold
2. Chuck Carothers - Silber
3. Alastair Sayer - Bronze



Support us: Like and Share it!

Video of the month

Facebook /FORTY8Mag

Partner