SX Over in Munich FMX review
pix by Heidi Sanz | story by Marco Roth
Like every year the SX in Munich open the doors in December. And we was in Munich for you to tell you the hottest news of the FMX-guys which was invited for the show. One Highlight was the "women of the year" and the famous TV moderator Collien Fernandes, which was the Co-Commentator for the FMX-Show.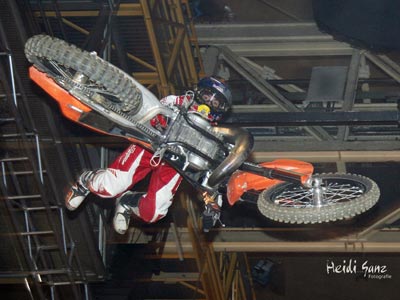 In the pits we meet the local Tobias Immler. He told us that he already had a operation on his broken shoulder that´s why he can´t jump the FMX show in his local town. Next hurt rider we meet was Alvaro dal Farra. The Italian rider known for his super styled bikes walks arround with crutches in the pits. Alve broke one of his feet in one of the first pratice in munich. He was really sad that he can´t jump at the FMX show here in the olympic arena. The next guy with bad luck was the German FMX "Clown" Busty Wolter.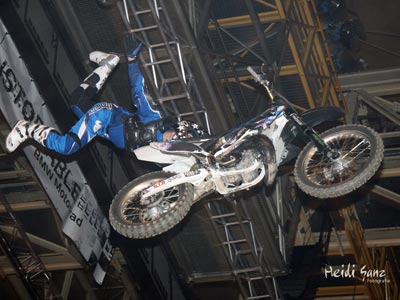 Busty started with nice suicide whips and big nine o´clock nacs at the Friday evening show. He also showd some nice flip combos. But at the end of the show Bustys Bike get out of axis by doing a no handed flip. Busty tried to ride that trick out but is front wheel hook into a hay bale at the end of the landing and he did a big highsider. Busty crashed so hard on his had that he incurring a bad concussion. Busty was out for the hole weekend. Get well soon. Stefan Bengs was in good shape and showd some nice Double Seatgrabs and nice big flips.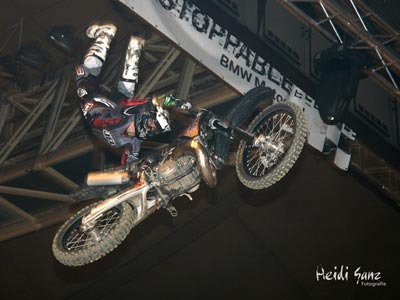 Ronnie Renner said it was a long and busy year. A lot of travelling and shows keep him busy. He said after Munich he will ride at Jimmy Verburghs FMX show in Gent and then he locking forward to the christmas holiday to relax at home with his family. Ronnie showed some of his awesome whips and the croweds loved it. Belgium William "Double U" van den Putte showed some really big flip combos like a heelclicker flip and big superman flips and the crowed gets mad by seeing that really hard flip combos.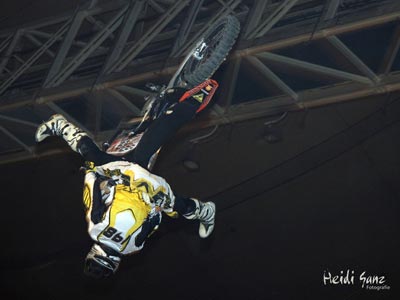 After seeing so many FMX events and shows without any crashes this weekend remembers you that FMX on this high level became a very tougher and tougher sport. It looks so easy when so pro riders did all these tricks. But the crashes from Alve and Busty on that weekend remberes you that even the best riders hav no chance to be protected not to crash. But in the end nobody get hurt himself seriously and we can look back on a really cool FMX show.