WinterX Games @ Aspen/USA

Snow? Dirt bikes? Screaming girls? No, we are not talking about a party at Marco Roth's house…this is the Winter X Games! Held again in Aspen, Colorado, USA, Winter X nine was another example of how crazy our sport is getting.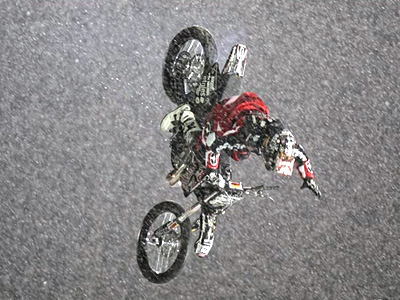 I arrived in Aspen just in time to see the last few jumps of practice. Everything was going smoothly until Jim McNeil threw a backflip off of the 25-meter jump, only he only got half way around! Jim jumped off upside down, landing on his stomach on the snow. He looked to be alright…until the bike decided to land on his head! A bit dazed, McNeil amazingly stood up and walked away from the crash unhurt, but decided to take the weekend off.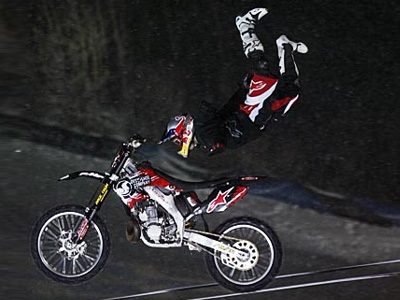 The contest was simply crazy! Ronnie Renner started things off with a huge whip…a very difficult thing to do in the snow. Next up was Drake McElroy, who threw an amazing seat grab bar hop! It was a crazy trick, and he held it for a really long time. Drake has great style, and it was cool to see something new. Metal Mulisha rider Jeff "Ox" Kargola came out and did a huge backflip no footer off of the 25-meter jump, which put him in first place. Beau Bamburg was next, with a very huge no footed can can-to-look back hart attack combo, scoring well with the judges. We then saw Brian Dowdy and Dayne Kinnaird throw some good tricks. Metal Muisha general Brian Deegan came next, and did a big backflip no footer.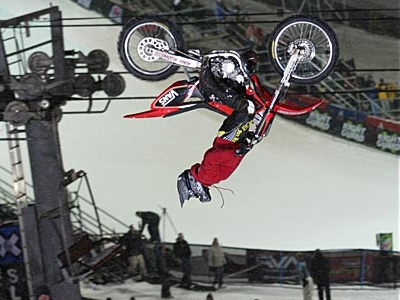 Then it was Chuck Carothers turn. Chucky, who you may remember landed the body varial at Summer X Games, was set on doing the trick again. For his first try, he went at the jump and did a big supercan to get the feel of the trick. On his second try, Chuck hit the super-kicker snow jump hard and threw himself into a big super can, letting go of the bike right away. He spun all the way around looked to have made the jump, but he just couldn't find his grabs and ended up landing on his stomach on top of the bike. Chuck wasn't hurt, but you could tell he was bummed out on not making it.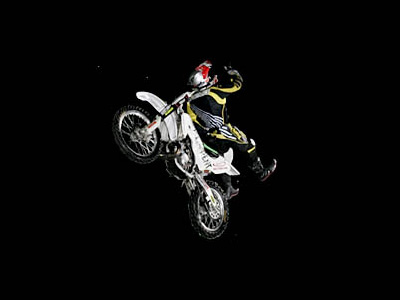 With Chuck not making the show, it was anyone's game going into the finals. Beau Bamburg, who had not flipped in prelims, decided to go upside down over the 25-meter ramp, but didn't pull hard enough and ended up landing on his front tire and going over the bars. Still, Beau is so damn tough that he just got up and walked away. Amazing.
Ronnie Renner did a huge whip over the 25-meter ramp, but with it being a simple trick it was not enough to beat Beau's second jump of a super can to look back hart attack.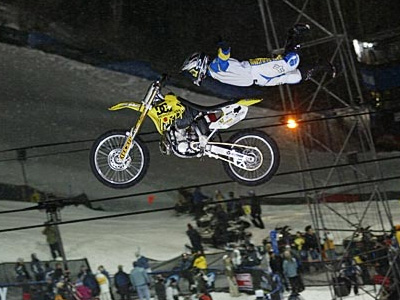 Dustin Miller came up next, and threw one of the most amazing tricks I have ever seen. He did a one handed superman seat grab Indian air with his left hand on the seat, then switched and did one with his right hand!! As if this wasn't crazy enough, he came back to the bike with no hands, and rode it out that way! Dustin rode to the edge of the track and dropped his bike, then fell to his knees. He was shocked! The crowd thought it was cool, but you have to be a rider to really appreciate how cool his trick was!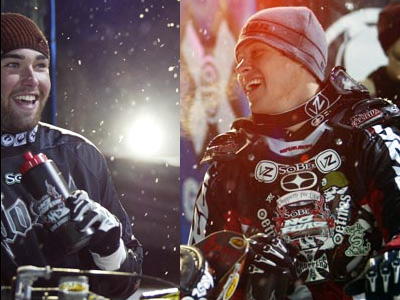 Ox came next and did a nice no footed backflip to one hander lander. It was a great trick, but a lot of the riders didn't think that it beat Dustin's trick. The judges, though, gave it to Ox, putting all the pressure on the last rider, Brian Deegan. The Mulisha man came out and did a 25-meter no footed flip to small one hander, and rode away with both hands on. Somehow, the judges thought this was better than Ox and Dustin, and gave Deegan the win! All of the riders I talked to were surprised at this, but it is fine, at least everyone stayed fairly safe and we got to see some cool tricks! I was really happy to see everyone have a good time, and I know that everyone is looking forward to next year to see what crazy tricks everyone has in store. And you can bet that I will be there again….that is, if I can get my toes to warm up before then!