FIM Freestyle MX World Championships
NIGHT of the JUMPs Liberec
Liberec, March1st 2008: Last Saturday the IFMXF season started with the Suzuki NIGHT of the JUMPs and the first contest of the FIM Freestyle MX World Championship 2008. A totally sold out Tipsport Arena in Liberec (Czech Republic) welcomed 12 Freestyle Motocross riders out of nine nations. And the season opening delivered a lot new faces. With X Games Dubai winner Greg Hartman and Jack Rowe (both USA), Gilles Dejong (BEL), Kota Kugimura (JAP) and Eugenio Zafra from Spain five FMX riders celebrated their IFMXF track premier.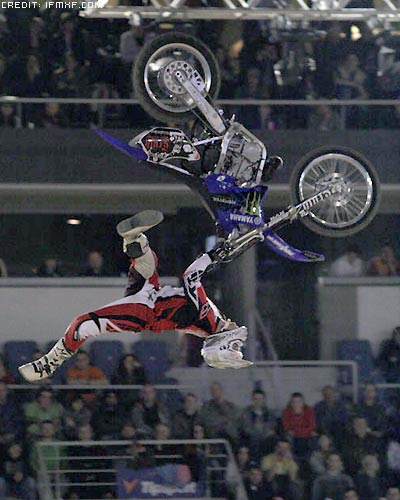 FIM World Champion 2007 Ailo Gaup, Vice Champion and local hero Libor Podmol and French Remi Bizouard, 3rd of the World Championship 2007 were all missing because of injuries. Gaup and Bizouard with shoulder problems, Podmol with a broken feet. So the starters in Liberec were highly motivated to collect as much points as possible, to be prepared when those riders come back to the World Championships. And the announced SUZUKI Swift Sport in NIGHT of the JUMPs desgin for the World Champion 2008 pushed the motivation even higher.
Suzuki Teamrider André Villa (NOR), Fredrik Johansson (SWE), Romain Izzo (FRA), Oystein Kjorstad (NOR), Bartosz Olglaza (POL) and the two Germans Fabian Bauersachs and Lukas Weis completed the field of riders.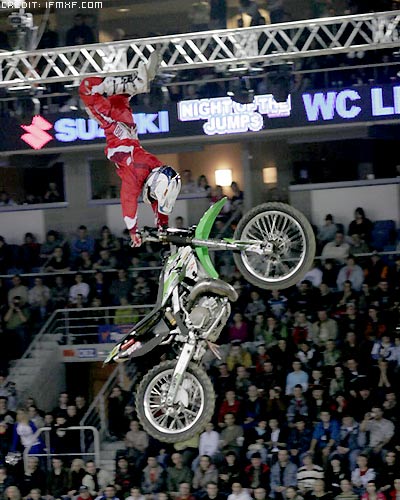 In the qualification the 8.000 people already saw massiv backflip combos. Fredrik Johansson with Indy Flip, Greg Hartman with his Switchblade Flip, Lukas Weis with Whip Flip, Romain Izzo with a Superflip, André Villa with an incredible Underflip and Jack Rowe with a Cordova Flip. Those six riders qualified for the final.
In the final the riders pushed the limit even higher. 95 seconds they had time for 10 tricks. US-Boy Greg Hartman showed an Indy and a Switchblade Flip. But he had problems with the track and missed one trick. So he ended up 6th. Fredrik Johansson did not show his smothness we know from hin, so he reached only 5th position. German Lukas Weis did his programm with partly three trick combos and got #4.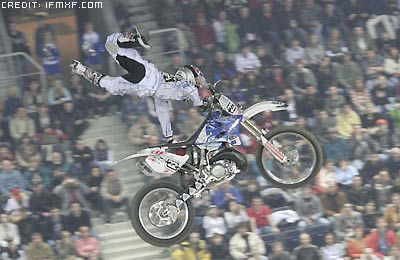 Last year winner Romain Izzo ruled with extreme extensions and hard flip combos. But he missed one trick and got 3rd. But even with one trick more, it would have been hard for him to beat Villa and Rowe this day. Both Suzuki riders did a massiv contest.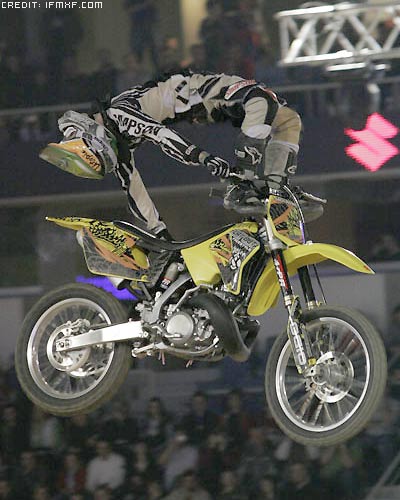 Rowe with 1-Hand-Flip, Clickerflip, Cordova Flip, Superflip and his unbelievable Cordova with 1-Hand-Seatgrab. Villa with Nac Nac Underflip, 1-Hand-Can Flip to 1-Hand-Landing, Can-Flip to Sidesattle Landing and a massive Underflip in the Double-Up. So the Norway guy won 13 points ahead of Rowe at his IFMXF premier.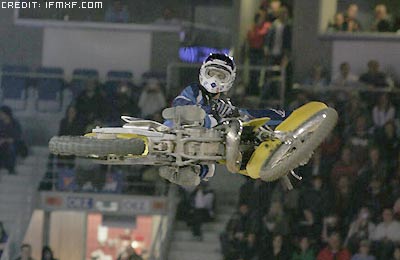 In the FIM Freestyle MX World Championship the Suzuki Teamrider André Villa leads with 20 points ahead of Jack Rowe with 18 points and Romain Izzo with 16 points. Next two contests of the World Championship take part in Graz/Austria at the 18th and 19th April.


FACTS NIGHT of the JUMPs - Liberec


Final
1 André Villa NOR 326.0
2 Jack Rowe USA 313.0
3 Romain Izzo FRA 273.0
4 Lukas Weis GER 269.0
5 Fredrik Johansson SWE 266.0
6 Greg Hartman USA 237.0
Whip Contest
1 Lukas Weis GER
2 Gilles Dejong BEL
3 Bartosz Oglaza POL
Qualification
1 Jack Rowe USA 275.0
2 André Villa NOR 273.0
3 Romain Izzo FRA 252.0
4 Lukas Weis GER 235.0
5 Greg Hartman USA 232.0
6 Fredrik Johansson SWE 232.0
7 Fabian Bauersachs GER 230.0
8 Kota Kugimura JPN 209.0
9 Gilles Dejong BEL 201.0
10 Eugenio Zafra ESP 182.0
11 Bartosz Oglaza POL 175.0
12 Oystein Kjorstad NOR 112.0