Adam "Rookie" Jones joins Hamburg


The nineteen year old Adam Jones is one of the best FMX riders in the United States. He started with FMX 2 1/2 years ago and already won more than ten IFMA contests. We talked with Adam about his time in Germany and about the differences between the European and USA FMX ...



Hey Adam, first of all tell the people out there your place of birth and your current residence.

I was born in Sewicley 1984 and currently I'm living in Warrendale. Both are in Pennsylvania/USA.

When did you start riding Freestyle Motocross?
I got my first motorcycle when I was ten. I'm riding Freestyle Motocross since I'm seventeen.



This was your first time in Germany. How did you like it?
Since it was my first time out of the united states I thought it was pretty cool.


Sounds good. Do you wanna come back to Germany?
Hell yea!

Did you like the german beer ... ahhh ... I mean the girls?
I think the beer was nasty, but the girls were good ... too good!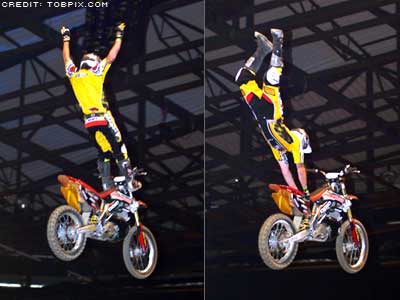 Cliffhanger (left picture) and a Doubleseatgrab Hart Attack





"Differences Europe - USA"


Tell me the differences between the European and the US FMX.
FMX is the same, jump ramps do tricks get points. The biggest difference is the riders, they have way different style then any american rider I've seen.

Was the track similar to the IFMA tracks?
Yea, pretty much the same.

What do you think about the European Trick level and the riders?
Like I said earlier their style was way different then anything I've ever seen but I was impressed. I always heard that the talent level isn't as high in other countries but it was definitely a good competition over there.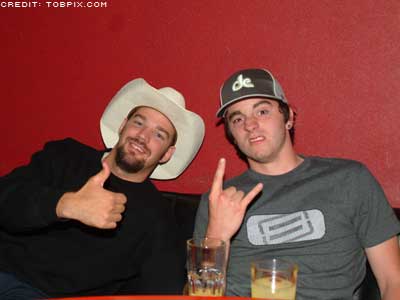 Kenny Bartram and Adam chilling in the Dollhouse on the Reeperbahn




How did you learn the backflip?
I learned the flip in a foam pit.

How many flips did you jump already?
I did around 50 backflips on dirt.

What are your goals this year?
To have fun and continue making a name for myself.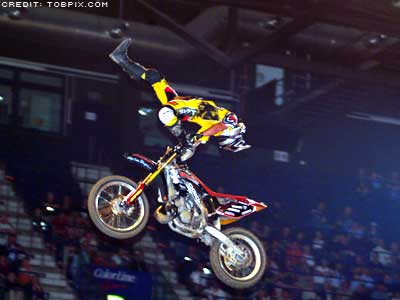 Adam doing a trick called "Stripper" in his qualification run




What are your current sponsors?
shift, maxxis, blur optics, dc shoes, tag metals, sunstar, ek chains, ogio, pj1 oils, and i think thats about it.

What contest do you take part this year?
I'm doing demos, IFMA's, X Games qualifiers and maybe I'll come back to you guys.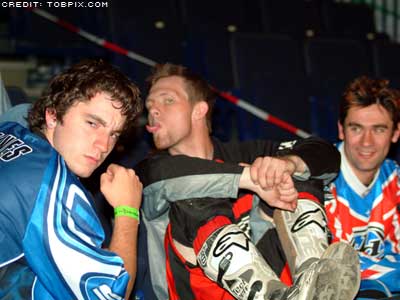 Adam hanging out with Jeff (CAN) Fehr and Jimmy Verburgh (BEL)

Adam doing a Catnac / Nofooted Nac Nac



Last question ... do you wanna say something to the girls out there?
yes ... HELLO! Check out my website www.adamjonesfmx.com