Interview with Basty Radel
Let's talk about underground FMX. In the beginning of 2000 a young talented rider enlightened the german FMX scene. Basty Radel from the Eastcoast of Germany was the first german rider doing sick tricks like Hart Attack, Tsunami and CatNac. Then is was getting calmy around Basty. Now, almost 5 years after his breakthrough we talked with Basty to know what he is doing now and what are his plans in the future.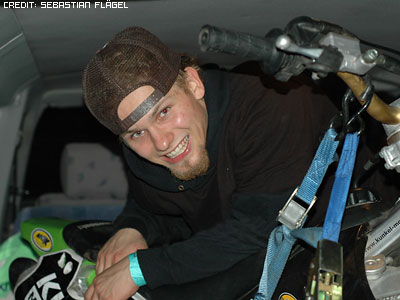 First of all, tell the guys out there some basics about you - where do you come from, how old are you and what is your mission?
I'm living in a small german town called Lübs, which is close to Ueckermünde. I am 21 years of age and my mission is to discover as many great moments with FMX as possible.
Basty, you are one of the first FMX riders in the German history. Tell me something about the difference between now and the former times.
The scene is grown a lot the last 5 years. Also the trick progression was extremly fast. If you want to be on top at the contests, you need to execute the backflip.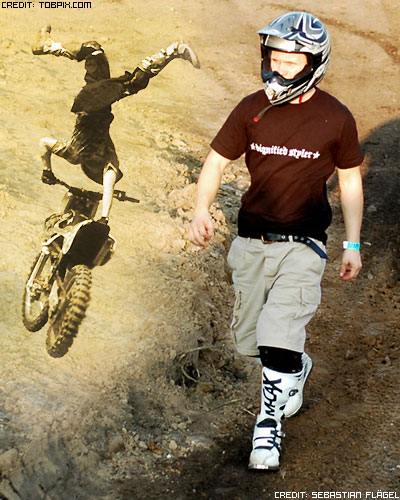 Basty doing a Helicopter
You are well known for your clean style and your perfect extension doing killertricks like Tsunami, Rock Solid, Double Hart, Catnac etc. Do you think, that the people hype the Backflip to much and the judges are score them to overpriced?
The most people are going crazy, when they see the flip at an event. You know, the flip sells good at the moment. But if every 2nd jump is a backflip, the people will get bored in the near future. The sport is getting more and more comercial ... and that really su***.
And what about your Flip-Mission. Did you already work on the Backflip lately or do you specialize yourself for other new tricks?
I have planned to jump the flip sometime, but not to win contests. I want to know that feeling rotating with the mx bike. My actual plan is to work on some sweet other tricks before.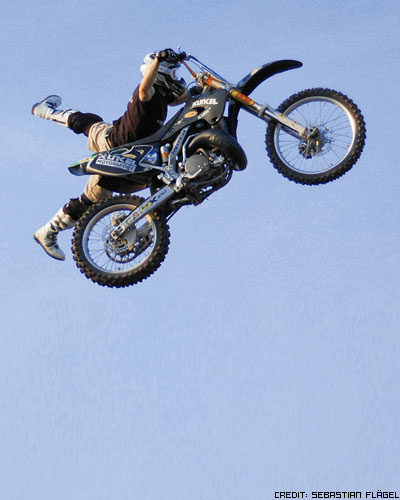 Nofooted Can / BMX Style
You had some trouble at the hospital with your collarbone a few months ago. Tell us what happened there?
I had a usual surgery. They only had to take out the metalplates of my femur and my collarbone. But they made a mistake and broke my collarbone again. So I had to take a 3 month brake instead of 2 weeks. That was really bad.
You have made your Comeback at the tradional FMX in Lübtheen mit Oystein Kjorstad, Morgan Carlson, Martin Koren etc. in October. Do you already feel comfortable?
Now I feel pretty good. During the FMX in Lübtheen I didn't feel comfortable, yet. I have started to train only 2 weeks before the event in Lübtheen. But I wanted to ride there, because of my fans and the good moods of the people there.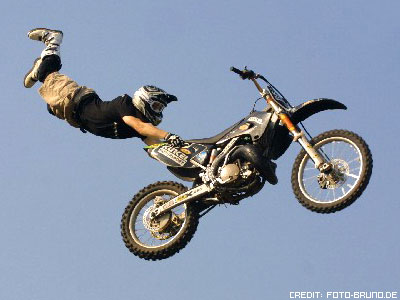 Basty doing a sweet Double Grab
What are your plans for the upcoming season?
I will finish my education 2006, so I will complete an important part of my life. I have planned to take part in as much FMX events as possible.
Do you want to say something else to your fellows?
It's brilliant, that my family and my friends are backing me. Special thanx to my sponsors FORTY8.de, Kawasaki Team Kunkel and MG-Sport. There are backing me, even though I am not competing the big events.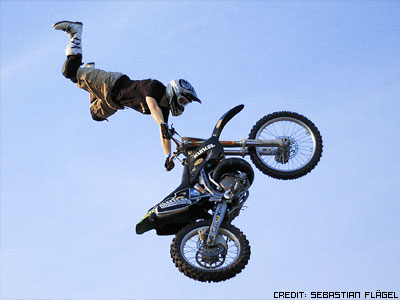 Basty doing a CrackNac

Okay, now our classical word association. Give me the first word that pops into your head:

Ramps: 8m and 10m radius
USA or Europe: Australia ;-)
Sponsors: Kawasaki Team Kunkel, Forty8, MG- Sport, Elf, TKM
Favorite website: www.forty8.de
Double Flip by Pastrana: absolute crazy
Natural Terrain: back to the roots
Tattoos: Do I have and maybe more soon ;-)
50's: In progress to be an independent sport
Movie: Jim Carrey movies, Half Baket
Travelling: Australia

Right on, thanks Basty.

More information and pix about Basty on his webiste www.fmxhero.de