Interview with Ronnie Renner
He won the X-Fighters in Mexico 2005, a bunch of IFMA and Vans Triple Crown events and his Whips are the sickest in the FMX scene - there is nothing more to say. At the beginning of 2006 we talked with Mr. "Who is your daddy?" Renner about his family, his passion Freeriding, Contests and some other interesting stuff. So check out the interview ...


First of all, I wish you and your family a happy new year! How did you celebrate it?
I was happy to finally stay home for Christmas. We just stayed home and spoiled the kids. Santa Claus made a long stop at our house. We spent New Years out in the mountains with our Motorhome. Racer and I rode 50's all day Jan 1st.
Please tell the guys out there some basics about you - where do you live, how old are you and what is your mission?
Well, I don't know where to start, so I guess I will say that I am 28 years old and currently live near Huntington Beach, California (basically Los Angeles). But, I am proud of the fact that I was born and raised in Florida. I have been around bikes my whole life and started riding at 4. I raced professionally for a few years until turning to FMX in 2000.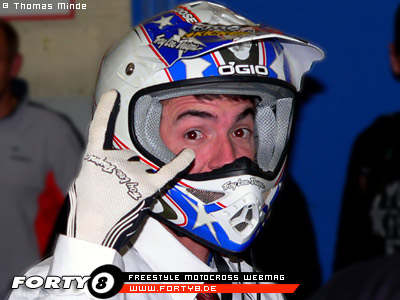 Ronnie at the Int. FMX contest in Munich
Ronnie, you came back from Air & Style in Munich a few weeks ago. Tell us something about your experience there and how hard was it to ride in the cold arena?
It was my 2nd time coming to Air & Style, but both times were so different. I was more of a fan of the demo style they did before in the small ski town of Seefeld. Munich was cool, but damn it was cold. It's really tough to go big when its below freezing, dark, wet and slippery. The crowd was rad though. I just wish I would have been more comfortable.
You were backflipping over the big distance at the Air & Style and two weeks later at the SuperCrossOver. Do you feel comfortable now doing the big distance flips?
It still screws with my head. It is really tough for me because I travel so much and never practice. I am always going to different places with different ramps and distances. Of course almost all of the promoters think that it's easy, but really it screws with your head. I have been pretty successful with the flips, but now I need to gain more combos with it.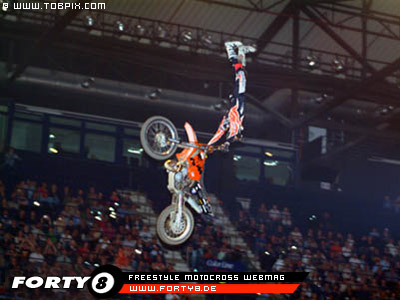 Ronnie with a sweet Tsunami at the IFMXF WC in Hamburg
Now you are back in the USA? - How do you train during the wintertime?
Freeride, freeride, freeride and ride the tracks. I am so bored with ramps.
What do you like more – freeride contests or arena contests – and why?
I love freeriding more than riding ramps, but I love the arena shows, because that's where the people are. I am all about putting on a show for people. The few freeriding events I have done can barely be considered contest, because they are so relaxed. The freeriding events don't pay very well either. But, I don't know though, it's a 50/50 answer. If I only did one or the other, I would get bored for sure.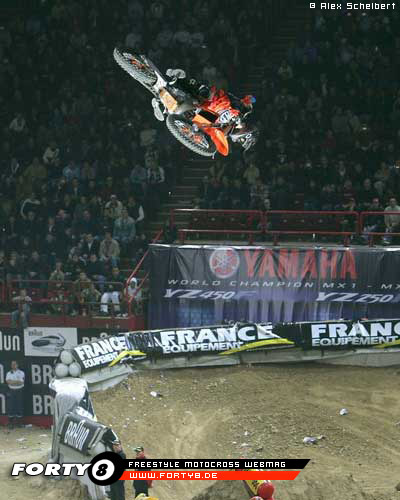 Ronnie whippin' at the SX Demo in Paris Bercy
Pastrana made another evolution in FMX. He did the Double-Flip. Everybody is talking about Flips and the other sick tricks are in the background ... Do you think, that the people hype the Backflip to much and the judges are score them to overpriced?
I have been to so many events where the flip is overjudged. It is has always been hard to judge FMX and now that the flip is here to stay, it is even worse. It's like a 2 side coin. It is definitely not everything. However, people easily forget how much balls it takes to flip a big ass motorcycle.
You have two sons. Are they already riding dirtbikes and do you support them to ride?
Racer is really good on a bike. He has perfect style. Seriously; Perfect. He just turned 6 and is really starting to go fast. It scares the shit out of me. Rider is only a fresh 3 years old, so he's not riding yet. But, I think he will be really good also. He loves bikes.
I don't put any pressure on them to ride, but I won't lie, I want them to ride. It's the best family sport in the world.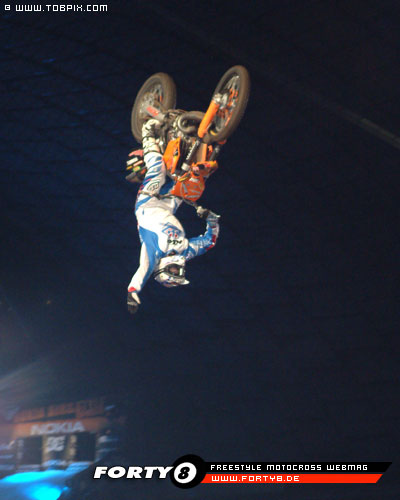 Onehanded Flip at the Nokia Air & Style Games in Munich
You are popular for your breakdance action during the events. When did you start breakdancing and is it another passion beside FMX?
I was "Trying" to breakdance in the 80's when Michael Jackson made "Thriller". I was never very good, and I still suck at dancing. I just try to be funny for the fans. Actually, I think it's pretty gay when men try to be really good dancers.
Did you hear about the cooperation between the FIM and the IFMXF? (example: for the year-license: 416 euros, for single-event-licenses: 166 euros / each event.) Tell us your feeling regarding the prospective cooperation between FIM and IFMXF?
I am not too into it. The more I listen and look at the situation I get pissed. This is freestyle man, we don't need rules. And we for sure don't need to be paying all kinds of fees. This is entertainment. Yes, I love MX and SX racing and feel like the FIM is needed. But it's not needed in FMX.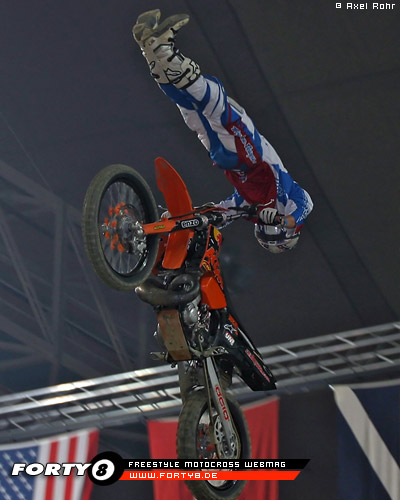 Ronnie doing a Dead Body at the Int. FMX contest in Munich


What are your plans for the weeks and the upcoming season?
Freeride. Freeride. Freeride. Moto. Moto. Moto. Then I am coming to the Night of the Jumps in Vienna and Innsbrook. My next big goal is to do good again at Mexico City X-Fighters.
Do you want to say something to your fans, sponsors, buddies etc?
I will be quick because my hands are tired from typing. Much love to all of my fans, family, friends and sponsors. I could not and would not be able to do it without your support
Okay Ronnie, now our classical word association. Give me the first word that pops into your head:
Ramps: Whips
Goonriding: Fun
Sponsors: Necessary
Favorite website: Racerxill.com (and of course forty8.de)
Double Flip by Pastrana: psycho
Metal or Hiphop: Both
Natural Terrain: Passion
Tattoos: None
50's: Fun
Girls: Boner
Movie: On the Pipe 2
Travelling: friends
Right on, thanks RR. Hope to see around ...
More information and pix about Ronnie on his webiste www.ronnierenner.com