Interview with Fab Bauersachs
Back in the 90's he was a MX and SX racer. After finishing his exams successfully he got infected with the FMX virus and specialized himself to ride FMX only. We are talking about Fabian "Fabulous" Bauersachs from the southeast of Germany. He is one of the best FMX riders in Germany these days. So read on what Fab has to say ...


First of all, tell the guys out there some basics about you - where do you come from, how old are you and what is your mission?
Okay, let's start …
I'm living in Rödental, which is close to Coburg/Germany. I'm 26 years and I started with MX in the age of 10. First I was riding MX Racing for about 10 years. Then I decided to concentrate on my job -examination for the painter master's certificate. I my free time I got infected with the FMX virus and trained a lot. After finishing the exams successfully I started to ride only FMX.
Fab, you are one of the first FMX riders in the German history. First you rode MX and in the late 90's you settled over to FMX. Tell me something about the difference between now and the former times.
Circa 6 years ago, Germanies FMX scene was really small. There were only a few people jumping over big gaps and doing tricks. At this time there weren't any ramps at all. When the first ramps appeared in Germany the sport grew step by step. Nowadays we have exciting shows and contests in Germany.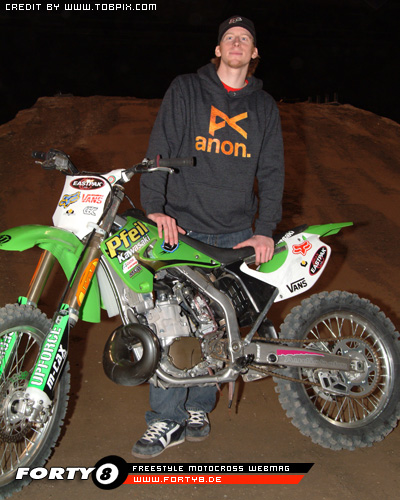 Fab with his new Kawasaki
You are well known for your clean style and your perfect extension doing killertricks like Tsunami, Rock Solid, Double Hart etc. What trick is the most difficult trick and what is your own favorite trick?
Is that right? ;o) Thanx for the props!
My plan is to do the tricks clean and safe. And I am working always to do them as much extended as possible. I also can do combos like Flintstone to Saranwrap, but combo tricks are hectically for me because of me size. My favorite tricks are the vertical Cliffhanger and the Tsunami. The latter is in my opinion a really difficult trick, because of the demanding movement procedures.
Let's talk about the Flip. Do you think, that the people hype the Backflip to much and the judges are score them to overpriced?
Oh yes, the Backflip. This trick is a part of the FMX history. The hardest part of this trick is the self conquest to try this trick. I don't like runs of riders who only do Flip Variations but it's just a matter of taste. I think we should rate the creativity of a whole run and not if a rider is doing flips or not. Or is a non flipping rider automatically a worse rider?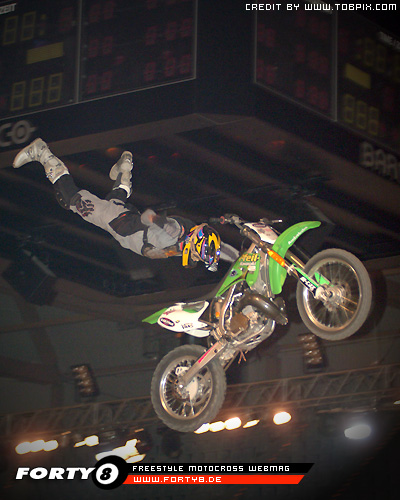 Fab doing a sweet Rock Solid @ NOTJ in Mannheim
And what about your Flip-Mission. Did you already work on the Backflip lately?
Yes, I am also working on the flip. I did 14 flips successfully into the foam pit. But I will do some more before I change to dirt. If everything works, the flip is easy to do. But if something going wrong it's pretty shitty.
How do you prepare yourself during the wintertime?
It's hard to be in shape during the winter time. From October till March the weather is too bad for riding, because we have snow and rain in Germany. There is only one option go to the deep south or to the USA. I have planned to ride in the USA soon with the support of my sponsors Fox and Kawasaki. Apart from that I am doing workout in the fitness studio.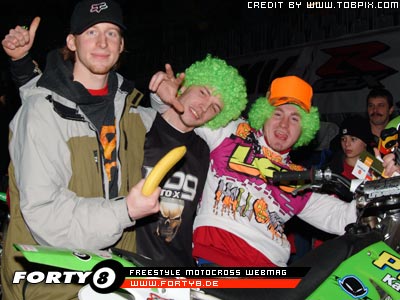 Fab with some FMX fans
What do you think the sport needs to get itself into better shape?
I think the media presence is a really important thing we need. The basis is a professional appearance of the FMX sport like other popular sports. The German FMX scene should be more supported by big companies and sponsors to build FMX parks etc.
What are your plans for the actual season?
To keep well and fit and ride as good as I can ... and better ;o)
Okay, now our classical word association. Give me the first word that pops into your head:
Ramps: Tricks
USA or Europe: USA
Sponsors: Important thanks for the support!
Goonriders: Gas it…
Double Flip by Pastrana: Sick
Natural Terrain: variety
Tattoos: who like it should make it
50's: Fun
Soccer: Balls
Movie: several
Travelling: a lot
Girls: hadda, hadda…

Right on, thanks Fab.
More information about Fab on his website www.bauairsucks.de