Interview with Freddy "Nightmare" Peters
He is one of the best German young guns in FMX these days. Freddy Peters from Berlin is well known doing his signature tricks like cliffhanger and cracknac. 2004 he showed up at the NOTJ in Bern and ended up with a good 4th place. Freddy has the skills to ride into the top10 at the IFMXF tour. We talked with Freddy about his first steps in MX, his passion FMX and his plans for the 2006 season ...

First of all, tell the guys out there some basics about you - where do you come from, how old are you and what is your mission?
Hi Guys, I am Freddy Peters, 20 years old and coming from Berlin. I am riding bikes since I have been 3 years old. My mission is to attend one time at the X-Games.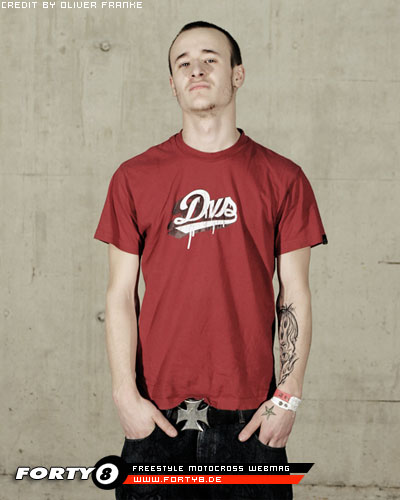 When did you start riding dirtbikes? I am riding dirtbikes since I have been 3 years old. With FMX I started in 2003.

Why did you prefer to specialize in FMX and quit MX racing?
Absolutely because of the FMX-spirit. FMX means more FUN!!!

Do you like Freeriding and do you have some locations to do that?
Freeriding is fun at all. I did it in Israel, but in Germany we do not have many locations for Freeriding.

And what about your Flip-Mission. Do you like Backflips? I do not like Backflips, because i don't do them. But I am training them already and did some BMX-Flips into the Foampit. Maybe I can do them at the end of this year and will like them.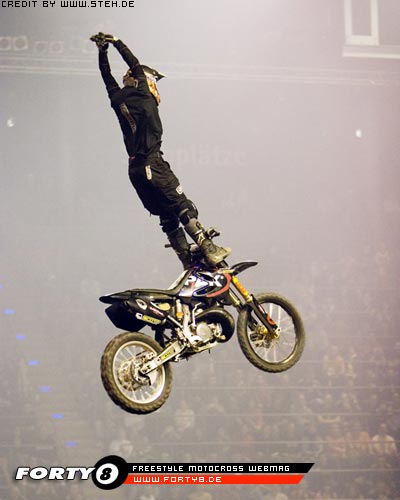 Freddy with his signature trick Cliffhanger

Did you already work on the Backflip lately? Yes. Like i said, i did some BMX-Flips into the Foampit. Felt good, so I going on with the training.
How do you prepare yourself during the wintertime?
This is really a gig problem. During the wintertime here in Germany you only can train in SX-arenas or BMX-locations. Or you have to travel to Spain or other countries. If you do the IFMXF-Contests you have the trainings there. Butt his shitty winter was horable for my trainingsituation.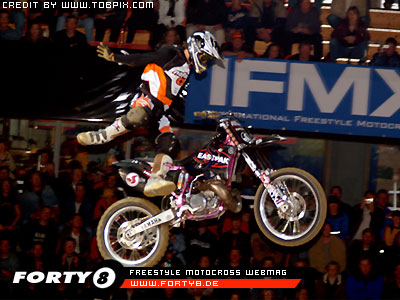 Freddy at the IFMXF NOTJ in Bern 2004 doing a huge Flintstone
Do you have an own FMX compound? No not now.
What are your plans for the upcoming season? I wanna reach some IFMXF-Finals and make it into the Top 15 of the IFMXF-Worldranking.
You are living in Berlin. Tell the people out there, what they should see, if they visit Berlin? Definitely the FMX-park in Schenkenhorst (close to Berlin). This is the most spectacular FMX-park in Germany. Upforce and Ostbande rules.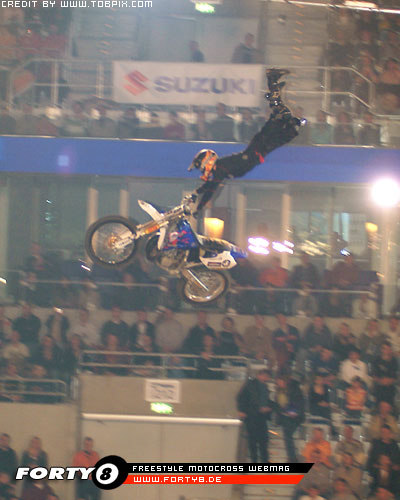 Freddy with a Cracknac in Nürnberg 2006
What are you doing beside FMX in your freetime? Right now I moved to another appartement in Berlin, so I am working on the appartement. In my other freetime I am training, training, training.
Your last words – do you want to say something to the people out there? HAVE FUN!
Okay, now our classical word association. Give me the first word that pops into your head:
Ramps: Jump
USA or Europe: Europe (gets better and better)
Sponsors: THANKS TO ALL!!!
Goonriders: Busty
Double Flip by Pastrana: He got big balls !!!
Natural Terrain: Freeding
Tattoos: Beautiful. Gonna make you addicted
50's: Big Fun
Soccer: Sucks
Movie: Fear and Loathing in Las Vegas
Travelling: Airplane
Grils: Tess


Right on, thanks Freddy
More information and pix about Freddy on his website
www.freddy-fmx.com



Support us: Like and Share it!

Video of the month

Facebook /FORTY8Mag

Partner