Interview with Koren & Podmol = General-X
The most of you already know, that the European riders made a really good progression the last years. Europe has a lot of stars like Mat Rebeaud, Andre Villa and Ailo Gaup. Today we were talking with 2 riders from the Czech Republic to get more information about the FMX scene in Eastern Europe. Libor Podmol currently is the best CZ rider with a bunch of top 5 results in the IFMXF World Championship. Also Martin Koren, who celebrated his comeback this spring after his big injury last year ...

First of all, tell the guys out there some basics about you - where do you come from, how old are you and what is your mission?
Libor: Hi, am 21 year old kid from Czech republic.
Martin: Im 23 years old. I live in Prague and have been around dirt bikes all my life. I grew up in L.A. California and moved to Czech when I was 13. I started doing tricks on tracks during my motocross days and found that I enjoyed it a lot more than racing. I turned to Freestyle Motocross in 2002. I want to be at the top of the pack one day, but most of all, I want to have fun riding my bike.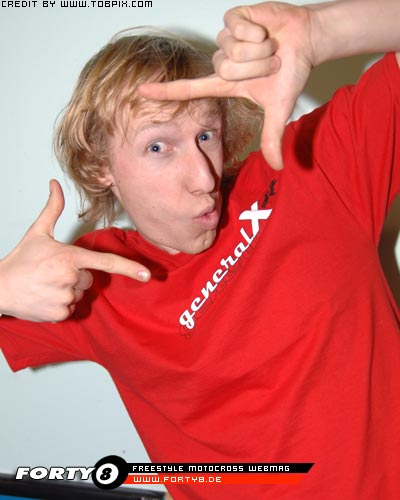 Martin Koren in da house ...
Libor, the 1st time I saw you riding was at the FMX Demo at the Supercross in Dortmund 2004. For the most people you were a nobody at this time, but you impressed with big tricks. Now, 2 years later you are placing contantly in the Top 6 at the IFMXF NOTJ Tour. Was it a hard way for you to be on top?
Libor: Yeah ,i remember that...was cool show. So i had no injuries, i practised a lot, travel a lot for contests everywhere and riding and riding and riding.... And i think it was hard way ,but it was also one best 2 years ,of my life.

Martin, you had a great year 2005 successful doing the Backflip and placing 6th at your 2nd IFMXF Contest in Milan. But then you crashed pretty hard at the Nokia FMX show in Prag. Tell the people out there, what happened?
Martin: Yeah it pretty much sucks when you try so hard to get good and then your taken out for so long. In the Prague event, I came back from a Tsunami and landed a bit short on the safety deck. As by body went to the back, I opened the throttle and pinned it into the wall. I couldn't jump off the bike and at the last moment I hit the brakes. I endowed into the wall and hit it direct with my head. I broke 3 chest vertebrae and one of them was completely chattered. The doctors fixed four of them together with some titanium.
Martin, now you are back on the bike. What are your plans the next months?

Martin: I'm slowly getting my the feeling for the bike again and want to start doing events soon. My plans for the next months is to go to a warmer climate a few times and get riding before the weather gets better over here in Prague. I also want to get doing shows and stuff again.

Tell us something about the Czech FMX scene. How many Pro riders and amateurs are riding there?
Libor: Its about 6 good riders and 4 mateurs riders , but few guys ask me how start with fmx and i think in 1-2years we will have much more FMXers. But i think is still good for that small country how Czech is.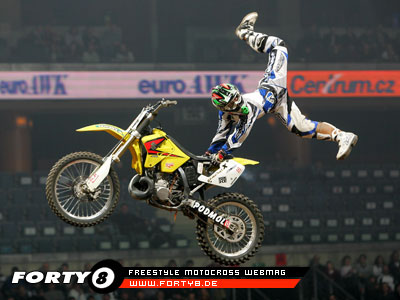 Libor Podmol is definitely one of the best Euros
Are in the Czech Republic any locations to freeride?
Martin: You could find a few. There are some cool sand lorries near Brno that are fun to ride, but nothing super special. There's a lot of good illegal trails for Enduro in the mountains. That's a lot of fun.
The Nokia FMX Show in Prag is a really big event with invited riders from foreign countries. Is this event important for the growth of the Czech FMX scene?
Libor: Ouyeah, for me is the one real FMX thing in Czech rep. in all year. And helps FMX in czech a lot, once in year is FMX in TV, in Newspapers, magazines...everywhere and its always after Nokia Prag show. But than is almost all year nothing and thats not good.
Are there also some national contests in CZ?
Martin: Petr Kuchar puts togher a show, jam kind of thing near his house in Hustopece. There was a Contest before in Plzen and there are some bigger things planned for this year so well see how it develops. We want to put together a Contest at our freestyle park near Prague at the end of summer if everything goes well but it takes a lot of energy to put things together.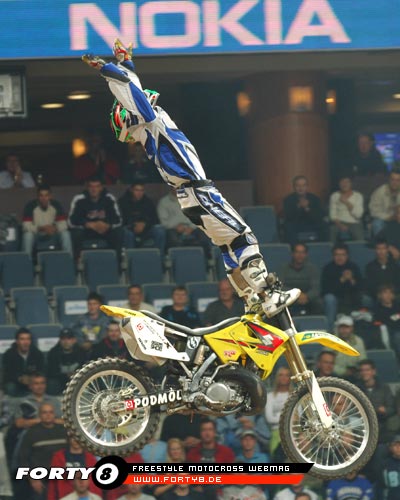 A really nice extended Cliffhanger by Libor

What do you think the Czech FMX scene needs to get itself into better shape?
Libor: We need to get FMX more in TVs, magazines than will come ,maybe more sponsors, more contest in Czech , and more people will know FMX, more riders will come...
Martin: When you look at the size of our small country and compare it to others, I think the Czech Scene with riders is really good. We have 6 back flippers and 7 competeable riders. Petr Kuchar was the first European back flipper, now Libor as doing really well in the IFMXF and I hope I get my act together to. The young Czech guys Fusek and Rejsek have a lot of talent and no respect for the laws of physics. I think that Czech freestyle is at a good level compared to whats up in Europe. We just need better media to promote the riders.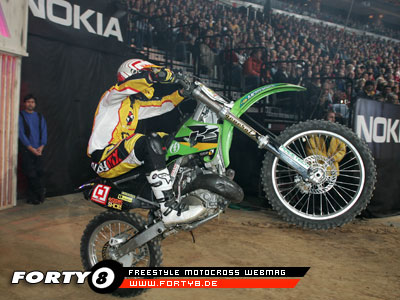 Martin doing some showriding at the Nokia FMX Demo in Prag
Do you have your own FMX compound?
Libor: General-X land near my house, and Neverland near Prag.
Martin: We have a compound just behind Prague. 2 huge huge landings. Oval shape track, and 4 ramps. A motocross track next to it.
Let's talk about the Flip. How did you learn the Flip?
Libor: Foam pit about 20 times and then go to dirt. But just flip from superkicker and i should do soon the long distance flip.
Martin: Before the summer last year we learned it into the Daboot Gang foam pit in Italy. We started a mini bike and then did about 20-30 on a big bike. We didn't have a kicker and really wanted to do it. Then came NOTJ Hamburg and we went for it. Now after my injury I need to relearn it again.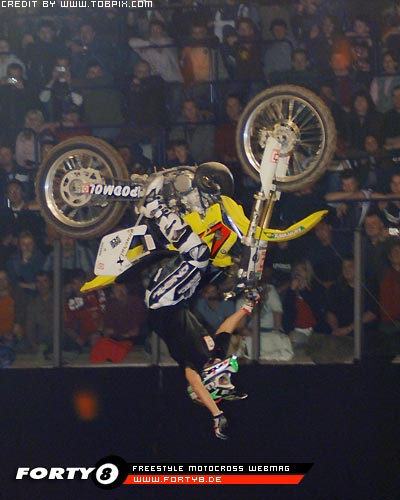 Libor doing a Onehanded Backflip at the IFMXF Worldcup
Do you think, that the people hype the Backflip to much and the judges are score them to overpriced?
Libor: No. I mean if you do any really good trick, you will get more points for this non-rotation trick, than for a flip. And is still weard feeling if you are upsidedown and up to you is 100kg of iron.
Martin: Spending the last few events being a judge and being a rider who flips (super kicker) and had to go through the process of learning it, I think that it is not overpriced. Especially a long flip. I hate to see a run where a majority of tricks are BF's, but a flip is a flip and things like flip nacs, klickers, saranwraps, cordovas are big tricks and should be given credit. If you go for a flat liner or holy man and something goes wrong on the lip, you don't pull the trick if it doesn't feel good. On a flip, once you pull, your in for the ride. It takes a lot of balls to be able to do runs with flips and stay concentrated.
You are doing Onehand Flips over the Superkicker. Did you already work on the long distance Backflip lately?
Libor: No foot also :o)))....Yes, the long flip is a thing which i have in my head now. I already try in foam pit, like 6times and feld better than from superkicker. But wanna go to foam pit one more time and than hola hey go to dirt ....
How do you prepare yourself during the cold wintertime?
Libor: Contests on weekends....and some playstation and SNB during week.
Martin: This winter i was wrapped in a chest brace so no preparation at all. But usually co to Italy and do indoor contests and shows.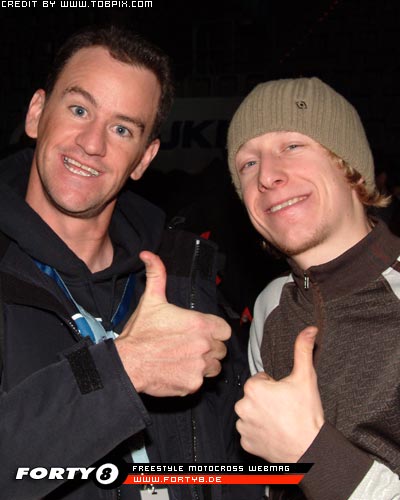 Martin and the IFMXF head judge Jason
What are your plans for the upcoming season?
Libor: Stay and in this reall good feeling when i ride my bike.
Martin: Get things together and feel confidant on a bike.
Do you have another job apart from FMX?
Libor: no no no no
Martin: No. But now since I haven't ridden much, I might have to sell and organ to pay for bills.
What are you doing in your freetime?
Libor: Hang out with friends or my girlfriend, go for some freeride, take care of my brother and riding BMX with him... But in last time i dont have freetime pretty much.
Martin: Try to get into media, improve things around the team, thank you stuff for sponsors. Look for new better deals. Hang out with my friends and girl friend. School stuff.

Your last words – do you want to say something to your fans, friends etc?
Libor: I wanna thanks a lot ,all peoplle which supported me, all fans of FMX when i hear those guys on contest ,thats give me a lot of Power!!! So thanx and see ya soon!
Martin: Czech out www.generalx.cz were we try to keep our fans to the latest new and give feed back from events. I'd like to thank fans for their support and friends for their care.
Okay, now our classical word association. Give me the first word that pops into your head:

Libor:

Ramps: Jumps
USA or Europe: Europe
Sponsors: love this guys
Double Flip by Pastrana: Sick
Natural Terrain: Freeride
Tattoos: i like it.
50's: I really wanna buy one!!!
Soccer: no way.
Movie: Catch me if you can. All FMX movies.
Travelling:Boring, but cool meet new people and culture.
Girls: Love

..................................................................................................
Martin:

Ramps: Tricks
USA or Europe: Europe
Sponsors: Free suff
Double Flip by Pastrana: insane
Natural Terrain: Fun
Tattoos: Cool but not on me
50's: kids bikes
Soccer: GAY
Movie: relaxing
Travelling: endless
Girls: Monika

Right on thanx Libor & Martin!
More information and pix about the both on their website www.generalx.cz