Interview with Giancarlo Bergamini

One of the best riders in Latin America and a pioneer on Brazilian FMX, Giancarlo Bergamini has skills enough to ride on the big international events. Leaving his native land with many victories now he wants new challenges! Smooth, stylish and very technical Giancarlo might be the next big thing. So, let´s know more about this young gun.
How did you start to ride dirt bikes?
My dad is an old school racer and got me started since I was 4... but I started racing championships at 7.
You had a long career on Brazilian Motocross racing.
Tell us more about it.
Yeah, I started racing and won like 8 amateur titles and then turned pro in 99 and pretty much ended up struggling with sponsors when I needed the most help. I stopped racing in 2000 because of that.
When did you start to ride FMX?
I came back to riding in 2001 mostly just play riding and having fun...then I got a call to go race Arenacross and do the FMX demos in between motos, but I started dedicating only for Freestyle at the end of 2002.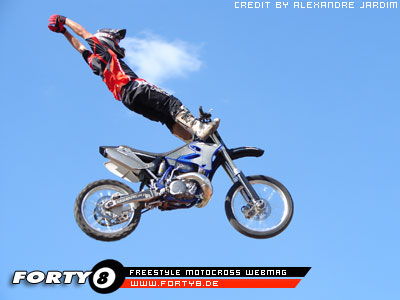 Why did you decide to ride just FMX?
Because I had a lot more fun and started progressing and just getting addicted to doing tricks and basicly it´s what I love to do.
Do you remember what was your first trick?
I did can can´s back in 97 while I was still on an 80.
You are a top rider on Brazilian FMX.
So, tell us what's going on in there?
The scene here is getting better every year, specially the level of the riders. We don´t have many contests but still the guys keep pushing each other and always showing new stuff. Demos is what we basicly do all year.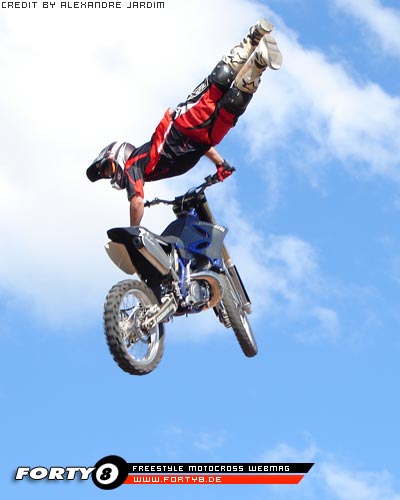 How is the level of Brazilian FMX ? Do you think is possible for a Brazilian freestyler get good results in events like Night of the Jumps?
The level is getting better, Gilmar Flores is flipping, plus he has rock solids, double nacs and deadbodys and then there´s Marcelo Simões who just blows everyone away with his combos like shoebox to double can, sideshow to no hander lander and killer tsunamis! I think there are like 5 riders who would do good at practicly any event.
Do you have any intention to try that?
I have some intention of going to Europe mostly to learn and better my riding, but I´m not so skilled about riding a bike that I don´t know and have to get off a plane and go jump all jetlagged. But I´m planing to go earlyer if I ever get the chance to be at an event like Night of the Jumps.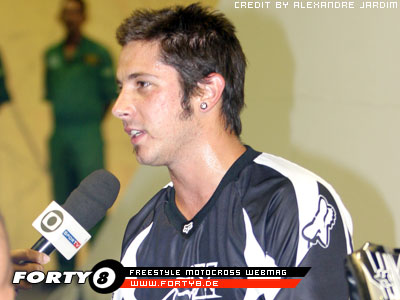 How do you see the evolution of FMX in Europe?
I´ve seen it blow up ! European guys are pretty sick and they have a different style ! André Villa is got the sickest catnac and I personatly think that Remi Bizouard is the most stylish and has huge extensions! What can I say...there ripin´it in Europe!
You rode in nice international events like Global X-Games in 2003 and Latin American FMX Championship. Tell us something about your experience in these events.
I went with Javier Villegas to represent South America at Global X Games but I had a bad experience with getting off the plane and straight to practice at the event. Plus the course was pretty sick and I was only doing freestyle for 5 months so I overjumped the 85 footer and broke my foot, but I learned a whole lot! It was great seeing those guys ride. The Latin American contest are really fun! We have a blast and put on a show... it´s usually at the beach in Chille so it´s always crowded. Last year we had 4 brazilians riding.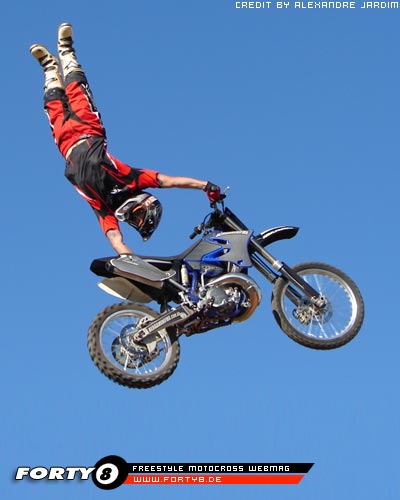 We have seen tons of Backflips on contests.
What do you think about it ?
I think it´s cool but not too much, some riders really do too many flips and not so many tech tricks, but it´s a big evolution of the sport.
What kind of trick do you like?
I like tricks where the rider get´s really far away from the bike like cat nacs and K.O.D, double hart attacks are awesome and what I like doing the most is probably the christ air.
You have been working on other projects like Motorpsyco (the first FMX film produced in South America by Bergamini FMX). Do you like that kind of work out of bike?
Yeah! I hope to do a lot of work off the bike that has everything to do with bikes. The video was very fun to do and it´s a great way to show people what´s going on.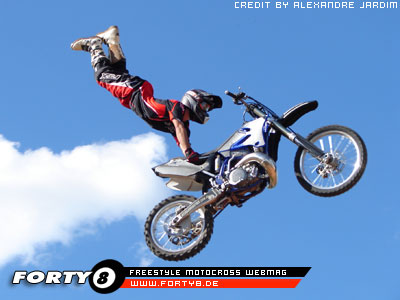 Speaking about Bergamini FMX. What is that crew? What do you do?
We call the crew FMX BRASIL but we all carry our own names and sponsors. The riders are Me and my brother Gianpaulo Bergamini, Marcelo Simões, Fred Kyrillos and Celso Aslan .
Do you like Freeride? I think you live in a very good country for it.
I really enjoy freeriding have been doing it ever since I can remember with my dad, brother and friends, we live up in the hills and there used to be some good riding spots but there all gone now.
Besides FMX do you pratice any other sport?
I do a lot of Skateboarding and Dirt Jump Bmx.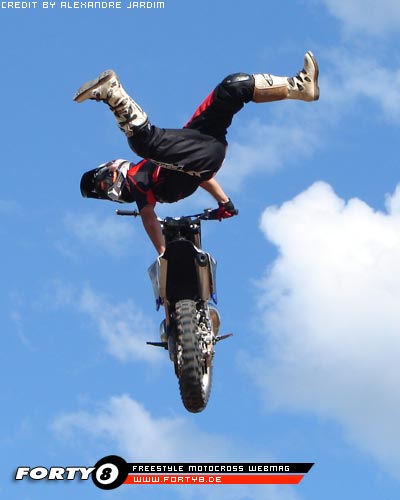 What are your plans for the future?
Just have fun and try to better myself as a rider and a person, hopefully me and the crew can take the level here up to fullest.
Giancarlo thank you so much ! Do you have something to say for friends, fans etc...
Thanx a lot ! I just wanna say keep it real, don't forget why it all started... FOR FUN!!


Name: Giancarlo Bergamini
Age: 24
Nick: Gian
Hometown: SãoPaulo
Bike: YZ 250
Music: Punk, Alternative
Tattoos: I´m up to about 17 sessions ... got a couple
Girls: Can´t live with out´m, specialy when I´m injured
Sponsors: Fox, Alpinestars, Double X, Alpha Motos Yamaha and Motul
Website: www.bergaminifmx.com.br