Interview with Javier Villegas

He is one of the best FMX riders of Latin America and really successful in the USA riding the IFMA and the DEW tour. Our friend Gaspar talked with Javier Villegas about his thoughts regarding FMX and the future of this breathtaking sport ...

Javier, please introduce yourself and tell us how did you start in Motocross?
Well, I'm a Chilean Kid with a lot of dreams and a lot of will to realize all thoose dreams. I started in motocross when I was 7 and my dad gave me my first motorcycle (ooh the good old times, with nothing to worried about). My dad was a rider and he teached me almost everything I know about riding motorcycles.
When did you start on FMX?
When I was 16 I used to practice tricks after every mx practice so I could celebrate my victories and make less sour my defeats, a couple of years later on a sx race in my country, some American fmxers went for some shows and they invited me to join them on that show, and that was when all started, my eyes open to a great new world without gravity. Well some times gravity go back to work and give me some lessons about not push my limits with not enough practice.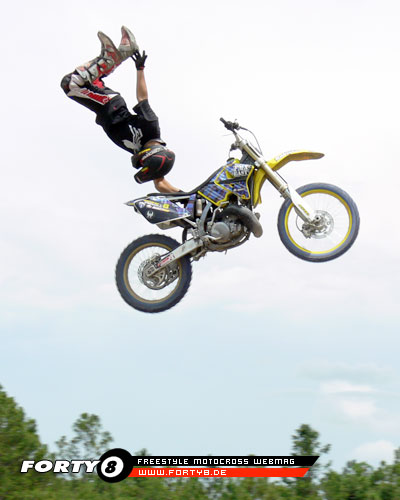 Javier doing an Oxecutioner
Recently you put the flip among your tricks. What is favorite kind or trick ? Flips or regular tricks?
A few months ago I started to flip on dirt on the super kicker, but I haven't had enough time to dominate it, I still feel that first of the first attempt of the day, but last week Beau Bamburg told me that, that feeling never goes, so whatever. My favortie tricks are the regular ones. I give my brain overtime working to create some new regular tricks, and actually it's pretty hard.
You have a lot of technical variations like switch hands and other things like that. Do you think the judges reconginze that kind of trick?
I really don´t know, I think they do recognize the diference, but they don't, or don't want to recognize the difficulty of thoose kind of variations, and that sucks, cause if they do care, maybe the sports would grow in a lot of different directions more than just the up side down direction ... Actually, last weekend on the second stop of the Dew Tour I stopped to care about what the judges want to see, from now and on, and untill there´s some professional judges, I will just ride for me, for what I think is great and impressive.
Are you working in something new on regular tricks?
I'm always working in some new regular trick, but lately I have spend a lot of time doing superman seat and fender grab, trying to had full control of the trick and turn it on some double fender or something. I'm also working on my shoebox pretending to turn it in some kind of christ air.



CatNac Indy with style
You are living in US and riding events like Dew Action Sports Tour.
How the Americans see the European freestylers?
That's a funny question, because they don't see another freestylers than the Americans (not everybody) when they saw Andre Villa riding on the first stop they were impressed about how many variations that no one have seen before he had, when he practice his barrel roll I heard a lot of people there saying "what was that all about"... I mean... Don´t you read magazines or check the internet people ? Come on wake up, open your eyes, there is a whole new world of freestylers growing up out side.
You organized the Latin Amerincan FMX Championship. How do you see the evolution of Latin American FMX scene?
It take us a while to have some respectable level, but now is improving faster than a couple years ago. Is very impressive to see some guys that last year were only doing nothing, now executing perfect grab and bar tricks, I think if we could work together on a regular Latin Championship the level will get crazy soon. The bad thing is in many Latin countries are some old mx riders trying to make business with this. That is not bad at all if you help the sport to progress, but if you are only thinking about how to improve your bank acount, and try to f**k the other riders just because you don´t have the level to make a show by your own, you stop the progress and soon you won´t have money either.
You have been working on FMXTV, an on-line show about Latin American FMX. What do you want with this show?
Well, I want to expose my buddies and myself to the world, not many people know there is fmx in Latin America, and I like to show to the world there is a lot of riders working hard to get on the level, some of the starting from 0 and sweting blood to have some recognition. I like to think I can help them to get that. You know for me was a long and hard way and if I can make it simple for the guys behind me I will be happy, and if I can get rich on the way there it would be great, (laughs) just kidding.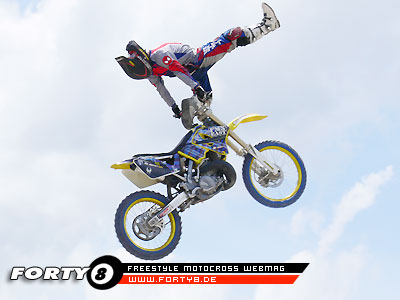 Javier strippin'
How is the level of Latin American freestylers?
The Latin level is very high, too bad there is too little riders with that level. My brother (Gabriel Villegas) and me execute almost every trick in the business, because we see new tricks and combos on every contest we go, but there is a lot of Latin riders getting there too, especially brazilians. I think the brazilians are the most progressive riders on the Latin scene, and I'm glad to say Chile is joining the career too, but now Brazil has the lead like in almost every sport known by men.
You born in Chile but you lived a few times in Brazil. Tell us more about this experience ? Do you have good memories?
I spent a great time in Brazil, I learned so much about professional races there, it was there where I take my first steps in to the fmx world. I met a lot of great people there and if I had a chance to go and live there again I will take it. It's pretty much as USA about sports there is always a chance to do big stuff on the sports, but the people there is nicer, and the beaches are great, not mention the "mulatas" *( My wife gonna kill me).
* mulatas are brazilian womans with great shapes which dancing Samba in Carnival
What do you think about the politcal questions on FMX. Do you think the promoters are having a bad influence for the FMX future ? I mean, sometimes the show for TV come in first place and the sport is ignored?
I don´t know is always good to be on tv even if you don´t appear, maybe some day you will, I mean, they always gonna show Travis and Nate, even if their rounds are crappy, but the tv world is like that, if your name doesn´t sell you are done. That´s why I'm trying to put this FMX TV on the web soon, so if we have some Latin contest we can show everybody riding, and not only on the contest, we will show some practices and shows, so we can do a little diference in the world. If it works maybe promoters change their minds and realize that is not only about names and it´s about skills (really doubt it, when you think with your wallet), I really think that skills impress more than names.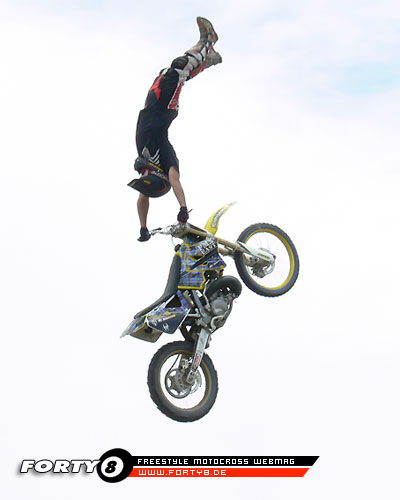 Nice extended Tsunami
We have seen new stuff on fmx courses like fun boxes, wall ride and now even quarter pipes ! What do you think about it ? Is that the FMX future?
I hope that become the fmx future because that will leave the backflip thing a little on the side and the judges could focus more on the skills and the hability to adapt the course of the rider. I just hope they never use some loop stuff (laughs).
In your opinion, how should be a good FMX course?
With some sequence of jumps, a wall ride that doesn't take you 30 seconds to get there and hit it some fun boxes, a couple of ramps and dirt hits, with some transfers too with a quarter pipe on the other side of the course facing the wall ride so you can go hit the sequence of ramps or whatever hit the wall ride go back use the quarter pipe and the use the rest of the course, that´s pretty much it, a course where you can do you routine smoth and have fun using the course.
Judging is a problem on FMX. In your opinion what could be done to improve that point?
Maybe putting some computers to help the judges and making some "rules" so the riders will know what really the judges want to see. Maybe putting some transponder system on the ramps and wall ride or whatever the obstacles are, so a computer could calculate how good was your course use. The judges should make a letter for the riders telling them what they want too see, how are they gonna score and which are the jumps they think are the most difficult so you can prepare a consistent routine to show. It would be also great that the judges were prepared people to judge, not riders or people who "knows" about the sport, it should be some kind of training of judges like show the routine videos and make them score it so you can see how is the criteria of thoose judges and give him the right place to judge. I mean one judge for execution, one judge for innovation, and something like that.I could keep going all the way with this but it is getting boring juts talk crap of the bad judging.
What is your favorite place to ride?
Well my favorite place to ride is wherever I'm with my friends learning new tricks.
Do you pratice any other sport?
I used to practice body board but that was when I lived in Brazil, right now I'm just focus on the fmx.



Javier doing an oldschool NacNac
What are your plans for the future?
Become a promoter of Latin fmx, do a Latin Championship of fmx and make some kind of school for Latin riders who wants to improve their skills.
Javier, Thank you so much ! Please, say something for the fans...
Get on your bike and stop wasting time reading this on the internet and go ride and learn some new stuff (laughs). No just messing with your head. Don´t ever give up on your riding and be the best as you can get, spend all the time you can giving the best of you and have a life full of crazy tricks and sick combos, so when you become old and all your bones hurt like hell and no body believes your crazy stories, you will know it worth it.


Profile

Name: Javier Villegas
Howetown: Weston, Fl
Age: 22
Nick: Astroboy
Bike: Suzuki RM 250
Girl: Not too tall, nice body, green eyes ... Claudia My wife
Music: Punk rock
Website: www.astroboyvillegas.com
Sponsors: Seminole Tribe Motocross, FMX East, Palemtto Motorsports, Pure Hero,Witch Eye, Scott, Acerbis,Roost Mx, Innova.