Underground FMX - the "LAZY TROOP" interview


Okay Guys, let's start with some basics. Tell my something about your place of birth and your current residence?

Bertrand: Born in Lyon and now I live in Ventabren right next to our park.
Laurent: i'm born in rognac a little town in south of france and today i'm living at Berre l'etang just next our free style park.
Jux : 02\11\82 at Marseille ( France ) , and live in Berre l étang near Marseille.
Ilkka: Born in Finland Tampere.

We are all between 18 and 23 years old. Fabien is the youngest and Cedric is the oldest Motherf****r. Now we all live next to Marseille , ten minutes from our compound . It is a small neighborhood called "les Cravons".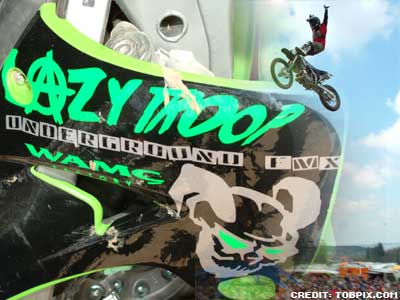 When did you found the lazy troup and who was the founder?

Ilkka : The Lazy Troop was founded in 1998 with Remi, Julien, Laurent and Cedric. When we used to race before, people used to call us the lazy guys because we were always late on the starting gate, everyone had to wait for us. We were just chilling in the park drinking some Pastis (alochol from Marseille)under the Sun...lol
Lau: at the beginning we were just Three:jux , ced and me. we are riding together since 1995 and on free style ramp since 2000. Some other friends were riding with us but not on event and on Fmx ramp kick. Then we have met Bertrand and Ilkka at a French snow boarding event where we have ride an fmx show together. Since this day we are still riding with them. Fabien as join us in 2001. The name lazy troop has been found by a friend in 1999 and till this date we keep it
All 2gether: We first form the FLNC crew ( FreeLazyNastyCravons ) but that was too much fitted with politics ( FLNC is a terrorist organisation ) . After two years of existence we form the LazyTroop , the first European team , in 1999 . We were 5 to found it : remi ( who found the new words ) , Cedric , Laurent , Jux , Fabien and Thomas . Two years after we met Ilkka and Bertrand. . We re actually 6 riders to perform shows and contests .

First time you ever rode a MX bike?

Ilkka: I was 9 years old
Laurent: i'm riding a MX bike since i am 16 years old. My first ride was on 125 RM 1994
Jux: I start riding dirt bikes at 6 and ride on trax at 10 , MX races since i was 11.
Bertrand: I was 10 years old

When did you start with FMX?

Almost everyone started 1999.

Laurent: I started making some tricks a few month after my first ( some killer no footer ah!ah!). But I really start riding Fmx on freetyle ramp at the FISE in 2000 a big extreme sports event in south of france. It was my first jump on a fmx ramp and I crash very hard!!so hard that my crash has been broadcast on TV.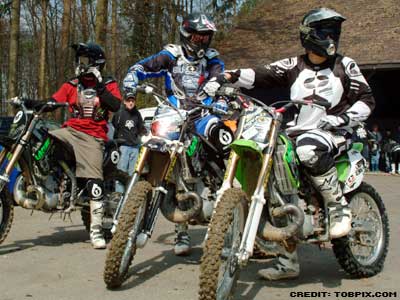 Who did inspire you to do FMX?

Ilkka: For all of us when the first crusty videos came out with the famous guys like Carey Hart, Mike Jones, Metzger, we tried to follow their spirit. Just have fun with the friends while riding. Of course we were all racing at this period but alcohol and girls took us to the wrong side. Our physical condition just went away. So freestyle MX was the thing for us: Race on the tracks, make some small tricks for the girls .
Jux: Moto xXx 1 and Chrome and PuNk-rock .
Laurent: mike metzger and all rider who were in crusty 2 the first free ride video I ever saw( it has change my life
Bertrand: Seth Enslow when he crashes in the dunes in Crusty 1

How important is FMX for you in your life?

Jux: Riding every day FMX ist he only way for me to don t go crazy with this fucking world ! I think it s good dope too !!
Ilkka: I think FMX has become something really strong for all of us. The Lazytroop is the BIGGEST and OLDEST team in Europe. Our spirit is a way different from the teams that get formed these days. We all know ourselves for a long time. We are more true friends than just team riders. FMX is really a passion for all of us. We love to ride together like in the good ol' days. And we think it will last for years. Even when we'll be 60 years old we'll be out there all together drinking a pastis and eating some peanuts, watching the new generation ride.
Laurent: too important I always thinking at Fmx/ when I saw a gap in town I make the sound of Mx dirt bike. Seriously: today I don't earn enough money only with riding a motor cycle so I go to school (university). In two month I will work for a new French fmx magazine which call X rider and which will be the best fmx mag ever.
Bertrand: It makes me feel alive, that's it.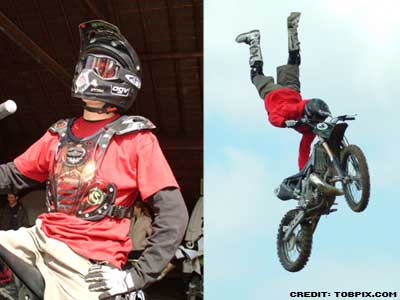 What do think about the fast grow of the FMX scene and tell me something about the FMX scene in france?

Ilkka: FMX has become really popular these last years. The medias are even more into FMX than into MX. In France the situation is really f****d up ! We used to have really good riders, maybe the best ones in Europe. But those guys didn't take their chance at the right time. The riders are too Individualistic out here. When u ask someone if they know french freestylers they just say: Manu Troux , Jey Lamblin, Cyril Porte and of course the Lazytroop (hahahaha) but we are maybe 30 riders in France and some of them are even better than the french PRO Hos ! The french pros are not really nice guys and not really good riders. They are scared of all the other new riders coming. They try to protect their business and don't brake themselves so they don't progress. Last year we did a show with them and we really kicked their asses !!! Now all the amateurs are really together. We rae putting up the first french FMX championship which is called "Outlaw FMX Tour", everything is in place now we are just missing a few big sponsors. We want to ride all together, we want that the public knows about us and that new riders want to start fmx. This championship will be open to everyone .
Jux: I think it s going better and better for new practicers cause minds are opening for everyone , what s hell good too is that fucking French "pro" begin to be fearful cause the new generation , ahaaa !! I think we are the cause because for 4 years we don't stop the fight to open the FMX in France . We organizing this year the first fmx championship in France that called Outlaw Fmx Tour ( outlawfmx.com ) . Never give up !
Laurent: I'm happy to see such an evolution in Europe and in germany and I hope an hope an event like the X games will be created very soon in Europe. In france , it's always the same: not enough event , bad spirit of French fmx pro rider. We hope to change this with the first ever championship we have created which calls Outlawfmx tour. We will make something like four contest with all the underground fmx scene. We hope it will be great!!
Bertrand: We had really good riders at the beginning of the thing. But they only wanted big money as it was easy to get cause they were the first known FMXers (we started at the same time but we stayed beside in the underground) But as they didn't do anything for the sport, they were only doing shows and not serious contests, so I think that they stayed quite at the same level when the other european riders were improving.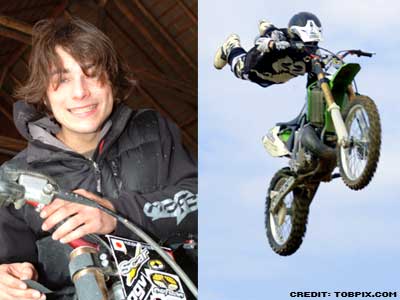 Is there a combination between the lifestyle of FMX and other extremesports e.g. snowboarding and BMX?
Jux: I hope thing will go this way . It s so pleasant to do shows with other extreme sports , those guys are often cool and we want to stick this state of mind to FMX cause , things are going bad with the new coming of badstyle racers .
Laurent: I think it's the same thing. Snow board , BMX , skateboarding etc;;; all rider are living something very strong and are all searching the way to get the more sensation they can.
Ilkka: We think that the lifestyles are really similar. We used to have shows in the Alps (eg: Septomia Style Session), with lot of snowboard and sk8board riders. Those people are very cool, the don't have this competitive spirit that people have in MX. Bertrand used to ski very much younger. He is still really good. Ilkka has been skating for over ten years...
Bertrand: It's the freestyle baby, in all these sports, the riders stopped racing cause it was boring and started something more fun. That's why I think we're really doing the same thing but with different toys…

Is it important for you to ride with your buddies?

Ilkka: Of course ! It is always sad to ride alone. We all have pretty much the same level. So when one learns a new trick we all want to try it. So we progress together.
Laurent: I think It's the more important: riding with my friends.
Jux: That thing is very important cause it s always cool and that makes you progress fastly . Problem is that my friends are weekly at work so , I m often alone , exept when strangers ride with me .
Bertrand: That's how the freestyle goes. I think that's why freestylers stopped racing: to ride with some friends without having to fight for 1st place. So when we're all together we look at each others ride and when u see something cool u just want to go big as well. That's why we never ride alone, we're always 2 at least.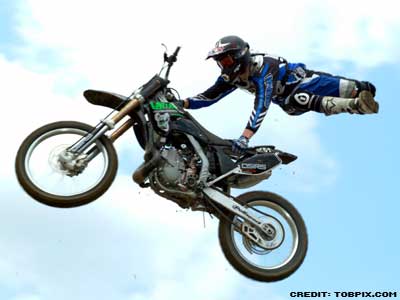 What would do you when FMX not exists?

Laurent: I think I will have ride BMX or may be have continue fighting sport (tae kwon doe)
Ilkka: We think that we will be big famous hunters and fishers ! Live in the farms cultivate some tomatoes, get fat with beer, have long bears dirty hands and speak loud and fart all the time. You know if FMX didn't exist the Lazytroop will be still here, but under another form !
Jux: Play music , drink beers and go fishing.
Bertrand: Freeriding and throwing big jumps with my bike

Which value have Contests for you?

Ilkka: Contests are a good way to progress. But we don't like'em so much. We prefer to do shows ! No Pressure !
Jux: I don t like that much competition spirit but this is the only way to progress.
Laurent: for me my place in a contest is not very important but I have realised that it's necessary for the growing of the sport. If we want to see some new tricks we´have to do contest because the challenge push the riders to go bigger and bigger.
Bertrand: Contests are good to improve your riding level but I take it as a step to grow big and then I'll be more into freeride cause that's really is the best thing on earth.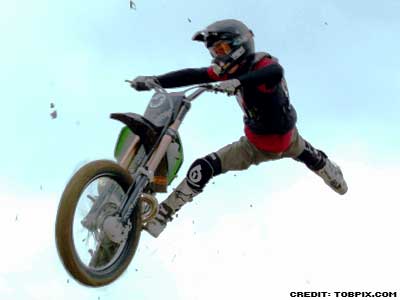 Do you have any goals for the future?
Jux: I d like to travel the world for demos and contests as long as possible.
Laurent: riding for my pleasure and working for X rider magazine
Ilkka: Some of us are thinking about living with freestyle. But you know we are the Lazytroop! We could have lot of shows in france, but we are too lazy to call the organisors. We just wait that someone calls us to ride. No, since last year we are trying to move our asses a lil' bit more in order to get our team famous. And it is really working. We allready know a lot of european riders. People are offering us more and more shows. So we'll see what happens!
Bertrand: I wanna do my thing the best way I can.


Did you ever had a bad crash and did you break something?

Ilkka: Oh yeah baby ! In our team we have the best crasher on earth.He is the"Unbreakable Bert" (bertrand). He has never broken anything but he makes the biggest crashes. Otherwise of course we crash a lot but never anything serious...
Laurent: a fucking crash in 2001. first jump at the training: I have broke my 2 wrist and dislocated them. The doctor have put four piece of metal in my wrist.
Jux: My last crash in Dubai , i came back from a whipped heel clicker but I was still whipped when I land , I fall and my head hurt a metal barrier and got a small trauma . Anyway I had those injuries in past 4 years : broken toes , broken ribs , broken collarbone , broken wrist , twisted ankles , twisted wrists , twisted compressed back , twisted neck and dislocated shoulders.
Bertrand: Losts of bad crashes (see Chapter 3, Berzerk and Travis circus) but never broke anything cause I'm the Unbreakable Bert baby!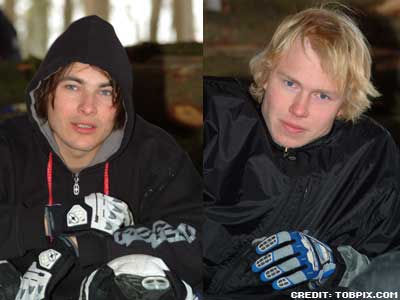 Have you ever thought about the life after FMX?
No ! ? we live the present time
Bertrand: I think I'll always have something to do with FMX

Favorite location to ride?

Jux: Lazy Fmx Park when the ground is not so dry .
Laurent: the lazy park
Ilkka: Our park, Bobo'sPark in Finland and we think that's it.
Bertrand: Bobo's place in Finland, thx for last summer bobo J

Does music push you to go bigger? What kind of music do you prefer?
Jux: I think music is good to push you bigger , I listen to 77Punk , streetpunk , oi and old Hard Rock , Iron Maiden .
Ilkka: We are six riders so the music we listen to is really different. Globally we listen to some punk and hiphop. Julien, Cedric play also music they used to have a good band: The Agrum Fuckers! (vegetable fuckers ) Good shit ! We forgot to say that,but Julien, Cedric are farmers when they don't ride.
Laurent: I love rock from the seventies: jimmy Hendrix , led zeppelin, and love metal and punk too. At the moment I'm listening Jet (australian group). I love listening good music before riding
Bertrand: For sure and I like riding with Hip Hop, ragga and punk of course.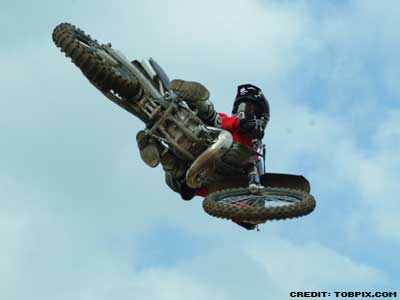 What is more important for you - the sport or the industry?
Ilkka: The sport is more important. But the sport needs the industry to grow ! we need big companies to sponsor our championships...
Laurent: the two are important: without the industries you don't ear about the sport. But it's sure that I prefer ride with my friend's (more pleasure)
Jux: I most interested by sport fort he moment , but I plan to work in this industry.
Bertrand: u'll guess I think.
Have you already planned to jump a backflip?
Ilkka: Bertrand?
Jux: We plan to do it last winter but a friend from the worstco. ( worstco.com ) , try to land it on a self made foam pit and burst his stomac , so we plan to ask our mind first .
Laurent: yes , I already make it on a Bmx but I'm waiting for a foam pit before test it with a dirt bike
Bertrand: I rotated so many times in my bed …
Inside information: Bertrand executed a Backflip during the IFMXF Qualification in Bern/Switzerland in April 2004. He almost did it. He only overrotated a bit.
Is there a possibility for the german fans to see you in Germany in the near future?
Ilkka: We have a few connections in germany but so far . So promoters call us quickly , the ladies are waiting for us !
Anwer: yes , this year we will ride some ifmxf event and will try to qualify
Jux: We hope coming in Germany as often as we can . At present we have 3 dates in germany for this year , and we´re open to every propositions.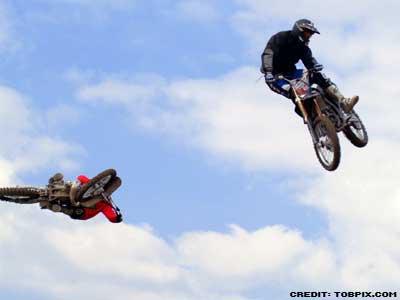 Any other comments or do you want to say something to your fellows, sponsors & fans?
Ilkka: Thanks to our sponsors: Agv helmets, Polisport plastics, Kawasaki Motor France, Floride moto, Sinisalo, No fear , WEPS, Advisory clothing, DVS, Osiris, Ipone, Bardhall , Shogun, Hardcore session, SCAR , wamc, FMF, Star bar. Thanks also to our friends and families who have been helping us out throughout the hard times.
Jux: Thanx to the LazyTroop Staff , my parents who helped me so much , all my sponsors and all the girls I met last summer .
Laurent: a big thanks to Kawasaki and floride moto, no fear , fmf, demoniak style and X rider magazine for trust in me. Thank you for this interview!!!! RIDeeeeeeeeeeeeeeeeeeeeeeee
Bertrand: FMX is the thing, to everyone who's involved: u just got the right thing, keep on
Don't forget to check our web site: www.lazytroop.com; our new DVD is coming out in a few weeks ; you can find it on our web site.

Thanx for the interview guys!