Interview with Morgan Carlson

Interview by Tobias Hannig | Pix by Andre Villa, Wikinger
He is one of the newcomers 2007. He finished at the last IFMXF NOTJ event in Cologne with a solid 3rd place on a really tricky setup. That was a kind of breakthrough in the european FMX scene for him. We talked with Morgan to know more about this great swedish guy with a lot of skills …
First of all, tell the guys out there some basics about you - where do you come from, how old are you and what is your mission?
I´m 26 years old now, hailing from sweden, but since 2 years I´m living in Alicante, Spain. I used to race and I still got my heart in the racing scene. If you gonna compete and win something
you need to be the first one to cross the line. That`s competing! My mission is to ride as much as I can, stay out of injuries and have fun as long as I can. If I do that, evrything else comes along.
Morgan, you came back from the IFMXF Contest in Cologne a few days ago. You ended up with a good 3rd place in the final. How was your experience there?
I´m really used to ride events after doing so much in spain this year, on so many different setup`s, and so much pressure. So I felt really calm about it, no stress.

I was just happy to go to a contest where backflips not is everything. Where style and smothnes acctually counts. I been into that zone in wich you can hit every ramp without messing up latelly, so it was fun to ride on a more demanding track. Even if the jumps are alot smaller then what we are used to.


Morgan is in da house!

Your website looks pretty creative. Did you paint the illustration by yourself?
I came up with the idea, I took some ideas from some of my favorite records, like the girls without arms are straight from The Locust. I always been interested in stuff like that, but I cant even do my autograph sexy! I send it to an old friend of mine, Daniel Johansson on venompalette.com and he fixed it. He`s the one who did Villa`s IFMXF t-shirt, and he`s just done with my Split Pro Model T-Shirt that will be out sometime in a near future!



Morgan with a sweet CrackNac Indy

You live in Spain now? Do you miss Sweden? What are the differences bewtween the culture of this two countries?


I really don`t see so big on that, I like spain at the moment. If I dont like it tomorrow I know the direction to sweden. I do miss some people of course, both in sweden and norway.

But Spain is where I can say, "Damn, I just love life!". People let you do what you want a bit more. I wish I lived in a more spanish town though. All my neighbors are russians, germans, polish and stuff like that. We got our crew here, Me, Villa, Rino Holm (fmx), Alex Elgh (mx), and Magnus.

We support eachother on and of the track.



Everybody is talking about Flips and the other sick tricks are in the background. Do you think, that the people hype the Backflip to much and the judges are score them to overpriced?


I understand that riders get the backflipflu sometimes, it is a funny trick! And I understand that the not so involved people thinks it`s the shit. I think the judging in IFMXF is "healthy" about the backflip, you can still bet a backfliper with style and finesse.

Do you also work on the Backflip or do you personify your own style?
I got it down to good not to try it on dirt. I´m just stuck in between my control freakness and beeing a pussy about it. But sure, personal style is always a winner.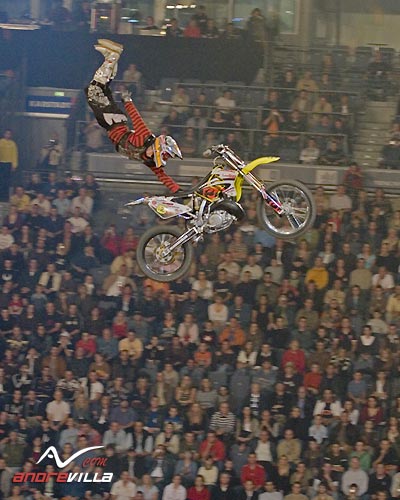 Morgan at the Night of the Jumps in Cologne | Onehand Hart Attack
Gaup, Bizouard and Rebeaud went to USA to ride X Games and some tourstops of the Dew Tour. Did you ever thought about to ride some contests over there?
I just got a mail from Fitz, he wanted to try and see if he could hook me up on something over there. Just shows I guess, would like to go and do some natural stuff and maybe film some more.
What are your plans for the future?
I would like to see the sport spread into more directions, like the snowboard scene. I can see it coming, but maybe not on this side of the pound. I want to keep on riding with my friends, do as much shows as possible now that I can.

I would like to do an event next year with some long distance jumping aswell. Me and Busty been talking about it, I´m really into that stuff for the moment! I would like to start with something new on the side in the winter between 2007-2008, and see what that could bring.

Me and Alex Elgh got a MX Camp in spain this winter again for the 5th year in a row.


Morgan takes home 3rd place!
Do you want to say something to your fans, sponsors, buddies etc?
Thanks to my sponsors of course, Suzuki, Etnies, Split, Von Zipper, CC Racing Products, Bud Racing, Colors Design, Bruhns. Big ones to Los Giris Crew, RESPECT! Tycker om er allihop era jävlar!
And a big welcome back to all the english wankers, the italian chef, the australian cat, the sleepy frankieboy, and all you others that been hangin around my house this summer!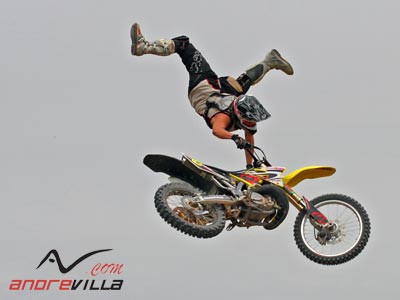 Okay, now our classical word association. Give me the first word that pops into your head:
Ramps: Many differnt ones, please!
USA or Europe: EU
Sponsors: find the right ones
Double Flip by Pastrana: uff
Metal or Hiphop: hardcore, noise, punk
Natural Terrain: if it`s gooood!
Tattoos: when there´s motivation for it.
50's: wish I had time!
Girls: mo´ money mo´ problem, guess it`s the same with girls, but you got to have money!
Movie: Lords of dogtown, Roadmovixx

Right on, thanks Morgan. Hope to see around ...
More information and pix about Morgan on his webiste www.morgancarlson.com


Support us: Like and Share it!

Video of the month

Facebook /FORTY8Mag

Partner