Interview with Sven Schmid

He is one of the best FMX riders in Germany, even though FMX is only his hobby! His signature trick is the Deadbody Shaolin and he is a really smooth riding guy, which is always in good mood. We are talking about Sven Schmid from the southside of Germany. Marco Roth talked with Sven about FMX and how he arranges his hobby with family and job.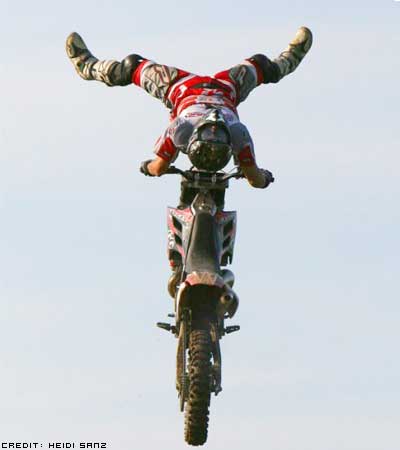 The basics - your name, age and where do you come from?
My, name is Sven Schmid. I´m 32 years old. Together with my wife and my 2 kids I live in Waldhausen, which is nearby Ulm in the southside of Germany.
Did you race MX before you have started with FMX ?
Yes, exactly. Before I started with FMX I rode 12 years MX races.
Why did you quit with racing?
The most fun of MX was to do big jumps with my bike. As a MX Race at the MX Club in Berkheim in 2002 I did the first jump over a FMX Ramp. After that first Ramp Jump for me it was clear that this is what I want to do. So I quit with racing and started doing FMX.
Sven, you have a normal nine to five job, but you also ride FMX on a high level. How often do you train on your bike? How do bring your job, family and FMX togehter?
Yeah, job, family and FMX these three things are dominating my life at the moment. Whenever it is possible my family goes with me to the shows. I try to arrange my work so, that I can practise 3 times a week.


Do you have your own training area?
Unfortunately no, therfore you will see me at the MX track of the MSC Berkheim nearby Memmingen. There is a FMX training location, where I practise together with the rest of the "Wreckingcrew".
Can you explain what is the "Wreckingcrew" and means it for you?
There Wreckingcrew are three friends which live togehter the same dream: Having fun by doing FMX. Having fun with your friends, that is the most important thing for me, too.
What ist he most important thing on FMX for you? Why do you have so much fun doing it?
Because I have a great time with my friends and that's why it makes so much fun.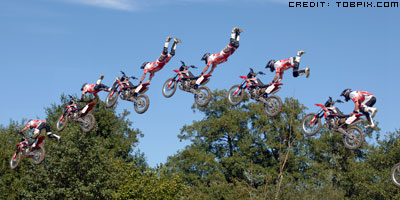 Double Grab sequence
Contest or Shows?
Definitely FMX Shows, because it is more fun. I don´t like the pressure at the contests.
Is there somthing you don´t like at FMX?
Unfortunately there are some people in the FMX scene, which are marching to a different drummer.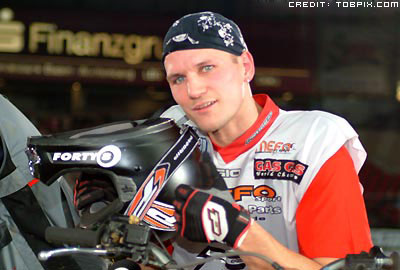 Sven supports FORTY8 - thanx!
Where can we watch Sven Schmid doing his next show?
I will be on the 10th and 11th of November in Stuttgart at the ADAC Supercross Cup doing the FMX show together with the German FMX rider Lukas Weis and Nick deWitt from Southafrica. So if you love SX and FMX come and watch it.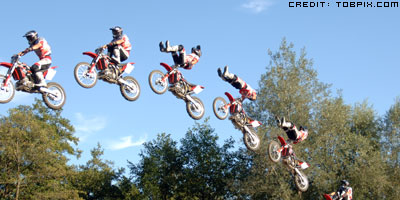 Dead body sequence


You are 32 years of age. So you are definetly not the youngest rider in FMX. What are your plans for the future?
I'm still motivated to learn more new tricks and I try to stay healthy.
Any last words?
Always try to be yourself and you will find out, that life is much easier.
Facts about sven





Name:

Sven Schmid


Nickname:

Iron Fist


www:

www.schmid-fmx.de, www.wreckingcrew.de


B-Day:

23.04.1974


Hobbys

: only FMX


Music:

Reggaeton, Punk Rock


Food:

Meeresfrüchte, Pizza,
Schwäbische Spezialitäten


MX since:

1990


FMX since:

2002


Sponsors:

GASGAS, MEFO, ProGrip,
Liqui Moly, HJC, MORS