Interview with Nick de Witt

Nick de Witt from Southafrica is well known for his permanence doing clean runs and his perfect trick extensions. 2004 he had his breakthrough in the IFMXF NOTJ series. He finished the events constantly with Top10 results. We talked with Nick about travelling from Africa to Europe, his progression and some other interesting stuff ...

First of all, tell the guys out there some basics about you - where do you come from, how old are you and what is your mission?
Hi my name is Nick De Wit. 25 years old from Johannesburg South Africa.Thats the big countenint below europe for those that dont know. I am a professional FMX rider and been doing it for 4 yeard now. My mission is to take over the world, only jokes. To be the best rider i can be and have fun in life. Ride on!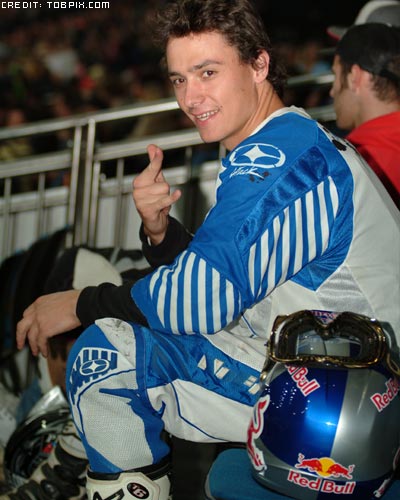 Nick hanging around at the SX in Stuttgart/GER
Tell us something about the South African FMX scene. How many riders are there? South African scene isnt too big. There are about 10 desent riders and only a few of them that are really determined. All the rest are lasy as hell..
Are in South Africa any locations to freeride?
SouthAfrica has some awesome freeriding. The police arent too strick where you ride if its away from the city so just arround my place we have some pretty cool spots.
Are there some national contests in South Africa or a kind of FMX series? Yea there are. We have a SA series but we didnt have that many rounds this year due to people being lasy and not so good sponsors.
What do you think the South African FMX scene needs to get itself into better shape? I think we need some good sponsors for the events and more comps.We have awesome weather and tons of place to ride. I try to do rider training when im not on the road but the guys are in it for the immage and not the sport.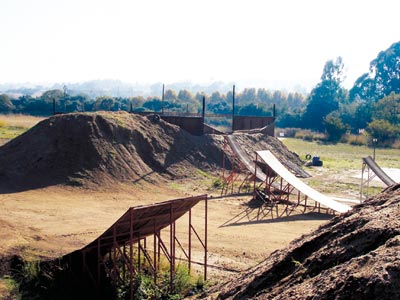 FMX Park of Nick de Witt in Southafrica
Do you have your own FMX compound in South Africa? Yea i do. I have 3 big dirt landings 2 big dirt doubles and a small sx track. I also have 5 steel ramps on different distances.
You were living in Europe that last few weeks. Where did you hang around and what did you do there? I normally ride a few shows with the FMX4EVER.com team and i hang arround with jimmy in belgium. We bussy working on a new training park so we can get some good practice when im there
Let's talk about the Flip. How did you learn the Flip? Well i learned the flip the difficult way. I didnt have a foum pit so i started flippin a bicycle into a dam of water. Then i flipped a mini bike into the water on a small ramp. Then i flipped the mini bike in to a big pile of hay on small ramp and then i flipped my 250 onto my dirt landing with a bit of hay on it. I crashed a few times before i landed it properly. I landed it on my 4th attempt and been pretty good since then.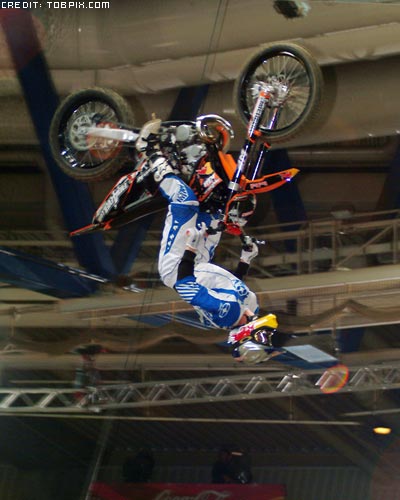 Nick doing a longdistance backflip
Do you think, that the people hype the Backflip to much and the judges are score them to overpriced? Yea there are some other tricks that are much harder but the flip is verry dangerous. I think it deserves a good score but you must be able to do other tricks beside the flip
You are doing different Flips combos. Did you already work on the 360 lately? I havent done the 360 but i am doing flip nacs and a few other combos that i did learn on dirt. No foam pit.
How do you prepare yourself during the cold wintertime? Are you going back to SA? Yea i come back to south africa for the hot summer. Its summer in africa when its winter in europe. I come home and do a lot of practice and swimming.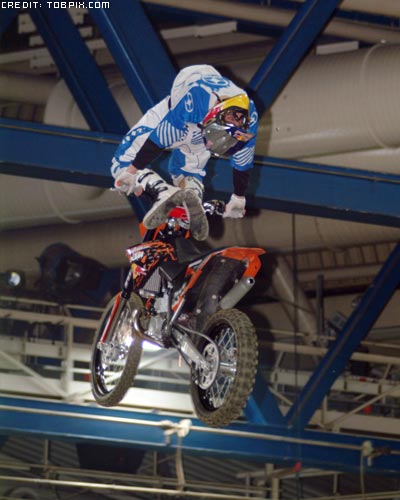 Nick doing a nice extended Cordova
Do you have another job apart from FMX? No I am a 100% freestyler
What are you doing in your freetime? I travel a lot so i dont have that much free time. But when i do get some i go hang out with friends and mess around.
Where can the people watch you riding the next months? I go to Salzburg in Austria on the 1 and 2 December and then in Linz on the 15 and 16 Dec.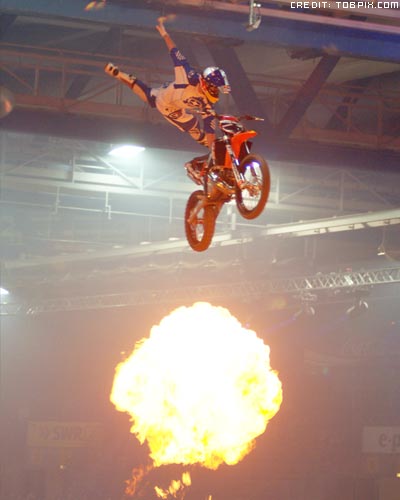 Nick "Pyroman" de Witt doing an Onehand Seatgrab Indian
Your last words – do you want to say something to your fans, friends etc? Yea thanks for all the support through out the year and if you ride have fun.
Okay, now our classical word association. Give me the first word that pops into your head:
Ramps: Jump
USA or Africa: Africa
Sponsors: Redbull Oakley KTM FMX4EVER.COM Michelin
Favorite Website: Forty8.de
Goonriders: Busty
Double Flip by Pastrana: stupid but cool
Natural Terrain: awesome
Tattoos: cool but not me
50's: big mans toys
Soccer: no comment
Movie: Snatch
Travelling: cool but without airports
Girls: MMMMMMMMM fun
Right on thanx Nick!
More information and pix about Nick on his website: ? www.rideauthority.co.za or www.fmx4ever.com