Interview with Wiley Fullmer

When we read the name Wiley Fullmer on the starterlist of the Nokia Air & Style Games, we were happy to see a new face in Europe. We also knew, that Wiley was a kind of sleeper for a top 3 position. And we were right - Wiley won this contest and has beaten big names like Beau Bamburg and Nate Adams. It is time for an interview with the 19 years old Californian. We talked with the young gun about his time in Germany and how the things are going these days ...
First of all, I wish you and your family a merry christmas and a happy new year! How do you celebrate it? I go to my parents house in Chino, California and my family get together there for Christmas! All 25 of us!

Please tell the guys out there some basics about you - where do you live, how old are you and what is your mission? I live in Norco, California. I am 19 years old. My mission is to accomplish x games gold in the next years to come.

How did you came into the FMX sport – did you start with MX racing or something else?
I started riding when I was 15 and I started doing freestyle right off the bat. I have only raced a few times, freestyle was a lot more fun to me.


Wiley during the Air & Style Games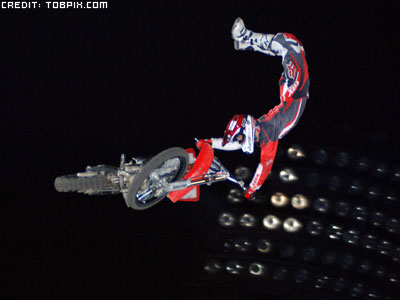 Wiley doing his signature trick - the Crack Nac scorpion
Wiley, you came back from the Air & Style in Munich with the winner ring a few weeks ago. Tell us something about your experience there and how hard was it to ride in the cold arena?
It was really exciting to ride in germany and it went really smooth, smoother than I thought it would go. It was definitely tough to ride in the freezing cold! That part was a bummer.

Was it your first time in Germany and how did you like the trip?
That was my first time in germany and I had a really good time everybody was really cool.it was great.


You kicked out Nate Adams in the semifinal with sensational tricks like CrackNac, Underflip and your Ruler etc. – did you ever think, you would beat him?
Eventually I saw it is possible, but not this soon in my career!
You won the Air & Style Games final against Beau Bamburg. Is this your biggest success in your FMX career as yet? Yes, this is my biggest accomplishment in my career, so far. Hopefully I will do well in the next events in the future.

You rode a Honda in Munich. Did you change from green (Kawa) to red (Honda)? Yes, I am now riding Hondas.

What about the factory freestyle team of Mike Metzger – are you still riding for him?
No, that was for and through the dew action sports tour.


Wiley with the Air & Style winner ring
Now you are back in the USA? - How do you train during the wintertime?
I ride mainly at my parents ranch in Chino, Ca. I try to ride at least 3 or 4 times a week.

What do you like more – freeride contests or arena contests – and why?
I have yet to do a freeride contest and I enjoy arena contests, but I would definitely like to do a freeride contest soon!

You are not doing only Backflip Combos, but also creative non flip tricks like the CrackNac and the Ruler with really good extensions. Do you think, that the people hype the Backflip to much and the judges are score them to overpriced?

I don't know I think the technical no-flip trick deserve just as much the backflip, but backflip combos are defiantly not easy to learn.
What are your plans for the weeks and the upcoming season?
My plans are to practice new flip tricks as much as possible.
Do you want to say something to your fans, sponsors, buddies etc?
I wanna thank my fans, sponsors, friends and family, for being there for me and supporting me!
Okay Wiley, now our classical word association. Give me the first word that pops into your head:

Ramps: backfliperoos
Goonriding: me
Sponsors: helpful
Favorite website: grouphug.us ... hahahahaha j/k
Double Flip by Pastrana: scary
Metal or Hiphop: jazz
Natural Terrain: super fun
Tattoos: none for me
50's: el caminos doing burneez
Girls: trouble
Movie: the burbs
Travelling: bummer
Right on, thanks Wiley. Hope to see around ...

More information and pix about Wiley soon on his webiste fullmerfmx.com (website is under construction)


Support us: Like and Share it!

Video of the month

Facebook /FORTY8Mag

Partner