Interview with Stefan "Gang" Bengs
interview & pix by tobpix.com

The Newcomer from the capital of Germany (Berlin) is one of the rookies in the german FMX scene. He successfully executed the Backflip last year and showed up at a lot of events the last months. We talked with the Upforce member about his fast progression and his mission ...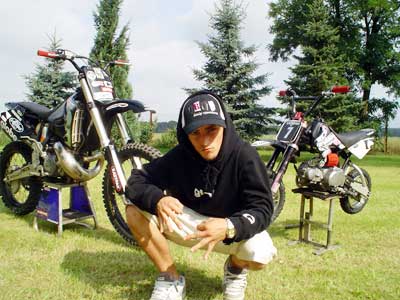 First of all, tell the guys out there some basics about you - where do you come from, how old are you and what is your mission? My name is Stefan Bengs, I`m 20 years and I come from Bestensee, near Berlin. My mission is to be free and to break the limits!

When did you start riding dirtbikes? I started racing Motocross in 2000.

Stefan "Gang" Bengs

Did you quit with MX racing or do you still ride some races?
Last months I didn´t ride any races but I´ll try to do this year.

You started with FMX one year ago. How did you learn all these tricks so fast? I´ve got a good possibility to practise next to our house and the rest is just learning by doing!

Do you like Freeriding and do you have some locations to do that?
Yes, I like it very much! Theese are the roots of FMX!!! I have one or two locations but they are top secret!



And what about your Flip-Mission. Do you like doing Backflips?


What a question, of course I like it! The rest you can check out at: www.gangbengs-fmx.de!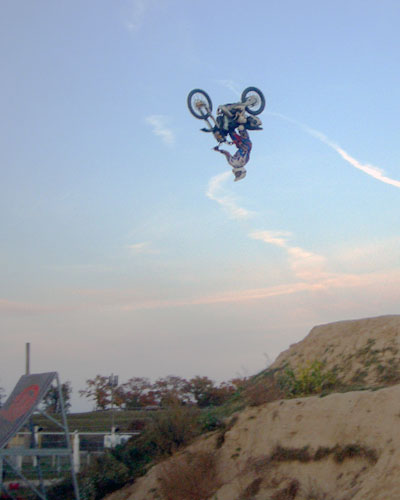 Tell us something about your own FMX compound. How many ramps and stuff to play do you have and what kind of setup? As I mentioned above I've got a FMX-park next to our house with 3 BMX/ minibike-ramps and landings, tables, a minibike SX- track and 2 FMX-ramps and landings. But it's just for me and my buddies.
How do you prepare yourself during the wintertime?
Beside riding (if it's possible) I do a lot of fitness.

What are your plans for the future?
Getting better and better!

You are living near Berlin. Tell the people out there, what they should see, if they visit Berlin? Night of the Jumps on 31st of March and 1st of April 2007!

What are you doing beside FMX in your freetime?
Fitness, BMX, riding my minibike.



You have a great Tattoo on your left arm. Tell us more about it - is it a kind of lifestyle for?


Everything you can see there means something special to me.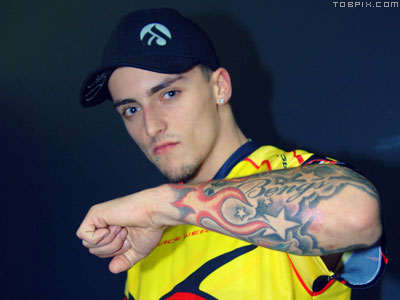 Your last words - do you want to say something to the people out there?
I think it's a little too early for my last words :-) Thx to my family, my supporters and my fans!!!
Okay, now our classical word association. Give me the first word that pops into your head:
Ramps: fun
USA or Europe: Europe
Website: www.gangbengs-fmx.de
Sponsors: No success without them.
Goonriders: Busty Wolter :-)
Double Flip by Pastrana: sick innovation
Tattoos: cool (but only with special meaning)
50's: a must
Soccer: pussies
Movie: SpongeBob
Travelling: all about the world
Girls: I have one.

Right on, thanks Stefan!
Win IRIEDAILY clothing!

You can win the authentic school tee in black and the nuke dem 205 Jacket! You only need to answer the following question:



What is the nickname of Stefan Bengs?



Right answer: Stefan "Gang" Bengs
The Deadline of this game was:

March, 18th, 2007
And the winner are:


Iriedaily Nukedem Jacket:
Raik Fischer/Springberg Germany
Bernie Schwaiger/Garmisch-Partenkirchen Germany
Iriedaily Authentic-School T-Shirt:
Joakim Lyck/Leksand Sweden
Marco Ineichen/Kriens Switzerland