Interview with Joel Balchin




He is one of the best FMX riders in Down under. He rides the Crusty Demons of Dirt Tour in Australia. Joel Balchin is well known for doing tricks with a great extension. The most of the Europeans don't know Joel so well. But maybe this will change. His plan is to ride some European contests soon to show his excellent bike skills. We talked with Joel about Australia and some other interesting things. And you guys have the chance to win an Utopia toodirty MX goggle ...
First of all, tell the guys out there some basics about you - where do you come from, how old are you and what is your mission? My name is Joel Balchin Profesional Freestyle Motorcross rider, i live in Sydney, Australia. I really want to get more involved in the FMX scene in Europe. I like the power of the crowds in Europe and the energy it creates.

How and when did you start riding MX bikes and what affected you to do FMX?
I started riding when i was about 7, riding my friends bikes in there back yard. It wasnt untill i was 10 i got my own bike where
I joined a local MX club and started racing.I loved it and continued to race untill my first taste of FMX. The Crusty DVD series was where i first seen this type of riding and i knew that that was what i wanted to do ever since.

Tell us something about the Australian FMX scene. How many Pro riders and amateurs are riding there? The Australian FMX scene is strong and growing in numbers with every year. I dont know exactly how many Pro riders there are any more as there is so many. In the amatures the numbers are growing so quickly it is hard for them to get into contests as they can only take so many riders. The next step is to try to have more contests to help keep these amature riders involved in competing.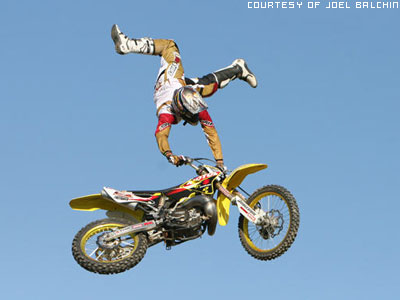 Are in Australia any locations to freeride? Sure, Australia has many places to freeride. We have alot of land here in OZ, most of it not populated so there is alot of places to ride and alot of places yet to be discovered. Also a couple of hrs from my house and on the west coast of Australia there are some sand dunes to ride which are fun sometimes to change it up.

Joel during the 360 training


What do you think the Australian FMX scene needs to get itself into better shape? More contests to keep the up and coming with oportunitys to become noticed..

Let's talk about the Flip. How did you learn the Flip? The backflip was something i wanted to do from the moment i saw it was possible. I Built myself a foam pit in order to learn to flip which took about a year from start to finnish. In early 2005 i was invited to be a rider for the Crusty Tour on the condition that i could do the backflip. So i practiced every day until i got it. Since then i have done as many as 4000 to 5000 flips to date and am a regular rider for the Crusty Demons of dirt. I have crashed 3 times while doing a backflip.
Are there also some national contests in Australia or a kind of FMX series? We have a couple of anual FMX contests here in Australia that have been running for 5 years or so, Most of the year riders are riding shows and demos so i think we could do with more contests, In 2007 the promoters of the Crusty tour here are starting up a new series which is good and should be a greatt event on our FMX callender in the future.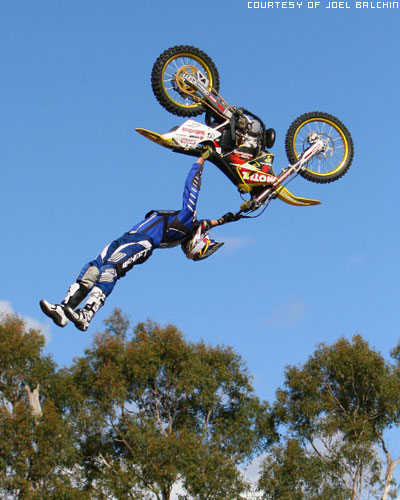 Joel Balchin doing a Hart Attack Backflip
Do you think, that the people hype the Backflip to much and the judges are score them to overpriced? At first i think the backflip was over scored because it was new and was so dangerous, but now it has come to a point where it is worth the same as most regular technical tricks, so i think now the scoring is more realistic. It is always going to score well against a rider who is not doing the fip, it is natural progression and for riders of the future it will be a necessity.

You are doing different Flips combos. Did you already work on the 360 lately? I have tried the 360 many times but this trick is a trick that is very hard to get consistant, i found the underflip easier to learn so i have been concentrating on perfecting that lately, but i will go back to learning the 360 one day im sure.

What are your plans for the upcoming season?
I am contracted with Crusty touring until June 2007 here in Australia and New Zealand. After that i want to come back to Europe if possible and ride some contests or i will go to USA to compete in the Dew Tour.
How do you prepare yourself during the cold wintertime?
The winter time here in Australia is not as cold as in Europe so it does no effect us the way it does some European riders, It only snows in a small part of Australia which is far from where i live. Here in Australia we can ride all year round, even in winter unless its raining. Sometimes the winter is better as the summer can get to hot to ride.
Do you have another job apart from FMX? I have a trade in Air conditioning that i completed when i left school when i was racing. But i have not done this job for about 5 years since i began riding FMX.

What are you doing in your freetime? Riding fast 50s, Snow boarding when i can and i love going to the beach in summer .

Your last words – do you want to say something to your fans, friends?
Sure i would like to say hi to all my friends and fans, please check out my website www.joelbalchin.com to keep in touch and up to date with what im doing, dont be scared to write to me and say hello.
Okay, now our classical word association. Give me the first word that pops into your head:
Ramps: Standard kicker.
USA or Australia: Australia.
Sponsors: Shift, Motul, Suzuki, Utopia, Tag, Alpine stars, Pro Circuit, Sikspak, Globe, Freerider magazine, Balls deep boxers.
Favorite Website: www.joelbalchin.com
Double Flip by Pastrana: High Risk.
Natural Terrain: Awesome, fun.
Tattoos: I like tats, i have 1.
50's: great fun.
Best Trick: underflip.
Biggest success: Crusty tour.
Movie: Dumb and dumber.
Travelling: Great expierience.
Girls: Sexy time!
Right on thanx Joel!
More information and pix about Joel on his website: www.joelbalchin.com
Win an Utopia toodirty goggle!
You only need to answer the following question:

How often crashed Joel Balchin while doing a backflip?

Right answer: 3 times
The Deadline of this game was:

April, 8th, 2007
And the winner is:


Frank Fritzsche, Mücheln/GER