Interview with Chris Birch

He is one of the best FMX riders in Great Britain. He rides some events of the IFMA Tour in the USA to get more contest practise. Chris Birch is well known for doing tricks with a great extension and we hope to see him soon in some European Contests. We talked with Chris about his time in the USA and some other interesting things ...





First of all, tell the guys out there some basics about you - where do you come from, how old are you and what is your mission?
I'm Chris Birch, 22years old, From Cambridge, England. My Mission... to be a good rider and see we'll see what happens?
When and how did you start riding dirtbikes? Did your ride MX before? Just started riding in Fields on one of my mates bikes. Then I was lucky enough to get my own and started riding local tracks. Ive done some racing but never a full season because my folks had to work and couldnt always take me.
Tell us something about the UK FMX scene. How many Pro riders and amateurs are riding there? The UK FMX scene is very small but it nice because everyone know each other. There is not really any comps just loads of demo's in the summer. I think we have about 7 pro riders and I know of about 5 Amateurs coming up.
Do you like Freeriding and do you have some locations to do that? I love freeriding but in UK there isnt really anywhere to do it, without bothering anyone. I sometimes go to North Wales in mountains but you dont want to take a new bike up there and you defiantly dont want to fall off it reminds more of Ezberg.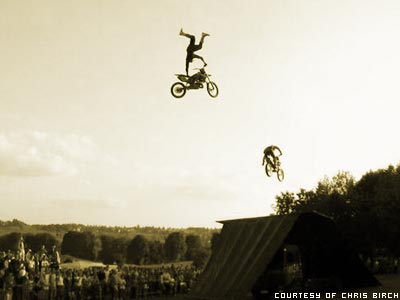 How do you prepare yourself during the wintertime? Nothing before, but now riding has turn in to a fulltime job, which I love so I plan to follow the good weather from now.
Tell us something about your US trip. Who do/did you meet and what are you doing there? I've been out here since the new year. Im relly liking it to. Ive mainly been down the east coast but there are some really good riding spots here and some really good riders. Im out here riding in the ifma. Its going ok not riding to my best but having fun all the way. I'll be honest the reason for be out here was the schedule, every weekend a contest for 3 months Im loving it though and defifantly plan doing it all again next year.
What is the difference between the US and European FMX scene? The main thing that sticks out is in the US they all speak the same laguage as me :). I don't no really?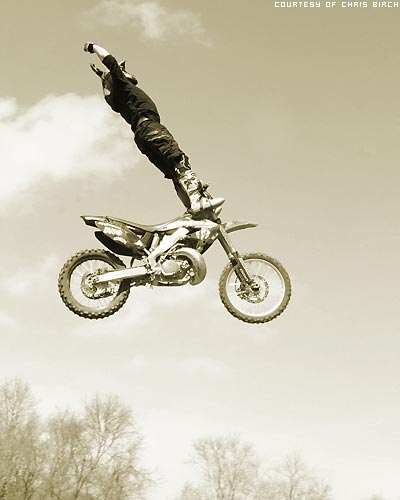 What are your plans for the future? To go big with tricks and flips and to ride as much as possible all over the world. If I get really good and not hurt then we'll see what happens?
What are you doing beside FMX in your freetime? Do also ride Minibikes or BMX? Yes, both love it but would much rather hurt myself riding my 250 trying something, then hurt myself on them ... Myspacing lol, Getting Drunk!!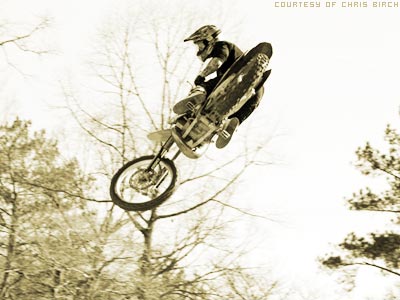 Your last words – do you want to say something to the people out there? Hit me up on my space and say hello. Aslo big thanks to all my sponsors. FMX4EVER.com, Dvs shoes, Universal, Lazer Helmets, Stoica Graffix and Ogio... Oh and Good Luck Chinese takeaway.
Okay, now our classical word association. Give me the first word that pops into your head:
Ramps: Good
USA or Europe: Europe and USA
Website: www.myspace.com/birchiefmx
Sponsors: Help
Goonriders: smile
Double Flip by Pastrana: Stupid
Natural Terrain: Skill
Tattoos: like
50's: Goodtimes
Soccer: MAN UTD
Movie: Saw
Travelling: Sleep
Girls: Pain in the arse