Interview with Florian Menge

It's more than time to talk with one of the german FMX rookies. He won his first ever stepUp contest at the NOTJ in Berlin '06 and he is one of the favourite riders of the IFMXF german Championships this year. We were talking with the MotopunX member Florian Menge from Prenzlau near Berlin/GER about how the things are going these days.

First of all, tell the guys out there some basics about you - where do you come from, how old are you and what is your mission?
Hey, I´m Florian Menge, I coming from a small town, approx. 100 km in the north of Berlin called Prenzlau. I'm 22 years old and my mission is that i would really like to keep the spirit of FMX!

You are living on the Eastside of Germany. So tell the readers, how is the life there?
If you really wanna go out and have fun you have to go to Berlin cause in Prenzlau is not much going on, actually. But what we have is a lot of racetracks and pretty good training possibilities. Even forests and other nice freeridingspots as you can see on our dvd.

The most of the German riders are living on the Eastside. Do you meet each other to go riding sometimes?
Yeah, for sure, I´m going for training with my MPX buddys and with Basty Radel in his backyard, he lives not far from my hometown. And sometimes in Sternberg or at Hannes Ackerman´s compound.
Do you have an own FMX training compound?
No, I don´t have my "own" compound, we have a big landing with four ramps and a funbox, we would like to build some new stuff, but they didn´t let us because the ground is property of a racing club. But we have to get along with that cause it's the nearest track, only 30 min away from my home. It's quite cool.
Let's talk about the german FMX scene. What do you think - why is the scene so little and what could push the FMX sport in our country to step to another level?
I don`t think the scene is that small. There are some pretty good riders in the underground which are not that famous right now.
Oh, that's a tough question.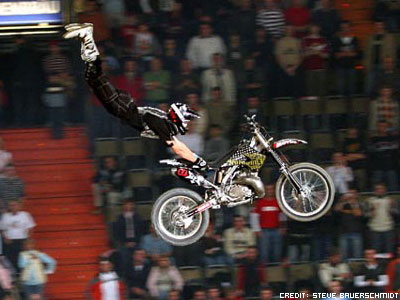 Double Grab at the FMX Contest in Munich 2006
I guess nobody really knows the reason for that. We have a lot of racetracks and FMX parks, actually. I think a national championship could raise the level and it is also a good possibility for riders which are not that famous yet, to show theirselves to the crowds out there and become much more famous. Fortunately we have our first german championship with four stops this year.
You won the step up contest at the NOTJ in Berlin last year. Tell the guys out there why are you such a good step up rider?
I don`t really know. Berlin was the first time I could qualify for a IFMXF-NOTJ contest. After that happened I thought I should try the step-up and hoped not to put myself in disgrace by losing up at the first run. But it just went really well and I won the contest. And the funny thing about that, I'd never tried it before.

Let's talk about tricks. What is your favourite one and why?
I really like the whip, it was my first trick and I always found it cool to whip every jump when I was more in the racingstuff.
It's a really cool thing to watch your rear wheel and try to go further and further every time.
What about doing the Flip – did you already train it into a foam pit?
I'm doing the flip on a mountainbike into a friend's foampit but it's not big enough to try it with a 250. I also did a flip with a 50.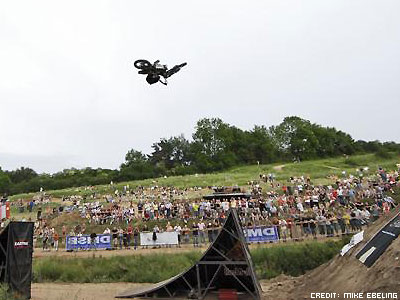 Florian at the 1st stop of the IFMXF German Championships
Do you think, that the people hype the Backflip to much and the judges are score them to overpriced?
No, I don't think the backflip is overrated. It's one of the most spectacularly tricks for a lot of people but it's not the only one the judges wanna see. If you're coming up with a flip-run you will not leave the contest as a winner.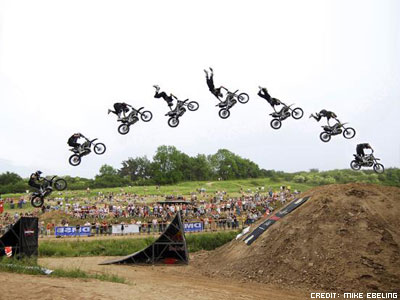 What are your plans for the upcoming season?
Next to my job I would like to go out on the track as much as possible and learn some new tricks. Like I said before, this year is the first time that we have a national championship in germany with four shows and I will definitely join all of them.

Then this year is also the 3rd time that we're organizing our MPX-JAM which went pretty well in the past 2 years. Furthermore, I will be doing some shows and jams in germany.

Do you want to say something else to your fellows?
Keep the spirit of FMX and don`t take yourself too serious! Thanks to all you guys out there supporting me in what I really wanna do.
Okay, now our classical word association. Give me the first word that pops into your head:
Ramps: Metal!
USA or Europe: Europe
Sponsors: consumerX.de.tt/ Motul/ Kunkel Motorsport
Favorite website: MotopunX.de
Double Flip by Pastrana: fast rotation!
Natural Terrain: demanding
Tattoos: sometimes realy ugly, art
50's: small
Movie: …in the beginning
Travelling: like it, if it is not too much

Right on, thanks Florian.
More information and pix about Florian on www.MotopunX.de



Support us: Like and Share it!

Video of the month

Facebook /FORTY8Mag

Partner