Interview with Steve Mini

Today we are talking with one of the top Australian Freestyle Motocross riders. He lives on the Gold Coast in Australia, is 24 years of age and maybe you will see him riding in Europe soon. We asked - Steve answered - so check out, what he has to say ...


First of all, tell the guys out there some basics about you - where do you come from, how old are you and what is your mission?
I'm 24 and i live on the Gold Coast In Australia. I've been riding freestyle professionally for over 3 years and have been one of the main riders in the Crusty Demons Tour featuring riders like Nate Adams, Adam Jones and Mike Mason. The Crusty Tour is the most succesful live show ever to come to Australia and its great to be a part of it.

How and when did you start riding MX bikes and what affected you to do FMX?
I grew up on motorbike but i only got in FMX through BMX. When i decided i was too big for the BMX i got on a Yamaha and started doing the tricks i already knew from BMX. It all kinda went from there.

Tell us something about the Australian FMX scene. How many Pro riders and amateurs are riding there?
There's only really 6 or 7 professional riders in Australia who make an actual living from riding. The main rider income comes from doing shows and demos as the comp scene is really bad over here.

There's a ton of amateur riders though and in the next few years there'll be a lot more good riders on the scene.

Are in Australia any locations to freeride? Not really, most of the riding we do is either at guys riding compounds with ramps and maybe some dirt jumps or at the motocross tracks. When it comes to natural terrain riding its pretty hard to find a good riding spot.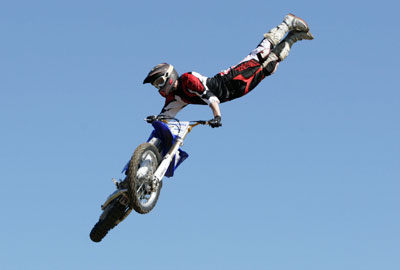 Are there also some national contests in Australia or a kind of FMX series? Unfortunately no, there's been talk of getting one going for years but i think because the population is quite small over here its hard to make competitions work.

What do you think the Australian FMX scene needs to get itself into better shape? A comp series would be great but would be hard to make it work when people can buy a ticket and see the worlds best riding at one the Crusty Tour shows.

Do you have your own FMX compound? I spend most of my time riding at Matt Schubrings compound, he has one of the best freestyle compounds in the world and its an awesome spot to ride.

Let's talk about the Flip. How did you learn the Flip? I learnt the flip into a foam pit at schueys house.
The flip scared the hell out of me for a long time and it took me over a year before i got the confidence to start doing it consistently. After finally finding my balls and doing a few 75 foot flips they became really easy and i love doing them now.

Do you think, that the people hype the Backflip to much and the judges are score them to overpriced? Flip tricks are awesome and people deserve credit for doing them but it annoys me when a rider can do a bunch of flip tricks but cant do the other tricks. I think the normal tricks are just as important as flip tricks.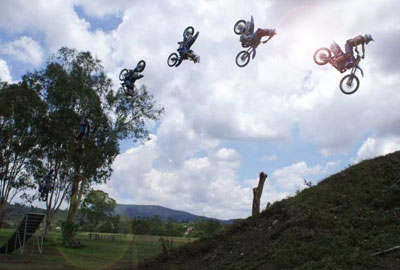 You are doing different Flips combos. Did you already work on the 360 lately? I've been working on more of a bmx style 360. i've got big turndowns dialed and can get them close to 180 degrees. The hard part is landing it because you're spinning so fast and you have to keep the bike straight, hopefully in the next couple of months you'l see me doing a real 360.
How do you prepare yourself during the cold wintertime? Australian winters are'nt too bad, especially on the Gold Coast where you can still swim at the beach in winter and its perfect weather to ride in.

What are your plans for the future? My main goal for the next 6 months is to get over to Europe and ride some events over there. I've heard that the shows over there are awesome and the crowd go pretty crazy so hopefully you'l be seeing me over there in the next few months

Do you have another job apart from FMX? Nope, FMX has been my job for the past 4 years

What are you doing in your freetime? Most of my time at the moment is spent riding my bike. I do a lot of shows in Australia with the Showtime Yamaha FMX Team so whenever i have time away from shows i'm busy trying to keep up with the latest tricks
Your last words – do you want to say something to your fans, friends? Thanks to all the fans who come to the shows and buy the magazines etc and i cant wait to ride for you guys in the next few months
Okay, now our classical word association. Give me the first word that pops into your head:
Ramps: Fun
USA or Australia: Australia
Sponsors: Yamaha, Answer, Kustom Shoes, Sixsixone, Anything Evil, Balls Deep, Pro 50z
Favorite Website: Stevemini.com (under construction) www.myspace.com/stevemini
Goonriders: Adam Jones does the best goon ride
Double Flip by Pastrana: Insane
Natural Terrain: wish i could do more
Tattoos: Tattoos are sweet
50's: Fun for a while
Best Trick: Turndown
Biggest success: making a living out of doing what i love
Movie: lock stock and two smoking barrels
Travelling: Fun when you get there, sucks sitting in car or plane getting there
Girls: are trouble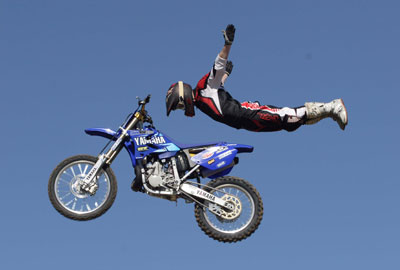 Right on thanx Steve!
More information and pix about Steve on his website: www.myspace.com/stevemini
www.stevemini.com is under construction


Here is a video clip of Steve riding the Crusty Tour in Australia:




Support us: Like and Share it!

Video of the month

Facebook /FORTY8Mag

Partner