48-40 = 8 questions with Andre Villa

André Villa crashed at a big wallride during the DEW Tour 2006 and hurt really bad his knee. So he had to skip riding and need surgery. After a professional recovery with a popular fitness trainer André is back on the bike - stronger - better and like in former times with a breathtaking style. We talked with him about the last 8 months ...

1. Hi André, your were injured for a few months. Tell the guys out there what was exactly happening last year? In June last year I went to the Dewtour in Louisville and thorn my ACL, blew my meniscus and partly thorned my MCL on the big ugly wall ride over there.

2. How long did it take to recover and how did you use the free time?

After the crash I decided to try to ride without an ACL since I had some important contest coming up like X-fighters in Madrid, and I was also second in World championship at that time. I had a surgery on my meniscus, but I couldn't practise much and it just caused me more and more problems. It was really not the right decision to do.
The shit didn't hold together and I decided to take the surgery after dropping out of X-fighters in Madrid because of a lot of pain. This was in September. It took me one month to get the surgery, and I wasn't' back on the bike before in May. So I was pretty much out for 11 months.
After the surgery I really changed my lifestyle. Eating right, training right, doing everything right to get back as fast and strong as possible. You can read more about my recovery in the next MotoX issue.
3. What are your plans for this season? Just get back on track without to high ambitions. Have fun and spend time in my pimped up park.
Madrid X-fighters is coming up and it would be cool to do good there, but I don't feel I am where I want to be and I can really feel the sick progression that happened while I was out.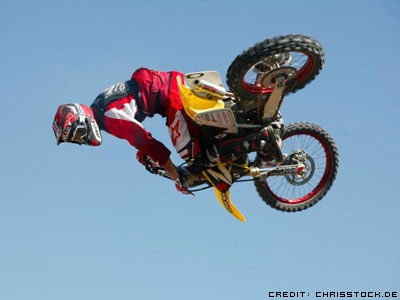 4. You are living in Spain. Tell the people the difference between Norway and your sunny place. The winter time in Norway sucks when you're doing FMX. Especially the area I'm coming from in Norway which is up in the mountains. Up to minus 35 degrees. But it's cool for skiing. When I lived in Norway I didn't ride FMX in the winter time. Skiing is cooler than FMX on snow. Spain is probably the best country in Europe for FMX. But it can be to hot here when it's 45 degrees like it is now. And the wind is really a big problem. But all in all I prefer Spain ahead of Norway when it comes to FMX.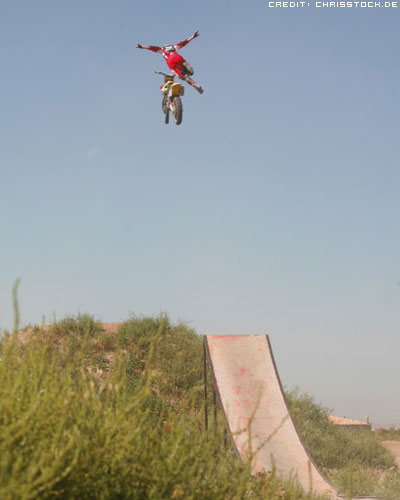 5. You probably have one of the biggest FMX compounds ever. What kind of stuff did you build and what are you plans for the park?
When I was injured I all ready had a huge park. But with the help of Suzuki it just blew up twice as big and three times as sick. I've got like eight ramps, three dirt kickers, four boxes, a car, a foam-pit, six landings, a 22.000 kg excavator to fix the track with and much more.
The "hot-line" is probably the coolest. You are going from a berm and hit a small kicker that takes you to a "picnic table" (snowboard style) where it is a new kicker that kicks up to a box, down from the box and into a steep dirt kicker on twelve meters, going into a table jump on four meters, going into a play box which goes straight into a ramp on 22 meters. I love this small techy stuff.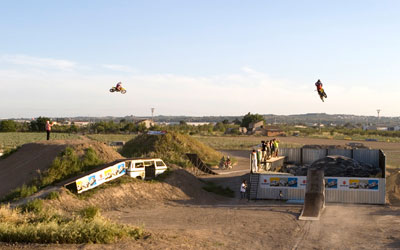 6. You also placed a big advertisement in the MotoX magazine regarding an event at your place. Tell us more about it? Yeah. Hehe.. It's a contest with a new concept that will happen. If I'm going to do it, I want to do it right which acquires a big budget. So I'm still working with that one. I don't want to do it half way.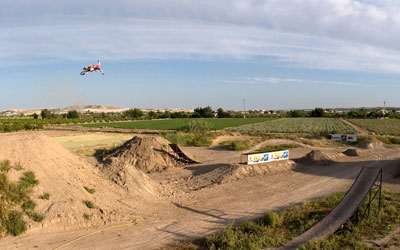 7. Your latest hobby is taking pictures. Is it a kind of passion for you and if yes, why? Always liked to take photos and thought I had a good eye for a good shot. I just had to learn to use the equipment. While I was injured I bought a lot of stuff so I could be out with the boys while they were riding.
But, I'm not a "Chris Stock" if you know what I mean. Still got a lot to learn.
8. Your last words...? Pineapple juice!


Okay, thanks a lot for answering the 8 questions. Good luck for the future and ride safe!


Some information for our german readers - in the actual MotoX issue is a big interview with André in german language - www.motoxmag.de


Support us: Like and Share it!

Video of the month

Facebook /FORTY8Mag

Partner