Interview with X-Games Best Trick
Golden Boy Kyle Loza

Today we are talking with the X-Games 13 Best Trick Gold Medalist Kyle Loza from Orange County/USA. We asked Kyle how the things are going after such a great success at X and what are his plans for the future. We also have embedded a video of Kyle doing his signature trick "THE VOLT". So lay back, relax and read what Kyle has to say ...


Hey Kyle, tell the guys out there some basics about you - where do you come from, how old are you and what is your mission? I am 21 years old; I live and was raised in Orange County, Ca. As for my mission right now it's to have fun riding my dirt bike, keep pushing the limits and make my mark with progression.
Two weeks ago you were riding the X-Games Best Trick Contest. Tell the people out there what did you feel while you were standing in the big arena before starting your jump?
Very nervous, the event is intense. I had a good plan and I stuck to it.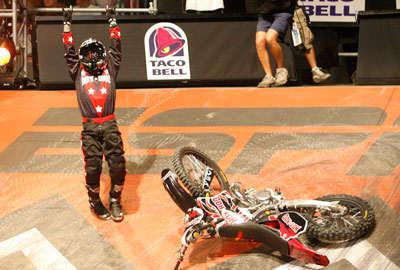 You did your signature trick "The Volt" and won the Gold Medal. How long did you work on this trick until you tried it on dirt? I have been working on 'The Volt' for over 2 years lots of time in the foam pit and finally to Dirt… Feels good to be past that part.
The other riders also showed crazy tricks like the Stripper- and Shaolin Flip of Adam or the Tsunami Flip of Todd. Were you confident to win gold or did you think that the others get very close to you in the scoring? All the guys there threw down so if wasn't sure what would happen, I knew I had the newest and least known trick but the competition was serious.
You also worked on the combination "The Volt to Heelclicker". Why did you a safe jump in your second run? At that point I was confident in my first run score and wanted to be walking around that night to enjoy my medal…. The Volt Clicker is not something I have perfected. I have a couple of different variations I have experimented with but there all still unperfected.

Tell us something about your experience with the media and how do you feel after such a successful result? The media was Rad, I did tons of interviews with the local and international press as well as all the Moto Mag's.
Did you get some new sponsor offers after winning the gold medal?
I was already with Monster Energy, Electric, Oxtar Boots and Truth Soul Armor for 07 but next year is still in the works.

Let's talk about the beginning. When and how did you start riding dirt bikes? My Dad bought me a bike for my birthday it was a clapped out CR 80 and I started jumping and crashing right away.
Do you have your own FMX compound? If yes, tell us something about it. How many ramps and stuff to play do you have and what kind of setup? I run the Riders 4 Christ compound; it currently consists of 5 comp ramps 2 kicker ramps 3 dirt landings, 1 metal landing, 1 foam pit, a Supercross track and an outdoors track.

How do you prepare yourself to keep fit for riding? I ride a lot of ramps, track, desert or whatever. I also spend time on the trampoline bike it can be quite a workout.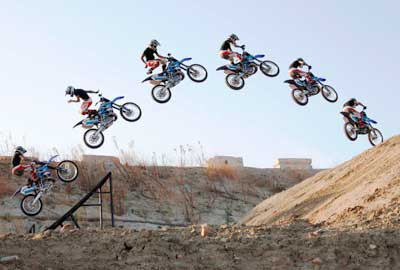 What are your plans for the future? I am currently working on some new tricks but the details are for me to know and you to see ... haha. I will be competing in the Mexican X Games and heading overseas to Europe and Australia to ride. I am going to drive one of the Monster energy cars in the Baja 1000 this November.
What are you doing beside FMX in your freetime? I have a tattoo parlour at my home where I do a lot of tattoos, I have a band called Paint Yourself Pretty and I go to Saddleback church every Sunday I am home.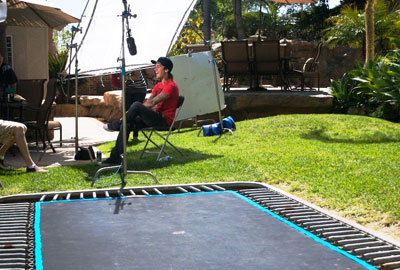 Do also ride Mini bikes or BMX? I have a 110 I jump into the foam pit with and I used to race BMX but not very much anymore.
Your last words – do you want to say something to the people out there? Thanks for the support! I hope we get to meet sometime.
Okay, now our classical word association. Give me the first word that pops into your head:
Ramps: Freeride, Jeff from Freeride works for my Dad.
USA or Europe: USA
Website: www.KyleLoza.com
Sponsors: I have 20 plus sponsors that I couldn't do it without
Goonriders: Me
Double Flip by Pastrana: Crazy
Natural Terrain: Exciting
Tattoos: Hundreds
50's: 110's
Soccer: Baseball
Movie: Scary
Travelling: Fun
Girls: Too many..
Okay Kyle, thanx for answering the questions and good luck fort he future!
Kyle's Sponsor List
Monster Energy
Truth Soul Armor
TCX
Mission Motorsports
Electric Visual
Shift Racing
Cti
Round Wheels


Ogio
FMF
Resen MX
Universal
Spider Grips
Maxxis Tires
Riders 4 Christ


Etnies
Weapon MX
Shoei
Leatt Brace
Clark Mfg
Race Tech
ZLT