Interview with X-Games
contender Remi Bizouard
| | |
| --- | --- |
| | Last year at the X-Games 12 Best Trick Contest Remi Bizouard almost did the Hart-Attack Backflip. But he had bad luck and came up a bit too short and crashed. This year he got another chance to show his brilliant bike skills at the X-Games 13 in Los Angeles. And Remi showed that he can execute one of the biggest FMX tricks these days - the Kiss of Death Backflip. Remi finished with a great 6th place overall and was the 2nd european rider finishing in the top 10 after Mat Rebeaud. We talked with Remi about his participation in the USA. |
This year the X-Games promoter invited you again to ride the best trick contest. At this time, you were in the main field. Tell the guys out there, how does it feel to ride X?
I feel pretty nervous, the conditions were really difficult for us (European riders). It's nice to ride there, it's the biggest event of FMX where is the highest level!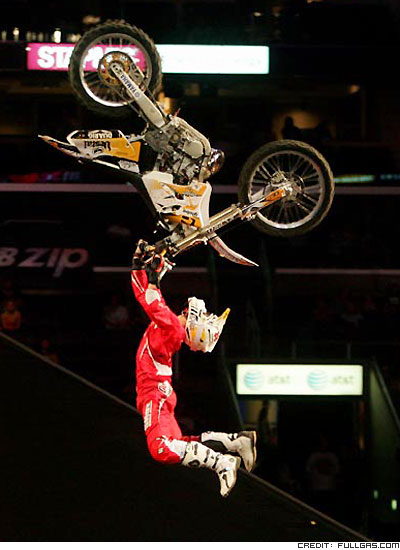 Last year you crashed at X doing the Hartattack Flip. What did you think after the crash? I thought f...k - I was close to made it!
This year you did the Kiss of Death Backflip and everything worked well. How long did you work on this trick?
I've been working on it for 2 months into the foam pit and 1 month on dirt! I did it like 20 times on dirt at home, before I went at X-Games!
You did the Kiss of Death flip 2 times. Did you intent this or did you have another sick trick in your bag?
My goal was a Tsunami flip for the first jump and another trick for the second attempt, but the extension wasn't enough so i decided to do it again!


| | |
| --- | --- |
| Remi | 6th place at X-Games | Todd Potter | 3rd place |
Is the Kiss of Death Flip harder than the Hartattack Flip?
I don't think so, I will say hart attack flip is harder then a tsunami flip!
You have finished 6th. Are you happy with this result or do you think you could be in the top 3?
I'm not really happy about that but.... potter is third with a look back and he got much points then me... but judging is really hard and the level was so high again!
Are you working on some other great tricks these days?
Yes I do, also in my head I see a lot of tricks!! Hahaha
Remi, thanx for answering the questions and good luck for the future! You're welcome. Greets to all, Remi.
Website: www.remibizouard.com