Kenny "THE COWBOY" Bartram
Okay, we have one of the big dogs of Freestyle Motocross for you in interview. X-Games Gold, Gravity Games Gold, Vans Triple Crown winner, IFMA Champion etc. - there is nothing more to say.

So relax, lay back in Lazyboy position and read the Cowboy interview and enjoy it!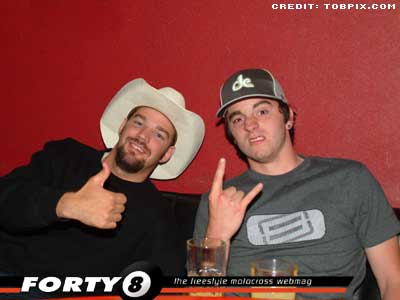 Kenny with his buddy Adam Jones in Hamburg 2004

Okay Kenny, let's start with some basics. Tell my something about your place of birth and your current residence.
I was born in Stillwater, OK. I just bought a place in Los Angeles, CA in November of this past year, and a big chunk of land in OK in Decmeber of '03. I kind of split my time between my land in OK, and my house in CA.

First time you ever rode a MX bike and when did you
start FMX?
I was 7 years old when I got my first bike, I had ridden a 50 a few times before I got my own, but I don't remember how old I was when I got on that one. I started doing half time freestyle demos at arenacrosses back in 1995, and then in 1998 when freestyle became a sport, I was at the first contest, and been there ever since.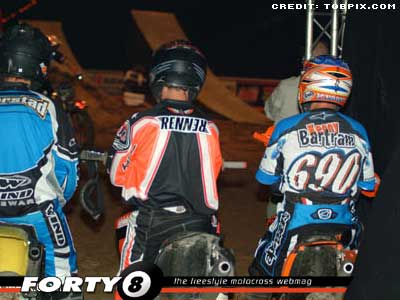 Ready for a Rock N'Roll show with Oystein, Ronnie and Kenny?

Who inspired you to ride FMX?
Travis Pastrana definitley influenced my decsicion, he taught me how to do a heel clicker, and talked me into going to the first event. If it weren't for him, I'd still be a struggling privateer racing.

Tell us something about your own backflip experience and what do you think about tricks like 360 and the backflip seatgrab?
I still hate the backflip. I think the danger of a back flip far outways the positive that can come of it, but if you want to stay on top of the game, you gotta be doing them. Just in the past two years, I've broken my hip socket, and two bones in my leg, from backflips, so just from that alone I hate them. I don't like the 360's anymore than flips, but just like the back flips, you're gonna have to be doing them to stay competitive. Variations of the back flip I dont' think are too bad, once you have a stock flip down, then it's just like doing another trick, so I'll be working on the seat grab filp in the very near future.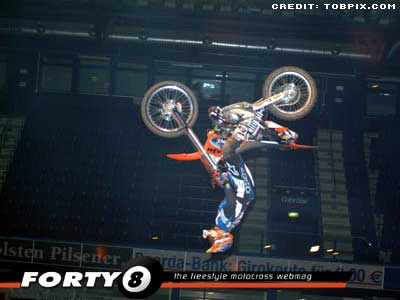 Kenny hates the backflip, but he is still doing it!

Without a foam-pit there would be no 360's. Is the training with foam-pits the future of FMX and do you have one?
I think FMX is going to evolve into a sport that you have to have access to a foam pit to learn the top new tricks. I'm starting the process of building one now.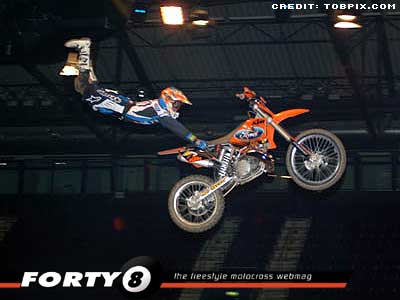 Extended Double Seatgrab

Is it important for you to ride with your buddies and is there a good cohesion between the US riders?
We are all good friends, but I don't think it is necessary for you to ride with them. Sometimes, I'll play off of what someone else is doing and maybe learn something new, but then it works the opposite way too. If you have something new, they will learn it also, so it is kind of a catch 22.

What importance have Contests for you?
I didn't use to consider myself a real crowd pleaser, so I relied mostly on the results of contests for my success. Here in the past year or two, I've realized that I do have what it takes to entertain a crowd, and I'm starting to enjoy doing both contests as well as just demos.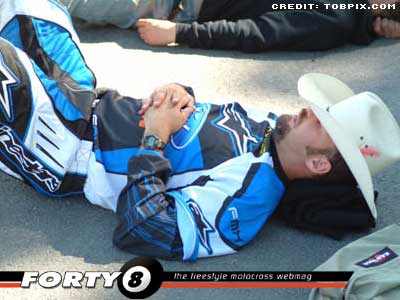 Chillout in the summer sun - need some rest before the action starts.

What are your goals for the future?
I don't really have any. Just go out and have fun at each event. I'd like to take back over the Van's Triple Crown series Championship, and I want a Silver Medal from Gravity Games, but other than that I've pretty much covered everything in the sport that I want to do.

Did you ever had a bad crash and did you break something … if yes what?
Oh yeah, too many bad crashes to remember. 21 broken bones, 7 knocked out teeth, 2 steel plates, and a ruptured blood vessel in my brain.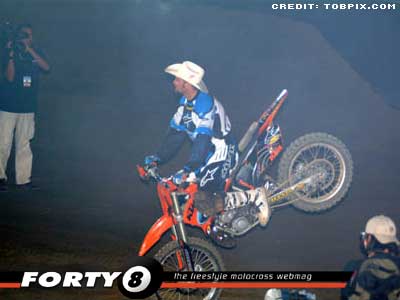 Rider presentation - Kenny pumpin' the crowd with a front wheelie

Have you ever thought about the life after FMX?
Yeah, I'm still not sure what I want to do. It will probably be something in the motocross industry, but maybe something like rally car racing, or even stuntwork for movies. I don't know, I guess I'll do whatever when it comes along.

Favorite location to ride? Cooperland in Stillwater, OK

What do think about the current situation of the US and the European FMX scene and what is the difference between both continents regarding FMX?
There's becoming less and less differences. With the start of the IFMXF tour, the European riders are getting more in tune with contests, and pleasing the judges not just the crowd, and they are starting to ride really well.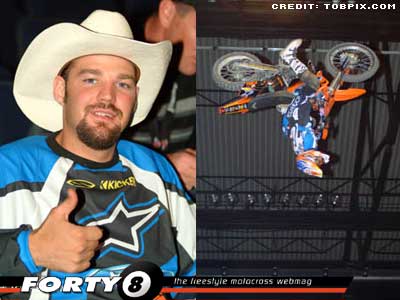 Always in a good mood - No footed backflip on the right pic.

How did you like your time in Hamburg/Germany?
It was good, I didn't see much besides the hotel and the arena, but that's pretty typical for an event weekend.

Tell me something about the differences between the European and the US FMX.
Mainly different ramps, and different types of dirt, plus we are normally on a borrowed bike when we go toEurope.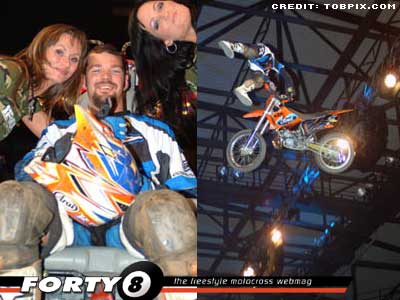 In the hot seat with some ladies - Catnac with style

What do you think about the European Trick level and the riders?
Everything is alot like the US. The riders all seem to get along really good, and their trick level is definitely up there.

Any other comments or do you want to say something to your fellows, sponsors & fans?
Thanks for watching our events, and I hope you had a good time!!!

Profile:

Name: Kenny Bartram
Prename: Cowboy
date of birt: 8-23-78
place of birth: Stillwater, OK
residence: Stillwater, OK
nickname: Cowboy
Bike(s): KTM 250SX
Team: KTM
Hobbies: Anything on wheels
Favorite food: Chocolate and Pizza
Favorite drink: Gatorade
FMX since: 1998
Favorite tricks: No handed whip and a regular whip
biggest success: 2001 Summer X Games Big Air Gold
Medalist
small resume of your career (results):
- 2 time WFA and IFMA Champion, VTC Champion
- X and Gravity Games Gold Medalist
Sponsors: KTM, Ford, Alpinestars, Smith, Dunlop,
Kicker, Maxima, One Industries, TAG, Pro Circuit,
Acerbis, Arai, Twin Air, IMS
Website: www.cowboykenny.com



Support us: Like and Share it!

Video of the month

Facebook /FORTY8Mag

Partner