Interview with Greg Hartman




The insiders of you already know Greg Hartman, because he is riding the IFMA Freestyle MX series since 2003 and won more than 10 contests. But 2007 was the breakthrough year of Greg. He finished 4th at the Mexican X Games and won the Dubai X Games Best Trick Contest with an awesome Switchblade Backflip Combo. We talked with Greg about his career and his great success in Dubai ...


First of all, tell the guys out there some basics about you - where do you come from, how old are you and what is your mission?
I'm Greg Hartman, 24 years old, from Greencastle, Pennsylvania, professional Halo player!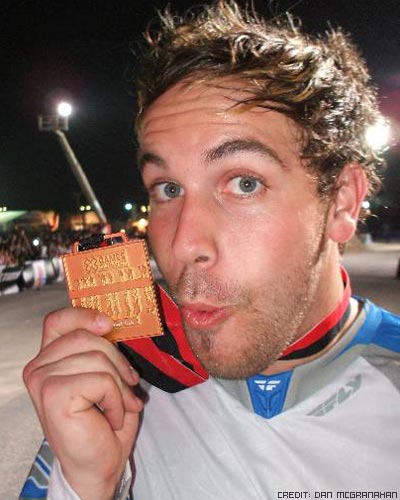 When and how did you start riding dirtbikes?
I grew up around motorcycles, my whole family rides, and I'm pretty sure I started learning when I was 5 and was trail riding by 6. My dad taught me everything I know.

Did your ride MX racing before starting with freestyle?
I was super into MX, and raced a little, but was into freestyle when I was pretty young. I did my first contest when I was 16 and I think I made money at freestyle when I was 16 as well, so freestyle came along pretty quick for me.

Do you like Freeriding and do you have some locations to do that?
We don't have a lot of freeriding in PA, but there is a huge riding spot in Youngstown, OH with lots and lots of dirt jumps, and that's my favorite place to ride in the world. I go there a lot in the summer to stay sharp and get away from just riding my ramp at the farm.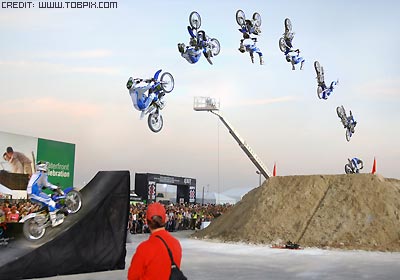 How do you prepare yourself during the wintertime in Pennsylvania?
PA winter weather is the pits! I am not a fan of snow and wish I could pick the days it came down, which would be never. I ride all the way through December and start again in March normally, but it just stays too cold and wet in the winter. I usually ride the IFMA tour all winter so I get to stay on my bike. I think this year I'm going to go out to CA and ride some with the other Riders 4 Christ guys.

You were invited to ride the Dubai X games in December '07. Tell us something about the trip to Dubai and what experience did you get there?
My trip to Dubai was one of the most memorable trips of my life. I've been to Europe before, but this was the farthest I've been from home, and to win and have a great time, it was just awesome. Now every time I hear the word Dubai I feel kinda happy because it's a good memory. The bad memories involve how tight Loza's, mine, and our agents hotel room was. We had to sleep within 6 inches of each other for over a week and it felt real good to get home to my wife!

Did you know, that women in Dubai are not allowed to ride motorcycles? (that is no joke) What do you think about this rule?
Well I don't think women should be presidents or pastors, but riding a motorcycle is a little ridiculous.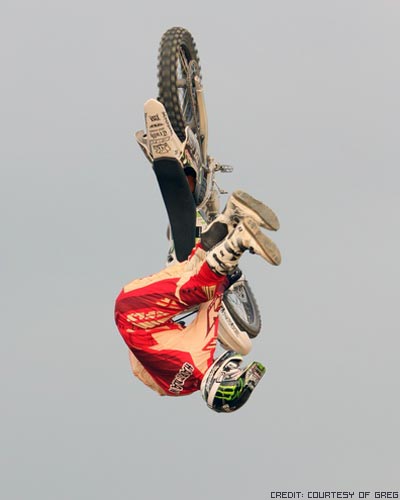 You ended up 1st in the Best Trick Competition at Dubai X. The competition was tight with great riders like Loza, Bizouard. Did you think, you would bring home the gold medal?
Not at all, I thought I had a pretty good chance at a medal, but I never dreamed of gold. I knew Loza was going to do awesome, and so was Remi. Chuck showed me some pictures of him doing some pretty big stuff at his house as well. Man I'm so pumped on gold, I feel really blessed.
Your gold trick "switchblade backflip" was pretty sick. Are you the first fmx rider, that did this trick?
Yeah, I think I'm the first person to really do a switchblade flip in competition. I mean if you can do indian air flips and stuff, it's just a progression from that stuff, but it definitely is different. Instead of jumping down like a super flip you actually go across your seat upside down like a no can. Um also, I'm kind of against naming backflip tricks because they're just whatever trick upside down, but Wacker and I were thinking it would be pretty funny to name it the "Virtual Reality"

Did you ever went to Europe and who is your favorite European rider?
Yeah I've been to Europe before and had a great time. I think my favorite European rider would have to be Busty! He came over and did Dew tour with us and was awesome. He's a rad dude, and has an awesome attitude.
What do you think is the difference between the US and European FMX scene?
I think the only difference with the US and Europe is big attitudes. Everyone in the US is constantly trying to be the coolest, toughest guys in fmx. I don't think from what I've seen Europe is caught up in that too bad. It seems like everybody in Europe is just trying to progess, whatever it takes.
What are you doing beside FMX in your freetime?
Well, I keep pretty busy when I'm not competing and stuff with Riders 4 Christ stuff. We do a lot of outreach events and try to spread the gospel of Christ with fmx. Also, I play Halo 3 way too much, guitar hero and karaoke revolution. Also MX vs ATV Untamed!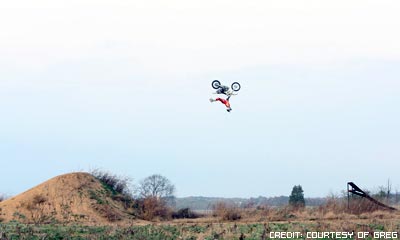 Do also ride Minibikes or BMX?
Man, I used to love BMX but I haven't ridden much of that stuff since I tore my ACLs. Both my knees are completely torn right now, so that stuff isn't very fun when it hurts to pedal.
What are your plans for the future?
I kind of proved to myself that when you work really hard towards something, it can really happen. So I wanna work really hard this year, and hopefully go to X Games 14. I really like all the X Games events and want to do as many as possible. This year I'd like to do less demos and more big contests.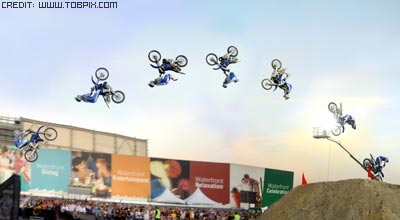 Your last words – do you want to say something to the people out there?
I'd like to say that I don't attribute any success to myself, but I thank my Heavenly Father for everything I have and everything He's ever blessed me with. I'd also like to say that sniper rifles on Halo are lame.
Okay, now our classical word association. Give me the first word that pops into your head:
Ramps: Farm
Freeride or Freestyle: Freestyle
Website: Freestyle mtx
Redbull or Coke: Pepsi!
Sponsors: Truth clothing!
Goonriders: Loza!
Natural Terrain: California
Tattoos: Hub City
50s: Ryan Leyba
Movie: Walk the Line
Traveling: PSP


Small resume of Greg's Freestyle Career:

2003 - 2008 I've ridden countless IFMA events with about 11 wins
2007 10th at Baltimore Dew open qualifier.
2007 4th at X Games Mexico
2007 Competed guitar Hero 2 on expert
2007 Dubai X Games gold / Best Trick
Win 1 of 5 Truth soul armor T-Shirts!

You only need to answer the following question:

Where did Greg Hartman win a Gold Medal in Best Trick Competition?



Right answer:

X-Games Dubai Best Trick Contest / 2007

Deadline of this game was:

February, 28th, 2008

The winners are:
Todd Stancil, Easley SC/USA
Sean Busko, Huntingdon/USA
Jason Puopolo, Littleton/USA
Andy Morgan, Redding/USA
Allan VanCamp, Murrieta, CA/USA